Feb 16, 2009 — by LinuxDevices Staff — from the LinuxDevices Archive — views

TI (Texas Instruments) plans to begin sampling its next-generation mobile applications processors in the second half of the year, it announced. OMAP4 chips will feature dual, SMP-capable ARMv7-based cores, along with C64x DSPs, multi-format hardware accelerators, a "programmable" graphics engine, and an "image signal… processor" (ISP).
TI was an early adopter of ARM Ltd.'s earlier Cortex-A8 processor core, the first ARM core to use the superscalar (more than one instruction per cycle) ARMv7 architecture. Now, as TI's competitors are beginning to sample ARMv7-based SoCs of their own, TI has unveiled its dual-core OMAP4 roadmap.
TI says OMAP4 targets use in devices capable of recording and playing back 1080p video. The chips will support sensors up to 20Mpix, and offer "approximately a week" of audio playback time. Compared to "today's most popular smartphones," TI says OMAP4-based devices will browse web pages an order of magnitude faster, while offering seven times more computing power, six times higher video resolution, and six times longer audio playback.
At the heart of OMAP4 is ARM Ltd's Cortex A9 dual-core processor. Implementing the same ARMv7 used on ARM's Cortex A8, the A9 adds ARM's MPCore interconnect layer, for support of up to four cores. However, the initial OMAP4 chips will incorporate only two ARM cores, clocked "above 1GHz," TI said.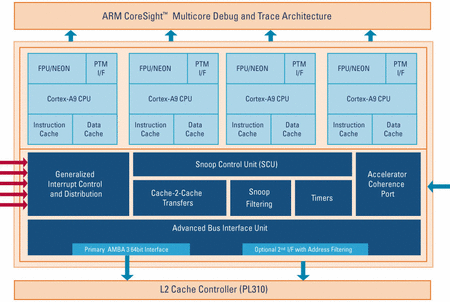 ARM Cortex A9 with four cores
(Click to enlarge)
Ultimately, dual-core chips could save considerable power in mobile devices, or offer higher levels of performance. The greater potential may be in power savings, though, given that two cores clocked at 500MHz offer the same number of cycles as a single core clocked at 1GHz, while typically using a quarter of the power. More software architecture flexibility, for example with virtualization, may be another benefit. A TI whitepaper is available on the benefits of SMP for mobile devices.
First OMAP4 crop — OEMs, only
The first OMAP4 chips will be the OMAP4430 and OMAP4440, TI revealed. Available only to high-volume wireless device companies, the initial OMAP4 chips target devices that "redefine the boundaries of Smartphones and MIDs," stated Greg Delagi, head of TI's Wireless business.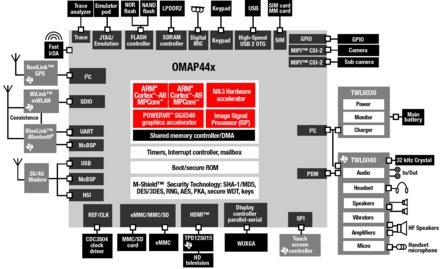 OMAP44x function block diagram
(Click to enlarge)
TI touted the following additional features for its initial OMAP44x SoCs:
Built in 45nm process technology
12 mm x 12 mm x 0.4 mm POP (package-on-package)
POWERVR SGX540 graphics engine
3D UI support
Resolutions up to WSXGA (1680×1050)
HDMI compatible
10+ hours of 1080p HD video playback
4+ hours of 1080p HD record
140+ hours of CD quality audio playback
"Pre-integrated" with TI's various wireless radios, including WiLink Wi-Fi, NaviLink GPS, and BlueLink Bluetooth
"Pre-validated" modem interface software for "any" external modem
Support new TWL6030 and TWL6040 PMICs (power management ICs)
Supports Pico projection technology
Third-party tools and kits, such as Zoom OMAP mobile development platforms
Following the model established by its DaVinci line, TI says it will provide a significant software value-add with the OMAP4 chips. Planned components include a software suite "tested for real-world use cases." Specific support is touted for "Linux variants" such as Android and LiMo, as well as Symbian and Microsoft Windows Mobile. Software stacks will be tested and validated "up to the application level," TI claims.
The OMAP4 was accompanied by statements of support from ARM, Infineon, Microsoft, and the Symbian Foundation.
Availability
TI plans to sample the OMAP4430 and OMAP4440, along with development tools, in the second half of the year. Volume production is slated for the second half of 2010. The products will not be available through distributors, and are instead intended for "high-volume wireless OEMs and ODMs," TI said (although the company followed up its high-volume OMAP34xx parts with a low-volume OMAP35xx family that seems to have proven popular, so we might expect a similar pattern with OMAP4). Pricing was not disclosed. More details may be available here.
---

This article was originally published on LinuxDevices.com and has been donated to the open source community by QuinStreet Inc. Please visit LinuxToday.com for up-to-date news and articles about Linux and open source.