Jun 18, 2008 — by Eric Brown — from the LinuxDevices Archive — 1 views
Funambol announced a new $12.5-million funding round to promote its open-source, push email and personal information management (PIM) synchronization software for mobile devices. Meanwhile, the company is pushing forward with versions of its Linux-compatible software for the iPhone, Blackberry, AOL's IM, and soon, Android.
The Series B funding was led by mobile-focused venture capital firm Nexit Ventures, with contributions from Castile Ventures. Combined with a previous round of funding from Walden International and HIG Ventures, the financing brings Funambol's total funding to $25 million, says the company. In addition to supporting R&D, the cash infusion will accelerate global expansion, says Funambol, especially in Europe and Asia. Nexit partner Michel Wendell is joining Funambol's board of directors, and Castile general partner Carl Stjernfeldt is joining as an observer.
The dual-licensed, client-server Funambol software is available in 1.5 billion mobile devices, says the company, including a number of Linux-based Motorola phones, such as the Razr V8 and Rokr E6 (see image below). The software aims to provide remote data management and user preference management via browser forms that can be integrated into a wireless carrier's website. The suite offers over-the-air (OTA) address book/calendar synchronization on commodity Java-capable phones, and is touted as offering push email features that rival those of proprietary mobile email vendors such as Blackberry-maker RIM. With push email, messages are pushed all the way to the client device, rather than being cached on a POP or IMAP server for on-demand download.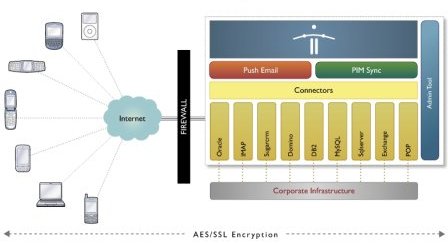 Funambol software architecture
(Click to enlarge)
The Funambol suite includes a server component that provides connectors to both Microsoft Exchange and IBM Domino email servers. The open source version of the server is available under the company's honest public license (HPL), which is said to extend the GPLv2 to software that is distributed as a service. The company is also a major booster for
GPLv3
, an new version of the license that is having trouble gaining traction.
According to Funambol VP of Marketing Hal Steger, Funambol's investors are impressed with the potential of a global market of 3.3 billion mobile phones and two billion email accounts, yet with less than two percent of mobile users accessing email on their phones. Investors are also, apparently, coming around to the benefits of open source.
"Open source is an advantage in the world of mobile, which is marked by complexity, diversity, and heterogeneity," said Steger in an interview. "With open source, developers have access to the code and can port it and contribute it back to community. Open source allows us to support all those 1.5 billion handsets that use Funambol." Steger also noted that the Funambol project is "the world's number one mobile open source project."
In May, the company launched the Funambol Forge, a website for open source developers to collaborate on mobile projects, share tips, and download software and documentation. The forge houses source and binary code for Funambol Community Edition,and includes mailing lists, online forums, and online support.
From the iPhone to Android
Funambol has been moving aggressively across the mobile phone scene of late. Last month, it signed a deal with Lazlo Systems to integrate its PIM/email software with Lazlo's OpenLaszlo open source RIA development platform in a new, jointly produced mobile communications suite. In March, Funambol announced an open-source middleware component that enables its software to be used with Db4Object's object database for mobile devices.
In May, Funambol introduced a version of its software for the Blackberry. Although the Blackberry already has its own well-regarded push email/PIM software, "with Funambol, Blackberry users are free to access any email server, not just Exchange and Access," said Steger.
Last week, Funambol announced it had enhanced its software for Apple's iPhone 2.0. The app uses the new iPhone 2.0 SDK (software development kit) and is said to enable users to wirelessly synchronize PIM data with a wide variety of email systems and clients. "Apple announced that iPhone 2.0 would have mobile email and PIM synchronization, but our version is free," said Steger.
Meanwhile, Steger says that his company has recently signed a deal with AOL. "Our software will be the synch engine behind all of AOL's infrastructure for IM and AOL Mail," he said.

The Motorola Razr V8
comes with Funambol

In the world of embedded Linux, Steger says Trolltech and OpenMoko have both added support for Funambol software into their prospective Linux-compatible mobile stacks. Funambol is also developing a version of its software for the Open Handset Alliance's Google-sponsored Android specification, said Steger. So far, however, the company is sitting on the fence as to whether to modify its software for the LiMo Foundation's LiMo Platform.
"We are keeping a close eye on LiMo, but when we found out we had to pay a $40,000 entry free, we decided to wait," said Steger. "There are also some licensing issues with LiMo. If you contribute your software to LiMo, you lose control over what happens to it. Other people can change it, and you can risk a fork of your project. But once LiMo devices start appearing, we will port it over."
Android, meanwhile, has its own issues, he concedes, "Android is kind of a free for all," he said. "Anyone can take Android code and do whatever, which is good and bad. It allows handset makers to take the open source code and tailor it so they have a lot of control, but the downside is that because of the licensing, it doesn't encourage anyone to contribute changes back to the core. With our software, the whole benefit is that people are sharing the code. I'm not sure what's going to happen with version two or three — will device manufacturers be able to easily upgrade to the new version if they've customized the old version?"
Stated Carl Stjernfeldt, general partner of Castile Ventures, "Funambol recently signed a Web services company, two top device manufacturers and a large U.S. carrier."
Stated Michel Wendell, Nexit Ventures, "We have been impressed with Funambol's open source technology, vision and management team."
---

This article was originally published on LinuxDevices.com and has been donated to the open source community by QuinStreet Inc. Please visit LinuxToday.com for up-to-date news and articles about Linux and open source.