Jul 19, 2011 — by Eric Brown — from the LinuxDevices Archive — 222 views
[Updated: 3:30PM] — Open source hacker community Gizmo For You is developing a Linux-based controller and separate receiver device to remotely control a model airplane or other vehicle. Starting at $670, the battery-operated Open Source RC (OSRC) runs Linux on a Gumstix Overo SBC and includes a 4.8-inch display, a smaller monochrome status display, a 2.4GHz RF radio, GPS, Wi-Fi, and Bluetooth for external thumbstick control.
Like Gizmo For You's Flow smartphone announced in 2009, the OSRC control system runs Linux on the Gumstix Overo Earth single-board computer (SBC), which in turn is based on the Texas Instruments (TI) Cortex-A8 OMAP3503 processor. The OSRC (below) also supports the newer, Wi-Fi and Bluetooth enabled Overo Air module, which has a similarly tiny footprint of 0.7 x 2.3 x 0.2 inches (17 x 58 x 4.2mm).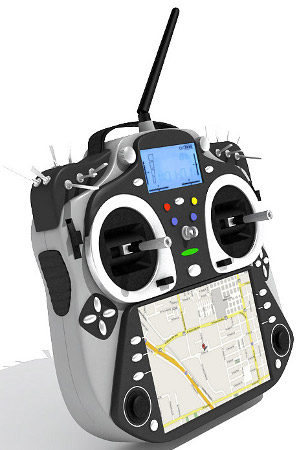 OSRC control unit mock-up
(Click to enlarge)
GizmoForYou has a novel approach to developing devices. The group builds custom gadgets according to members' suggestions, and sells the open-spec devices online. GizmoForYou encourages its members to customize any of these modules or develop new ones.
The Gizmo developers post notes on their progress, and respond to member suggestions for new ideas and improvements. All software source files and hardware documentation are posted as open source, including schematics, mechanical designs, and PCB designs, says the project. GizmoForYou also sells all the parts, PCBs, and tools required to build each gizmo, so members can build their own devices or spin off new versions. Finished systems are also typically available for sale.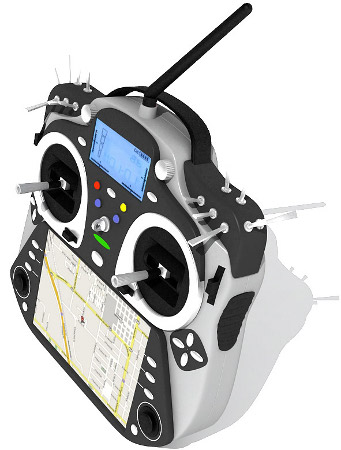 Reverse side of OSRC control unit
(Click to enlarge)
The OSRC system has been designed, and a prototype is underway and about two months away, according to Gizmo For You director Demetris Rouslan Zavorotnitsienko, in an email. If all goes well, a completed device could be finished two months after that, in time for the holidays, he added. As usual, the group expects that members will add suggestions, as well as send pre-orders to adequately fund the product.
The device is divided into the control unit and a simpler transceiver unit that's attached to the remotely controlled vehicle, which could be a small-scale model airplane, helicopter, car, or boat.
The main criteria by which remote control systems are categorized are the number of channels and the type of signal being used, says Gizmo For You. On the OSRC, the designers went for a higher-end system with 16-plus channels and a 2.4GHz RF modem that has a range of 10 to 40 kilometers (6.2 to 24.9 miles). A 900MHz radio will also be available, according to Zavorotnitsienko.
Gumstix Overo Earth SBC
The ground-based control unit is designed to be carried with a strap and features a 2200-3300mAh lithium-polymer battery with internal charger, says Gizmo For You. The memory allotment is not listed, but the Overo Earth (pictured above) and Overo Air SBCs both support 256MB or 512MB of DDR RAM, plus 256MB of NAND flash. A microSD slot is also said to be available on the OSRC.
The system ships with a 4.8-inch, 800 x 480 touchscreen that will use AMOLED technology unless the group decides it has to settle for LED technology, according to Zavorotnitsienko. He adds that that the 4.8-inch model shown in the detail diagram below will likely be the final size, although the spec list still says 4.3-inches. A smaller, secondary status touchscreen will offer a monochrome display with backlighting.
The black-colored area that includes the 4.8-inch screen is detachable, according to Zavorotnitsienko, and communicates with the main control device via Wi-Fi. This enables a secondary user to control an optional video camera on the vehicle while the other user is piloting the craft, he added.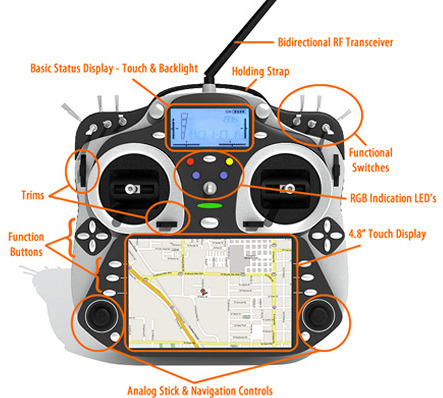 OSRC control unit detail
The remote vehicle is primarily controlled via a variety of sticks and buttons, as shown in the images above. These can be function-swapped in software, according to the group.
One of the "cool and original" features touted for the OSRC is its self-actuating, self-correcting control stick capability. Users will be able to choose a self-actuating mode that mimics the moves of an expert RC pilot, says Gizmo For You.
The sticks will "actually move for you, sensing the Yaw or Roll of your vehicle and realigning your fingers while you fly," writes Zavorotnitsienko , who admits to being an RC enthusiast. "Even replaying your own moves is possible once the actuated sticks are in place," he adds.
As noted, the OSRC controls remote vehicles via a two-way, 2.4GHz or 900MHz RF modem. The device enables 16 channels for remotely controlling different sensors and servos. However, it could move up to as many as 40 channels in some configurations, says the group, although it does not offer further details.
Also available is a GPS transmitter for tracking and, with flying vehicles, UAV control. If you purchase the version with the Overo Air SBC, Wi-Fi and Bluetooth are also said to be available.
The Bluetooth support leads to the second listed "cool and original" feature: a separate Bluetooth-enabled control stick. This would enable, for example, a secondary co-pilot to handle some of the control functions.
There do not appear to be mock-ups or detailed specs for the receiver device that attaches to the vehicle, but it's said to run on an undisclosed ARM microprocessor running custom firmware loaded via a microSD slot. A 2.4GHz radio and GPS are integrated in the unit to match the control device's functionality, says Gizmo For You. Also available are accelerometers and a gyro mechanism, says the group.
It is unclear how the receiver unit and software would be integrated with an off-the-shelf model vehicle, but no doubt taming that sort of complexity is part of the fun. Note that some of the below specs could change, and — as an open source device with a modular design — the OSRC lets hobbyist gadget makers add or remove inputs and sensors, says the group.
Features and specifications for the Control Unit prototype are currently listed as:
Processor — Gumstix Overo Earth or Overo Air, both at 600MHz or 720MHz clock rates, depending on the TI OMAP3503 (Cortex-A8) SoC model used
Memory — 256MB or 512MB of DDR RAM; 256MB NAND flash
Flash/storage expansion — microSD slot
Display — 4.8-inch AMOLED or LCD display with video streaming support; secondary, smaller status display with "touch & backlight"; optional removable main display
Wireless communications:

2.4GHz or 900MHz RF modem (two-way) with high-speed encryption; 10 to 40-Km (6.2 to 24.9-mile) range
GPS
Bluetooth (Overo Air model only) for optional external thumbstick controller
Wi-Fi (Overo Air model only)

Controls:

16 channels (up to 40 in some configurations)
interchangeable functional switches
function buttons
analog stick and navigation controls
replaceable and upgradable "switch to pot" and "stick to stick"
optional RPM meter for multi-blade systems
self-actuated, self-correcting sticks with learning feature

Battery — 2200 – 3300mAh lithium-polymer battery with internal charger
Features and specifications for the OSRC receiver unit are said to include:
Processor — ARM processor (undecided)
Memory expansion — microSD slot
Wireless — 2.4GHz RF modem; GPS
Controls and sensors:

16 channels (up to 40 in some configurations)
onboard servo mixing
accelerometers
gyro
The Linux-based user interface on the control unit is said to offer the following features:
complete, free switch customizing
channel mixing
camera control for UAV or quad-copter video capture
onboard video preview, direct from vehicle
real-time sensor display from model
potential 3D simulation and tracking software based on sources such as "Street Maps and/or Linux based UI's for GPS tracking"
standard RC features, including exponential, mixing, model type, settings transfer, etc.
Earlier in 2009, GizmoForYou announced a GPS-equipped baseboard for the previous Gumstix Verdex SBC, which like the Overo SBCs, has been a mainstay of the embedded Linux hobbyist gadget and robotics communities.

Availability
The Open Source RC (OSRC) is expected to be available starting at $670 in kit form for both the controller and receiver, says Gizmo For You. The prototype could be done in as little as two months, with the commercially available product due two months after that, or around November or December.
More information may be found at this Gizmo For You OSRC page as well as on this IndieGoGo funding page for the device. Gizmo For You is actively looking for new members and financial contributors.
---
This article was originally published on LinuxDevices.com and has been donated to the open source community by QuinStreet Inc. Please visit LinuxToday.com for up-to-date news and articles about Linux and open source.