May 20, 2009 — by Eric Brown — from the LinuxDevices Archive — 56 views

Open source hacker community GizmoForYou is shipping a Linux hardware/software kit for building a modular touchcreen smartphone. Based on the OMAP35x-based Gumstix Overo Earth single-board computer (SBC), the Flow phone offers modules including GPS, 3.5G cellular, Bluetooth, WiFi, and a camera, says the group.
(Click for larger view of 1.0 version of GizmoForYou's Flow phone)
GizmoForYou builds custom gadgets according to members' suggestions, and then sells the open-spec devices as modular kits online. Its Flow phone is based on the new Gumstix Overo Earth single-board computer (SBC), pictured below. The board measures 0.7 x 2.3 x 0.2 inches — 40 percent smaller than the earlier Verdex used in previous Gizmos. The Overo incorporates the ARM Cortex-A8-based Texas Instruments (TI) OMAP3503 system-on-chip (SoC) clocked to 600MHz, as well as 256MB RAM, 256MB flash, and various I/O interfaces.
Overo Earth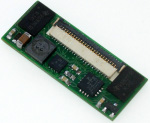 Flow LCD module
(Click to enlarge)
The core of the product is the Flow motherboard, which is designed to integrate the separately available Overo Earth module. Other modules attach to the motherboard, including a 3.7-inch 640 x 480 Sharp LS037V7DW01 touchscreen LCD and Flow Sharp LCD module (pictured at right).
Connectivity modules include GPS, USB, and a choice between a plain GSM cellular module and a HSDPA-ready 3.5G/GPS/GSM/GPRS module. (WiFi and Bluetooth are already supplied by the Overo SBC.) Additional options include a 1GB MicroSD card, camera, power supply, battery, and enclosure, with various options available on several of the modules.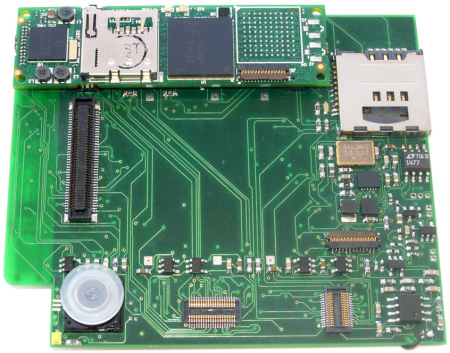 Flow motherboard
(Click to enlarge)
Flow motherboard features are said to include:
2 x 70 pin connectors for the Overo module from Gumstix
80-pin connector for the GSM, GPS, and 3G modules
Stereo amplifiers
2 x speakers and GSM audio amplifier for speakers
Microphone and GSM preamp for Mic
PIC16LF877A UI Init (with Bootloader preloaded)
2 x general-purpose buttons linked to the UI Unit
Orientation sensor
Light sensor
Level translation for GSM serial connections
3G USB HS power supply
Luxeon 1W LED for the camera flash features
Dual SIM/MicroSD slot (experimental)
Camera connector and camera power management
Power management circuits fully controllable by the UI unit
Additional pins for connecting external power sources
Dimensions — 3.0 x 2.6 inches (76 x 65mm)
Operating system — Linux
Being an open source project, GizmoForYou encourages its members to customize any of these modules or develop new ones. The Gizmo developers post notes on their progress, and respond to member suggestions for new ideas and improvements. All software source files and hardware documentation are posted as open source, including schematics, mechanical designs, and PCB designs, says the project. GizmoForYou also sells all the parts, PCBs, and tools required to build the gizmo, so members can build their own devices or spin off new versions.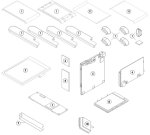 Flow parts
(Click to enlarge)
GizmoForYou does not say much about software, but there are a growing number of Linux development platforms supporting the Overo Earth and OMAP35x platforms, and according to project member Demetris Zavorotnichenko, the group is working on an Android implementation. "The entire device is Open Source (except for the actual Gumstix Platform) and all the designs, assembly instructions and OS porting Guides are available to the public," he wrote in an email. "Since the Overo line has the ability of 3D acceleration we have made the design in such a way to have Buttons and use it in Landscape mode as well as in Portrait mode for future Gaming development. Already have ported a well known Open Source Game engine and are very excited about it."
(One easy guess on the gaming platform: the OpenPandora platform that runs on the similarly OMAP3530-based open-source Pandora game device.)
The GizmoForYou project decides the manufacturing volume based on members voting for devices they think they might buy, so the idea is that the more people who vote for a product, the cheaper the cost. At this point, the Flow is pretty pricey, running into the hundreds of dollars when the modules are added up, but then again, how often do you get to build your own smartphone?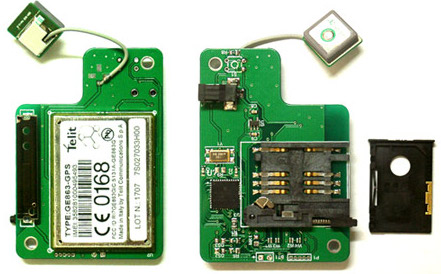 GPS — GSM Tracker Gizmo
Until the arrival of the Flow, most of the the gizmos for sale have been based on GPS. These include the
"GPS — GSM Tracker Gizmo"
(pictured above) which incorporates a Linux-ready
Telit GE863
wireless module to transfer GPS tracking information over cellular networks.
Availability
The Flow phone modules are available now at various prices, starting with the Flow motherboard (not counting Overo Earth) selling for $208. More information on the Flow phone may be found here, and the Flow modules can be purchased here.
---

This article was originally published on LinuxDevices.com and has been donated to the open source community by QuinStreet Inc. Please visit LinuxToday.com for up-to-date news and articles about Linux and open source.