Feb 2, 2012 — by Eric Brown — from the LinuxDevices Archive — 102 views
German manufacturer Golden Delicious has begun shipping a hackable open source smartphone that runs a variety of Linux software, including a newly optimized Openmoko distro. The Openmoko GTA04 is available as a finished phone or as a board that slips into earlier Openmoko Neo Freerunner GTA01 and GTA02 cases, providing an 800MHz Texas Instruments DM3730 processor and a full range of sensors and wireless features.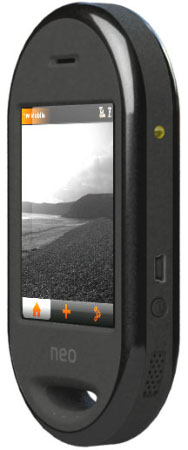 Before Android, WebOS, and even LiMo, Linux pushed the smartphone market forward via Motorola phones such as the MotoRokr, as well as phones from NEC, Panasonic, Fujitsu, and others. Meanwhile, the Openmoko project — sponsored by a company of the same name — launched an open source, open platform Linux smartphone.
Openmoko released an Openmoko Neo1973 developer phone (now called the GTA01), and followed up with the Neo Freerunner (pictured at right) in early 2008. The latter (also known as the GTA02) finally shipped in volume on July 4, 2008.
In April 2009, however, hit hard by the recession and the arrival of Android, Openmoko announced it was halving its staff and discontinuing its planned, next-generation GTA03 version of the phone.
The company vowed to continue supporting the GTA02, which is offered by a number of distributors. However, it turned its focus to a non-Linux, Wikipedia-devoted offline reading device called the WikiReader (introduced in Oct. 2009, this still appears to be available.)
The Openmoko.org community project continued to develop software for the platform, releasing a version of Android for the GTA02, and supplying updated Debian and QtDebian (based on Qt) distributions for the platform.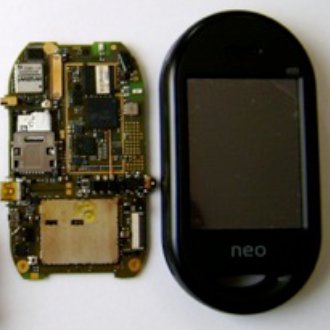 GTA04 board with Openmoko Neo Freerunner case
Now, the community has found a new ally in Germany's
Golden Delicious Computers
, as explained in this
Losca blog report
and the Openmoko.org site itself. Golden Delicious is selling its new GTA04 product (pictured above and below) both as a finished phone, as well as an upgrade board for earlier Neo Freerunners.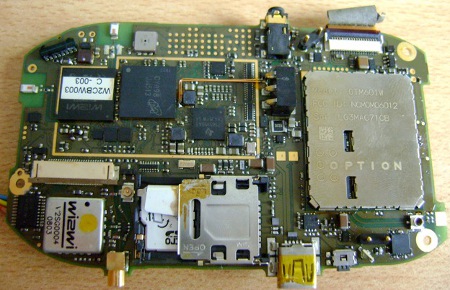 GTA04 board
(Click to enlarge)
Openmoko, Inc. is not involved in the project, according to Nikolaus Schaller, GTA04 project leader at Golden Delicious, who informed us of the phone's release. "It is an example that users can continue the work if the originator has reasons not to continue, but made the material open source (like Openmoko, Inc. did)," Schaller wrote in an email.
As with previous Freerunners, the GTA04 is expensive, but once again the hope is that volume will bring costs down. The GTA04 upgrade board costs 666.66 Euros ($873) from stock in single units, and 749 Euros ($981) as a complete phone with case and battery. Groups, however, can save money by registering for a group production run (see farther below).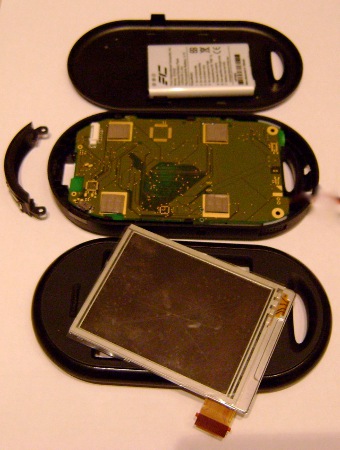 Components of Openmoko GTA04 phone
(Click to enlarge)
In order to upgrade earlier Freerunners, the GTA04 still has the same 2.8 inch, 640 x 480 touchscreen, which is likely to limit uptake from new customers. Beyond that, however, it's a vastly improved device over the four-year-old Neo Freerunner GTA02. It's more or less on par with a mid-range Android smartphone, but with a more open development platform and some intriguing features that make the phone stand out from the crowd.
In place of the 500MHz, ARM9-based Samsung S3C2442 processor, the GTA04 moves up to a Texas Instruments DM3730, the Cortex-A8 processor that drives the community-driven BeagleBoard-xM. Capable of 720p video playback, the processor offers a 1GHz core (clocked on the GTA04 to 800MHz), as well as an 800MHz C64x+ DSP (digital signal processor) core, and a 3D graphics accelerator.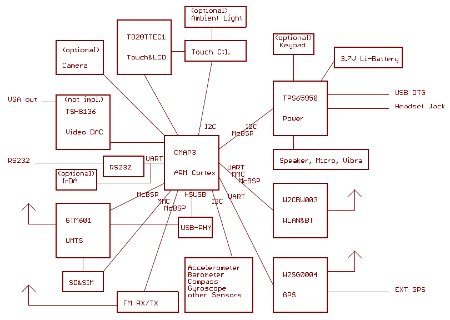 GTA04 block diagram
(Click to enlarge)
The GTA04 is further equipped with 512MB RAM, 512MB NAND flash, and microSD expansion for up to 32GB of storage, says Golden Delicious. Wireless features include a 3G HSPA/UMTS radio, Wi-Fi, Bluetooth, and GPS, says the company.
Wired connections include a USB 2.0 port, and an A/V jack that combines composite video out with audio I/O and a "remote control," says the company. There's also said to be an internal RS232 connection for debugging, as well an optional pair of 60-pin expansion connectors.
The GTA04 ships with a full range of sensors, including a barometer/thermometer, and it even offers an RFID chip, says Golden Delicious. A 1.3-megapixel camera is said to be optional.
Features and specifications listed for the Openmoko GTA04 include:
Processor — TI DM3730 @ 800MHz
Memory — 512MB RAM; 512MB NAND flash
Storage expansion — microSDHC (up to 32GB)
Wireless:

quad-band GSM, EDGE, UMTS HSDPA (14.4Mbps), HSUPA 5.76Mbps
802.11b/g
Bluetooth 2.0
FM receiver and transmitter, both with RDS
GPS (20-channel, int/ext. antenna)

I/O:

USB 2.0 OTG port (client, charger, host)
RS232 (internal, full level, RX/TX/RTS/CTS/RI) for debugging, unbricking, and optional console
2.5mm 4-pin AV jack (composite video out, audio in/out, remote control)
2 x 60-pin expansion connector (optional)

Audio — mic; speakers (stereo speaker support only as upgrade to GTA01 case); audio I/O via A/V jack
Camera 1.3-megapixel (optional)
Sensors — 3-axis accelerometer, 3-axis compass, 3-axis gyroscope, ambient light (optional)
Other features — RFID tag chip with 64 kBit EEPROM; 2 x buttons, 4 x LEDs; torch/flash controller; optional IrDA
Battery — 3.7 V Li-Ion, 1200mAh battery with 400 hours standby time
As with previous Openmoko phones, the GTA04 is billed as being totally open and hackable. Documentation and schematics of all GPIO and signal connections are available to support driver development and extensions, says the company.
A variety of Linux options are available on the phone, led by the GTA04-optimized QtMoko v38 released by Openmoko.org on Jan. 29, featuring support for "suspend," as well as GSM calls. In addition, Golden Delicious offers a Debian Squeeze for ARMEL distribution featuring the lightweight LXDE desktop environment.
Meanwhile, the SHR project, which makes the OpenEmbedded-based SHR mobile Linux operating system, is also working on a version optimized for the GTA04. With the phone's modern Cortex-A8 processor, meanwhile, many other mobile operating systems ranging from MeeGo to WebOS to Android could find their way to the GTA04.
Availability
The Openmoko GTA04 is available now for 666.66 Euros ($873) for the GTA04 upgrade board and 749 Euros ($981) as a complete phone with case and battery, says Golden Delicious. Groups, however, can register for a group production run that costs between 449 Euros ($588) and 499 Euros ($653), and other volume discounts and customization options are also available, says Golden Delicious.
More information may be found at the Golden Delicious online store, as well as the GTA04 project site and the Openmoko.org site.
Eric Brown can be reached at [email protected].
---
This article was originally published on LinuxDevices.com and has been donated to the open source community by QuinStreet Inc. Please visit LinuxToday.com for up-to-date news and articles about Linux and open source.