Feb 23, 2011 — by Eric Brown — from the LinuxDevices Archive — 2 views
[Updated: Feb. 24] — OSADL (Open Source Automation Development Lab) is calling for papers for its 13th RealTime Linux Workshop (RTLWS13) in Prague on Oct. 20-22. Also announced were an "OSADL Academic Works" book series — starting with Roland Kammerer's "Linux in Safety-Critical Applications" — and two new academic partners, ZHAW's InES lab in Winterthur, Switzerland, and the RealTime Systems Laboratory (RETIS) in Pisa, Italy.
OSADL coordinates the development of open source projects in the areas of embedded and industrial design, including projects focused on real-time and safety-critical Linux, real-time Ethernet, and special automation-related drivers. (See farther below for more OSADL background.)
The group's 13th annual RealTime Linux Workshop (RTLWS13) is scheduled for Oct. 20-22, 2011, at the Czech Technical University in Prague, Faculty of Electrical Engineering, Dept. of Control Engineering. Users and researchers are now invited to submit abstracts for presentation, which will undergo review by the RTLWS13 program committee.
This year's RTLWS13 will co-locate with OSADL's invitation-only Mini-RT-Kernel Summit in Prague on Oct. 22, and will directly precede several other major Linux-related events hosted by the Linux Foundation in Prague. The invitation-only Linux Kernel Summit will run from Oct. 24-26 at the Clarion Congress Hotel, and both LinuxCon Europe and the Embedded Linux Conference (ELC) Europe will be held at the same venue from Oct. 26-28.
Topics of interest for RTLWS13 presentations include, but are not limited to:
modifications and variants of the GNU/Linux operating systems extending its real-time capabilities
contributions to real-time Linux variants, drivers and extensions
user-mode real-time concepts, implementation and experience
real-time Linux applications, in academia, research and industry
safety-related FLOSS systems
work in progress reports, covering recent developments
educational material on real-time Linux
tools for embedding Linux or real-time Linux and embedded real-time Linux applications
RTOS core concepts, RT-safe synchronization mechanisms
RT-safe interaction of RT and non RT components
IPC mechanisms in RTOS
analysis and benchmarking methods and results of real-time GNU/Linux variants
real-time networking with COTS
medical applications using COTS and FLOSS
debugging techniques and tools, both for code and temporal debugging of core RTOS components, drivers and real-time applications
real-time related extensions to development environments
"OSADL Academic Works" book series part of academic outreach
The "OSADL Academic Works" book series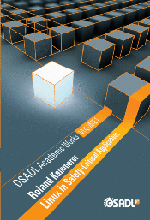 is said to be part of a new outreach program by OSADL to academic organizations involved in real-time Linux research. The first title is now available: Volume 1 of Linux in Safety-Critical Applications (right).
Written by Roland Kammerer, Technical University Vienna, the 130-page book is edited by OSADL's Carsten Emde, Thomas Gleixner, and Nicholas Mc Guire. It may be obtained directly from OSADL and from other sources, and is available free to OSADL members.
OSADL also announced two new academic members, bringing the total number to 13. First is the Institute of Embedded Systems (InES), based at Zurcher Hochschule fur Angewandte Wissenschaften (ZHAW), in Winterthur, Switzerland. InES is said to employ 40 full-time researchers, and is active in the fields of highspeed and synchronous communication systems, including real-time Ethernet systems such as PROFINET, as well as redundancy systems such as Parallel Redundancy Protocol (PRP).
It's said InES will collaborate with OSADL to integrate high performance communication systems with Linux.
Also new to OSADL is the RealTime Systems Laboratory (RETIS), based at the Scuola Superiore Sant' Anna in Pisa, Italy. RETIS researchers are said to be working on improving the schedulers used in real-time systems. For example, in mainline Linux, the priority-based realtime POSIX scheduler has no capability to guarantee temporal isolation among realtime applications, so a higher priority task can arbitrarily delay a lower priority task, says OSADL.
RETIS hopes to address this gap by providing Linux implementations of the POSIX Sporadic Server policy, as well as policies based on Early Deadline First (EDF). EDF-based policies are said to allow for achieving higher saturation levels, while also enhancing "composability" in complex real-time systems, making them more conveniently exploited by real-time tasks, with respect to priority tuning.
OSADL background
Since its merger with the Real-Time Linux Foundation (RTLF) early last year, OSADL has regularly released "Latest Stable" industrial real-time Linux kernels based on the PREEMPT_RT patch series. In February, 2010, OSADL released Kernel 2.6.31.12-rt21, based on Linux 2.6.31, and in December, OSADL released Kernel 2.6.33.7.2-rt30, based on Linux 2.6.33.
In May 2010, OSADL became a Silver member of the Linux Foundation. In November, the group announced a quality assurance testing farm where manufacturers can test a variety of real-time Linux systems under simulated production conditions. The multi-platform test center aims to prove real-time Linux as a capable, and more flexible, alternative to real-time operating systems (RTOSes).
Availability
More information on the call for papers for the 13th RealTime Linux Workshop (RTLWS13), to be held Oct. 20-22 at the Czech Technical University in Prague, may be found here.
More information on Roland Kammerer's book may be found on OSADL's Linux in Safety-Critical Applications page, or this Amazon.com page where the book is available for $29.80. The book will be available for sale at OSADL's booth 11/308 at the Embedded World exhibition in Nuremberg, Germany, Mar. 1-3.
Also at Embedded World, OSADL's Safety Coordinator and co-editor of OSADL's first book, Nicholas Mc Guire, will chair an all-day track on Mar. 3 called "FLOSS for Safety-related Systems", featuring presentations by Mc Guire, Kammerer, and Emde, among others.
---
This article was originally published on LinuxDevices.com and has been donated to the open source community by QuinStreet Inc. Please visit LinuxToday.com for up-to-date news and articles about Linux and open source.