Sep 23, 2008 — by Eric Brown — from the LinuxDevices Archive — 22 views

[Updated 2:15PM] — T-Mobile, Google, and HTC announced the first phone based on the Google-sponsored Android Java/Linux stack. The T-Mobile G1 is due to ship on October 22 for $180, with 1GB of flash, a 3.2-inch touchscreen haptic display, a keyboard, and WiFi, Bluetooth, and GPS.
(Click for larger view of the G1's landscape-mode desktop)
Previously code-named "HTC Dream" when the phone was approved by the U.S. Federal Communications Commission (FCC) in August, the G1 is designed to be used on Deutsche Telekom-owned T-Mobile's 3G networks in the U.S.and Europe.
As had been previously leaked, the 4.6 x 2.16 x 0.62-inch smartphone sports a slide-or-swivel QWERTY keypad, a touchscreen with haptic feedback, WiFi, and Bluetooth. It also offers GSM/GPRS/EDGE 850/1700/1800/1900/2100Mhz cellular capability, and is equipped with a jog ball and a 3.7 V Li-ion battery. T-Mobile now reveals that the battery supports up to five hours of talk time and 130 hours on standby.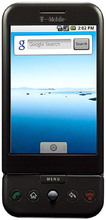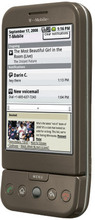 G1's Google desktop search bar, search results, and message view screens
(Click any to enlarge)
HTC and its partners did not disclose the processor or clock rate of the system. They did say the phone would come with a 1GB SD memory card. As expected,the device also offers GPS, and accelerometers, and a built-in "compass" that can adjust one's street view automatically based on the direction one is facing. There is also a 3-megapixel camera, but not video recording, although a T-Mobile rep at the launch event in New York City suggested that the device is capable of it if somebody wrote the application.
The phone's haptic touchscreen responds to iPhone-like swipes and spins, offering drag and drop and framing of photos, and a "long press" feature that enables additional features when a selection is held down. When the phone is turned on its side and the QWERTY keyboard is slid out, the menu panel of control buttons previously located below the screen slides down to line up with the keyboard, providing additional button functionality as if it were a keyboard extension.
The music player supports MP3, M4A (for DRM-free ITunes AAC), AMR, WMA, MIDI, WAV, and OGG Vorbis. It also, not suprisingly, offers quick access to Google services, including Google search, Google Maps Street View, Gmail, and YouTube. It also offerd one-touch access to Amazon MP3 for buying music, says T-Mobile.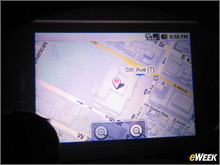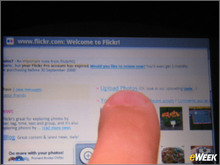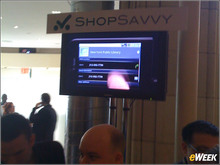 T-Mobile demonstrated Google Maps, Flickr, and "Shop Savvy" on the G1
(Click any snapshot to enlarge)
Google is also launching "Android Market," an online shop for Android applications from games to social networking. The G1 will ship with three applications out of the box: ShopSavvy (comparative shopping), Ecorio (carbon footprint calculator), and BreadCrumbz (customized maps with photos).
The G1 offers a Webkit-based browser that borrows from Google's new Chrome browser. The browser can be considered to be a kind of "Chrome Lite," said Android's original developer, Andy Rubin, who is now senior director of mobile platforms at Google (more on Rubin below).
The phone can read Microsoft Word, PDF, and Excel formats, but currently offers no compatibility with Microsoft Exchange. The phone does not currently support Skype for making calls over WiFi, said Rubin in the Q&A after the launch demo. The phone is locked, so users must access T-Mobile's network.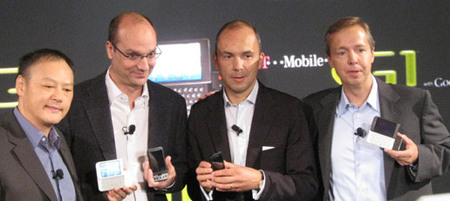 (L-R) HTC President and CEO Peter Chou; Google Senior Director of Mobile Platforms Andy Rubin; Christopher Schläffer, group product and innovation office of Deustche Telekom; and Cole Brodman, chief technology and innovation officer of T-Mobile USA
(Click to enlarge)
The launch event in New York City featured T-Mobile execs including Cole Brodman, chief technology and innovation officer at T-Mobile USA, as well as HTC CEO Peter Chou and Google's Rubin. Toward the end, Google founders Larry Page and Sergey Brin rollerbladed in, suggesting it was the only way to make it on time considering all the blocked off streets for the UN General Assembly meeting being held nearby at the UN building.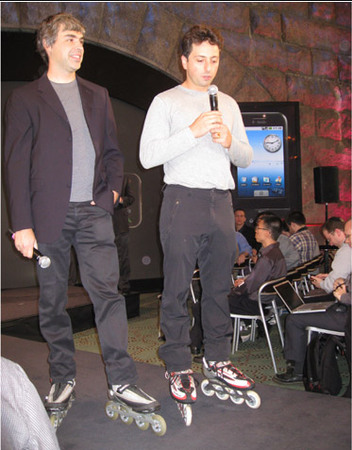 Google founders Sergey Brin and Larry Page skate onto stage
(Click to enlarge)
Linux inside
Without actually using the "L" word, Brin and Page lauded Android's open source development environment. Said Page, "You'll see amazing things happening with this platform, especially with location based services." Brin, meanwhile, joked that the first Android app he thought of was one that used the accelerometers to measure the length of time a phone was in the air when playing catch with it. "We decided not to go ahead with that one," he joked.
After the show, a Google representative said that the Linux port was done by Google itself. However, he did not provide any more details on the kernel distribution.
T-Mobile says it has 100 million customers in Europe, but only about 30 million in the U.S. where the company hopes to increase mobile Internet service revenue. "U.S. consumers over-consume everything, and we love that about them, but they are lagging in use of the mobile Internet," said T-Mobile's Brodman at the launch.
HTC's Chou, meanwhile, did not mention many specifics about the phone's internal specs. HTC is the world's largest vendor of Windows Mobile smartphones, HTC is perhaps best known currently for its Windows Mobile 6.1-based Touch phones. This week the Taiwan-based vendor announced an upgraded Touch HD version boasting a higher-resolution 800 x 480 display. Aside from its similarly ample dimensions, however, the Dream appears to offer an entirely new design. HTC typically launches at least one new hardware design each month; for a listing, visit the WindowsForDevices Guide to HTC's Windows Mobile phones.
HTC expects to ship 600,000 to 700,000 units this year, according to the WSJ, whereas most analyst estimates range from 300,000 to 500,000. For the sake of comparison, Apple shipped 892,503 iPhones in Q2 of this year alone.
Lots more details about T-Mobile's Android phone can be found in eWEEK coverage, here.
A short history of Android
Android and the 33-company Open Handset Alliance (OHA) that oversees it were announced last November, surprising the mobile phone world, and boosting the cachet of embedded Linux. OHA members included a variety of wireless providers, including China Mobile, NTT DoCoMo, Sprint Nextel, Telecom Italia, Telefonica, and T-Mobile. Android signed up an even stronger line-up of technology sponsors, including Broadcom, Intel, LG, Qualcomm, Motorola, Samsung, Texas Instruments, and on the software side, Linux distro and tool provider, Wind River.
The Android stack is based on an "open Linux kernel," and includes a full set of mobile phone application software. The stack was created by Android, a mobile phone software house that Google acquired several years ago. Co-founder Andy Rubin, who has a fondness for robots, previously co-founded Danger, a software house that continues to provide software for the Sidekick "hiptop" marketed by T-Mobile.
As eWEEK's Clint Boulton wrote recently on his "Google Watch" blog, it was not surprising that T-Mobile was the first to deliver an Android phone. "Google Android mastermind Andy Rubin, you'll recall, created T-Mobile's Sidekick, a device famously used by hotel heiress Paris Hilton and entrepreneur Mark Cuban, who expressed his love for the gadget last week at TechCrunch50."
The OHA and Google chose a managed application approach to Linux phones, by building everything — even the phone UI — in Java. The Eclipse-based Android SDK lets users write Java applications that run on Dalvik, a virtual machine designed to run on top of Linux in embedded applications. The open source stack aims to enable developers to write mobile phone applications that make use of Google services, thus expanding Google's Maps, Mail, Search, LocalSearch, YouTube, and other services.
Google was preceded in the Linux mobile standards game by nine months when the LiMo Foundation opened its doors. (There was also a more formal standards organization called the Linux Phone Standards (LiPS) Forum, that preceded Android, but it was disbanded in late June, with most of its members who hadn't already done so joining LiMo.)
Unlike Android's managed approach, LiMo has built standards around native Linux applications, so that Linux phones from different vendors have enough in common to simplify porting applications such as operator-specific user interfaces from one new model to the next. Both LiMo and Android are attempting to consolidate the fragmented mobile Linux market around common platforms in order to reduce costs and promote interoperability, they claim.
Invigorated in part by the competition and attention caused by Google's Android, LiMo took advantage of its head start and in February announced nine new members, as well as 18 LiMo phones from companies including Motorola, Panasonic, and NEC. In March, LiMo followed up with the formal release of its LiMo Platform, which also featured major contributions from Android supporter Wind River, and then in May announced seven new members, including Verizon Wireless. The wireless giant indicated it would also consider offering an Android phone, and it now appears to be moving forward on an Android phone, but the momentum shift to LiMo was clear.
Google and the OHA bounced back in May by announcing the first round winners of the Android Developer Challenge, which selected from a field of 1,788 submissions. Around the same time, Google showed off an early version of the Android stack running on a prototype HTC Dream phone.
In late June, however, the news leaked out that the Android project had slipped, and that the first phones would not ship until the fourth quarter instead of the third. Around the same time, Nokia added a potential new competitor in the open source mobile phone world when it announced that it was buying the half of Symbian it did not already own, and set about to start developing an open source version of the Symbian OS. Meanwhile, LiMo continued its momentum with the acquisition of ex-LiPS members, as well as a number of new LiMo phones that began shipping in August.
With the HTC Dream announcement, which was previewed when the FTC approved the design in August, as well as the solidification of release 1.0 of the Android SDK, Google's mobile spec appears to be finally coming together. And it appears that shipments should appear in plenty of time for the holiday season.
Availability
The T-Mobile G1 is available now for pre-order for T-Mobile customers, and will ship in the U.S. on Oct. 22 for $180 with a two-year voice and data agreement, says T-Mobile. The G1 will then ship in the UK in November, and in the rest of Europe in the first quarter of 2009. More information may be found here. The HTC Dream site may be found here.
Sprint and Verizon Wireless are expected to announce Android phones later this year, but there have been no announcements to date.
---

This article was originally published on LinuxDevices.com and has been donated to the open source community by QuinStreet Inc. Please visit LinuxToday.com for up-to-date news and articles about Linux and open source.