Dec 18, 2008 — by LinuxDevices Staff — from the LinuxDevices Archive — views
Smartphone shipments will rise 8.9 percent worldwide, and 3.1 percent in the U.S. next year, forecasts IDC. Meanwhile, "traditional" mobile phone sales are forecast to slump 3.5 percent globally and 11.5 percent Stateside, off-setting smartphone growth for an overall shipments drop of 1.9 percent, the industry's first decline since 2001.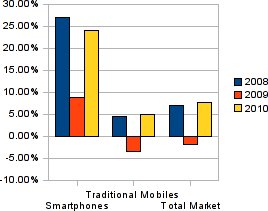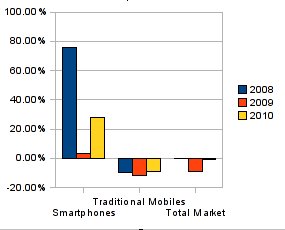 Three year mobile phone shipments delta, Worldwide (top, or left) and USA
Over the past several years, the mobile phone market has enjoyed double-digit annual growth, thanks especially to "emerging markets," the research firm says in its latest "Mobile Phone Tracker" report. But, the global economic crisis will put a stop to this in 2009, IDC warns. In fact, growth figures for the current year will fall short of double digits, reaching 7.1 percent for 2008, the firm expects.
Total mobile phone sales volumes in 2009 are expected by IDC to be 1.9 percent lower than 2008 levels, making the first downturn in annual shipment volumes since 2001 (when they declined 2.3 percent). In the U.S. market, the decline will be even worse. More or less steady during 2008, U.S. cell phone shipments will decline by 8.7 percent next year, says IDC.

Region
Device Type
2008
2009
2010
USA
Converged mobile device (smartphone)
75.7
3.1
28.2
Traditional mobile phone
-9.8
-11.6
-8.8
Overall market
-0.3
-8.7
-0.7
Worldwide
Converged mobile device (smartphone)
26.9
8.9
24.0
Traditional mobile phone
4.6
-3.5
5.0
Overall market
7.1
-1.9
7.7
U.S. and worldwide mobile phone shipment growth by device type, 2008-2010
Source: IDC
However, smartphones that run complex operating systems such as Linux will be a relative bright spot. While smartphone sales have clearly been affected by the economy, as the above table shows, they will continue to increase moderately. IDC predicts 2009 smartphone shipments will increase by 8.9 percent globally, and more than three percent in the U.S.
And, in 2010, "when economic recovery plans will have taken effect," smartphone shipments will be in the vanguard. They'll increase by 28.2 percent in the U.S. and 24 percent globally, IDC predicts.
The firm comments that the current economic crunch is causing increasing numbers of consumers to hold onto their current phones, rather than upgrading them. Explaining the ascendancy of smartphones, however, IDC adds that falling prices are making converged devices an increasingly popular choice for those who do upgrade.
Ramon Llamas, a senior analyst in IDC's Mobile Devices Technology and Trends unit, said, "Converged mobile devices remain a much sought-after option for many consumers. Users have come to realize what these devices can do beyond voice telephony, especially when it comes to running applications. In response, handset vendors have been building their product and applications portfolios to catch this wave of opportunity."
Operating systems
IDC's new research did not forecast what proportion of the increasing smartphone market Linux might garner next year. The firm defines converged mobile devices as those with a "high-level operating system that enables the device to run third-party applications in addition to voice telephony," adding that Android, BlackBerry, Linux, Mac OS X, Palm, Symbian, and Windows Mobile all qualify.
In its own recent report, Gartner agreed that the recession is hindering overall phone sales, but said that year-on-year smartphones were up 11.5 percent in 3Q 2008. Big market share winners were said to be Blackberry (up 81.7 percent) and Mac OS X (up 327.5 percent).
Windows Mobile and Linux, meanwhile, were said to be dropping slightly, the former down from 12.8 to 11.1 percent year over year, and the latter down from 8.8 to 7.2. According to Gartner, Linux dropped only slightly compared to the previous quarter, from 7.3 percent to 7.2 percent.
Availability
More information on IDC's Mobile Phone Tracker reports, issued quarterly, should be available here.
---

This article was originally published on LinuxDevices.com and has been donated to the open source community by QuinStreet Inc. Please visit LinuxToday.com for up-to-date news and articles about Linux and open source.