Jan 12, 2012 — by Eric Brown — from the LinuxDevices Archive — 7 views
Parrot announced three new versions of its Android-based Asteroid in-vehicle infotainment (IVI) platform: a 3.2-inch Asteroid CK Bluetooth hands-free system, a five-inch Asteroid Nav navigation system, and the Asteroid 2DIN multimedia car radio. Parrot also announced a revised 2.0 version of its Linux-based Parrot AR Drone "quadricopter" flying drone that can now be flown with an Android phone.

Parrot announced the Android-based Parrot Asteroid automotive audio system (pictured) at last year's CES show, and released more details in August. Now it has unveiled three more feature-rich models: the low-end Parrot Asteroid CK Bluetooth system, mid-range Parrot Asteroid Nav navigation system, and feature-packed Parrot Asteroid 2DIN multimedia car radio.
The original Parrot Asteroid was billed as a single-DIN automotive audio receiver, but offers many features found in more full-featured in-vehicle infotainment (IVI) systems. The 3.2-inch Asteroid offers many of the features of the new Nav and 2DIN models, but it has a smaller screen and lacks touch support.
Like the original, the new versions are available as finished, retail-ready after-market products as well as OEM designs. In addition, the company can mix and match features among the three models for OEM customers (see farther below).
Parrot Asteroid CK
Like the original Parrot Asteroid, the Parrot Asteroid CK offers a 3.2-inch display, and does not appear to offer touch support. It supplies a basic assortment of Bluetooth hands-free functions, including telephony, music, and Internet access.
The Asteroid CK connects to the Internet via a 3G key or a user's tethered phone connected via Bluetooth or USB. The device accesses Internet services for geolocation, driving assistance, and music, with the latter available either from web radio or music on demand services, says Parrot.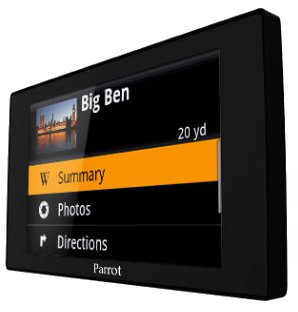 Asteroid CK
Voice-recognition technology can be used to make or accept phone calls, or search for an album or artist from music sources that include a smartphone, USB keys, or SD card. Music files may also be shared via Bluetooth stereo A2DP from a cell phone, says the company.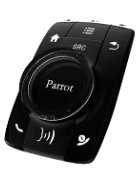 The device is equipped with three USB 2.0 ports, an SD/SD-HC slot, an audio line input, and dual line outputs, says Parrot. Other features are said to include a 4 x 55 Watt MOSFET amplifier and "Virtual SuperBass" support.
The Asteroid CK ships with a wireless remote control (pictured at right). As with the other devices, there were no details on processor, memory, or underlying Android version.
Parrot Asteroid Nav
The Parrot Asteroid Nav adds navigation features to the Asteroid CK feature set and bumps the display up to a five-inch capacitive touchscreen. It uses a different wireless remote that can be fitted on a steering wheel, says the company.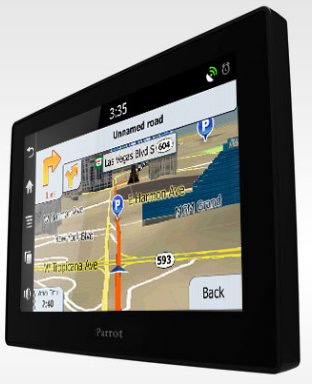 Asteroid Nav
In addition to supporting Bluetooth and USB tethering, the Asteroid Nav offers Wi-Fi. Equipped with Parrot Dual Mode multipoint technology, the Asteroid Nav simultaneously manages up to two Bluetooth phones, says Parrot. The audio system, meanwhile, is said to add sound spatialization.
Users can "enjoy web services apps such as driving assistance," including web radio, music, and geo-localization apps," says Parrot in a claim not made for the CK model. Another feature that appears to be unavailable on the CK is the ability to automatically synchronize one's phonebook.
Parrot Asteroid 2DIN
Designed for larger double-DIN enclosures, the top-of-the-line Parrot Asteroid 2DIN is equipped with a 6.2-inch capacitive multi-touch screen, and appears to use the same wireless remote as is available with the CK model. The device provides all the features of the CK and Nav models, while adding an FM/AM tuner and RDS text+ service.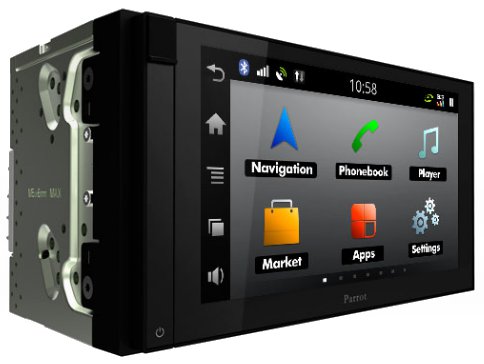 Asteroid 2DIN
In addition to the usual audio line I/O, the Asteroid 2DIN adds two audio outputs, and one subwoofer output. In addition, it supplies a video input and output, as well as an RCA connection to display video from a rearview camera, says the company.
OEM solutions and services
A customizable FC6100 module for OEMs enables auto manufacturers and equipment manufacturers to integrate all or some of the features of the Asteroid CK, Asteroid Nav, and Asteroid 2DIN devices into original equipment, says Parrot.
An Asteroid software development kit (SDK) is also available for porting and adapting applications already available in the Android Market to the Asteroid systems. The SDK also lets developers design new apps, as well as offer drivers and passengers original services built around geolocation, driving assistance, contact management, and music, says the company.
Each new application developed can "include one of the features offered by the Asteroid platform, such as voice recognition or hands-free telephony, and will be offered via an 'Asteroid Market' site that will launch in the second quarter," says the company.
In September, Parrot acquired DiBcom, which develops chipsets enabling low-power, high mobility digital TV and radio reception, says the company. The acquisition should help inspire new infotainment systems for passengers, as well as rearview camera management, road sign recognition, and doze-alert and lane-keeping devices, according to Parrot.
AR Drone updated
Known primarily for its automotive accessories, Paris-based Parrot S.A. followed a whim in 2010 when it released its AR Drone hackable, Linux-based "quadricopter" flying drone. In addition to announcing its new Asteroid models, the company has this week released an updated AR Drone 2.0 that can now be operated from an Android phone.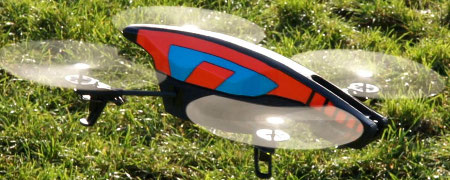 AR Drone 2.0
In addition to offering its previous Apple iOS app, the AR Drone is now supported with an Android app that similarly can be used to fly the device and share data with other AR Drone users. Other software upgrades, meanwhile, include a basic auto-pilot setting.
The quadricopter body has been redesigned and reinforced, and fitted with a new 720p front-facing navigational camera. The latter can now record video as well as aid the pilot in navigating the drone, says Parrot.
New sensors are said to include a camera that faces down to determine speed. This augments the dual ultrasound sensors, which help determine altitude at up to six meters. The Drone AR 2.0 is also equipped with a 3-axis accelerometer, 3-axis gyroscope, and 3-axis magnetometer.
Availability
The Asteroid CK, Asteroid Nav, and Asteroid 2DIN devices will arrive sometime in 2012 at prices to be determined, says Parrot. More information may be found at Parrot's Asteroid site.
The AR Drone 2.0 is expected to ship in the second quarter. More information may be found at the AR Drone 2.0 product page.
---
This article was originally published on LinuxDevices.com and has been donated to the open source community by QuinStreet Inc. Please visit LinuxToday.com for up-to-date news and articles about Linux and open source.