Nov 9, 2011 — by LinuxDevices Staff — from the LinuxDevices Archive — 12 views
Via Technologies announced a Pico-ITX board featuring a dual-core Eden X2 processor and optional PCI Express expansion. The Epia-P900 offers gigabit Ethernet, two SATA ports, seven USB 2.0 ports, and support for HDMI, VGA, and LVDS displays, the company says.
Via touts its new Epia-P900 as offering the "industry's smallest commercialized form factor to feature multi-processing capabilities." While we haven't checked out that claim, the 3.9 x 2.8 inch (10 x 7.2cm) Pico-ITX board indeed offers a dual-core CPU, the company's 1.0GHz Eden X2.
When it announced this processor in March, Via promoted it with no ifs, ands, or buts as "the industry's lowest-power dual-core processor." However, the company still hasn't quantified the chip's power consumption, as far as we're aware, nor have we seen third-party reviews of any Eden X2-based devices.
In any case, Via's Epia-P900 takes advantage of the fact that the Eden X2 is pin-to-pin compatible with its earlier Eden, C7, and Nano E-Series. It's an evolutionary device with a layout that's almost identical to the Epia-830 that was announced last December with the E-Series. (It also bears a strong resemblance to the earlier Epia-P820 and Epia-P720, for that matter.)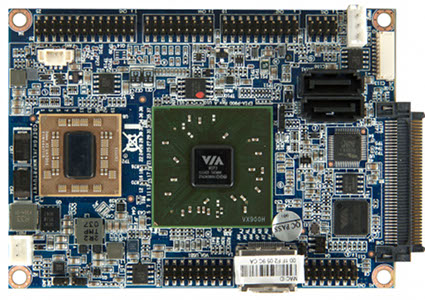 Via's Epia-P900
(Click to enlarge)
Like the Epia-P930, the Epia-P900 uses the VX900H chipset. Promoted for its ability to provide 1080p video playback "without incurring a heavy CPU load," this 31 x 31mm chip accelerates H.264, MPEG-4/AVC, MPEG-2, VC-1, WMV-HD, AVS, Blu-ray, and "advanced browser streamed video technologies," Via says.
According to Via, the VX900H's ChromotionHD 2.0 video engine is also said to provide motion compensation, transform, de-blocking, and AVS support. Integrated display capabilities include a dedicated CRT interface, an LVDS transmitter, a multiplexed display interface for DisplayPort and HDMI, and a 12-bit digital video output port (DVP) for an external HMDI/LVDS/DVI transmitter.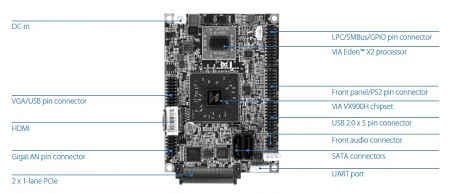 Headers on Via's Epia-P900
(Click to enlarge)
Via leverages these capabilities on the Epia-P900 by providing an HDMI port on the board's coastline, along with pin headers for both VGA and LVDS. As shown above, there are other headers carrying USB, serial, PS/2, and audio signals, and the board also includes two SATA ports.

Epia-P900 with I/O carrier board attached
The Epia-P900 ships with a separate carrier board (the P830-A) that snaps firmly onto its headers, preserving access to the resident HDMI port. As pictured above, this device adds real-world VGA and gigabit Ethernet ports, along with two Type A USB 2.0 connectors, according to Via.
Although Via didn't mention the fact, we're guessing the Epia-P900 is also compatible with another accessory that was announced alongside the earlier Epia-P830. Pictured below, this is a daughterboard that snaps onto the main board's proprietary PCI Express expansion (2 x 1-lane) connector and — at the cost of increasing overall footprint by an unspecified amount — delivers two Mini PCI Express expansion slots.


The earlier Epia-P830, sporting both I/O and Mini PCI Express accessory boards
(Click to enlarge)
We suppose the Epia-P900 is also — without the Mini PCI Express expansion, at least — physically compatible with an enclosure that was touted as turning the prior Epia-P820 into a complete, compact "industrial-class" PC. One side of the Amos-3001, pictured below left, provides access to the Pico-ITX board's coastline, while the other side (below right) adds two more USB 2.0 ports, audio I/O, a GPIO port, and dual serial ports.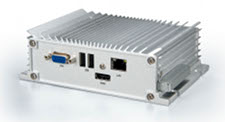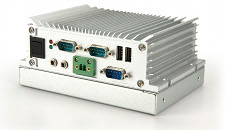 Via's Amos-3001 (optional expansion chassis shown on right)
(Click either to enlarge)
According to Via, the Amos-3001 has room internally for an IDE-interfaced flash drive. Alternatively, an add-on expansion chassis (pictured above right) provides room for a 2.5-inch SATA hard disk drive. Without the expansion chassis, the Amos-3001 measures just 5.9 x 4.25 x 1.81 inches (15 x 10.8 x 4.6cm), making it 20 percent more compact than the previously released Amos-3000, the company says.
Specifications listed for the Epia-P900 by Via include:
Processor — 1.0GHz Eden X2
Chipset — VX900H
Memory — 1 x DDR2 socket for up to 4GB memory
Display/video — HDMI, VGA, or LVDS support with MPEG-2/4, WMV9, and H.264 video acceleration
Storage — 2 x SATA connectors
Expansion — PCI Express (2 x 1-lane)
Networking — 1 x Via VT6130 gigabit Ethernet controller
Onboard I/O pin connectors:

1 x USB, supporting 5 USB 2.0 ports
1 x LPC
1 x SMBus
1 x front panel
1 x PS/2
1 x single-channel LVDS
1 x audio for line-in, line-out, and mic-in
1 x DIO (4GPI+4GPO)
2 x UART
DC power input

Back-panel I/O (via carrier board):

1 x HDMI port
1 x VGA port
1 x gigabit Ethernet jack
2 x USB 2.0 ports

System monitoring — Wake-on LAN, keyboard power-on, timer power-on, system power management, AC power failure recovery, watchdog timer
Operating temperature — 32 to 140 deg. F (0 to 60 deg. C)
Dimensions — 3.9 x 2.8 inches (10 x 7.2cm); Pico-ITX format
Further information
According to Via, the Epia-P900 runs Linux, Windows 7, Windows CE, Windows XP Embedded, and Windows XP. Pricing and availability were not cited, but further information and a datasheet are accessible from the Epia P-830 product page.
Information on the enclosure mentioned in this story may be found on the Amos-3001 product page.
---

This article was originally published on LinuxDevices.com and has been donated to the open source community by QuinStreet Inc. Please visit LinuxToday.com for up-to-date news and articles about Linux and open source.