Apr 22, 2010 — by LinuxDevices Staff — from the LinuxDevices Archive — 2 views
Via Technologies is now sampling versions of its 64-bit Nano processors that are aimed specifically at the embedded market. The Nano E series CPUs, ranging in speed from 800MHz to 1.8GHz, come with virtualization capabilities and extended longevity support, the company says.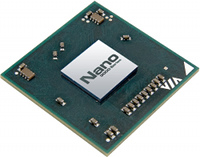 Via's new Nano E series processors are, as in the past, available in an L-series ("low-power") for mainstream desktop and mobile PC systems, and in a U-series ("ultra-low-power") for mini-notebooks and small form factor devices. They use the same 21mm x 21mm nanoBGA2 package as the original Nano, and once again are being manufactured — likely by Fujitsu — using a 65nm process.
According to Via, the Nano E series processors are pin-compatible with earlier Nanos (see later in this story for background) as well as the earlier C7 and Eden CPUs, and still feature only single cores. The company's announcement today cited five new SKUs, as follows:
the 800MHz U3400, with 100mW idle power
the 1.0GHz U3500, with 100mW idle power
the 1.2GHz U3300, with 100mW idle power
the 1.3+GHz U3100, with 100mW idle power
the 1.8GHz L3050, with 500mW idle power
These model numbers will sound familiar to Via-watchers, since all but the U3400 were first announced last November, as the table later in this story discloses. At the time, the focus was not on extended longevity support, but rather on Via's extensions to the Nano instruction set — which have presumably been inherited by the new, low-end U3400.
In addition to a clock speed bump to 2.0GHz at the high end, November's revised Nanos were said to add support for Intel's SSE4 instruction set extensions, plus Via's VT virtualization technology. (Previous Nanos supported only SSE3, just like Intel's own Atom.)
As a result, says Via, the Nano 3000 series can deliver up to 20 percent greater performance than previous Nanos, while using up to 20 percent less power. The chipmaker released the graphics below, suggesting that when clocked at 1.6GHz, the Nano 3000 outperforms Intel's Atom N270 by up to 45 percent on the PCMark 05 v120 benchmark, and 51 percent on the 3DMark2006 benchmark. (Of course, Nano CPUs are designed to use Via's integrated northbridge/southbridge chips such as the VX855, known to outpace the integrated graphics provided by Intel's 945GSE chipset.)



Nano 3000 benchmark results
Source: Via Technologies

Name
Speed
Idle power
Maximum power
(TDP max)
L3100
2.0GHz
500mW
n/s
L3050
1.8GHz
500mW
n/s
U3200
1.4GHz
100mW
n/s
U3100
1.3+GHz
100mW
n/s
U3300
1.2GHz
100mW
n/s
U3500
1.0GHz
100mW
n/s

U3400
800MHz
100mW
n/s
L2100
1.8GHz
500mW
25.5W
L2200
1.6GHz
100mW
17W
U2400
1.3GHz
100mW
8W
U2500
1.2GHz
100mW
6.8W
U2300
1.0GHz
100mW
5W
Via added the Nanos highlighted in red last November and the U3400, in green, made its debut today
Via didn't make TDPs public for the Nano 3000 series CPUs announced in November and hasn't done so for the new E-series parts either. Idle power consumption, meanwhile, appears to be on par with previous Nanos, as the table shows.
A continuing point of pride for Via is its PadLock security engine, once again featured on the Nano 3000 CPUs. Offered at least since the 2003 introduction of the Eden-N, PadLock offers hardware-based Advanced Encryption Standard (AES) functionality, and imposes significantly less overhead than software-based encryption, according to the company.
Via stated, "The move to 64-bit software architecture is an essential transition for the future of the embedded industry. Forthcoming operating systems such as Windows Embedded Standard 7 will be able to leverage a 64-bit software ecosystem that provides up to double the amount of data a CPU can process per clock cycle. This translates into greater ease in manipulating large data sets and an overall performance boost."
Daniel Wu, vice president of Via's embedded platform division, stated, "Via Nano E-Series processors have been designed to facilitate the shift towards new technologies that will shape the embedded industry for years to come. Technologies such as 64-bit computing and virtual software deployment will become the norm, not the exception for tomorrow's embedded system developers."
Background
Via's Esther (used in the C7 and Eden) and Isaiah (used in the Nano) microarchitectures were designed by the company's CenTaur chip unit, headed up by Glenn Henry, a former IBM engineering fellow. Whereas Esther — like Intel's Atom — uses in-order execution, for the lowest power and size requirements, Isaiah uses out-of-order execution, similar to Intel's Core Duo architecture. Isaiah added compatibility with the 64-bit architectures already used by Intel and AMD, plus SSE3 media processing instructions. Another touted Isaiah feature was a reworked floating point unit.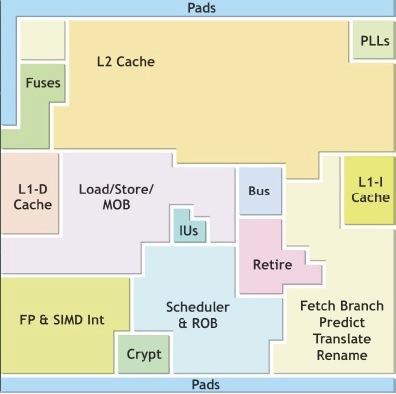 A block diagram of the Via Nano
The Nano processors were the first 64-bit, superscalar, speculative out-of-order processors in Via's x86 platform portfolio, according to the company. They can decode three full x86 instructions per clock, generate three fused (internal machine instructions) micro-ops per clock, issue (speculatively and out-of-order) seven execution micro-ops per clock to seven execution ports, and retire three fused microops per clock.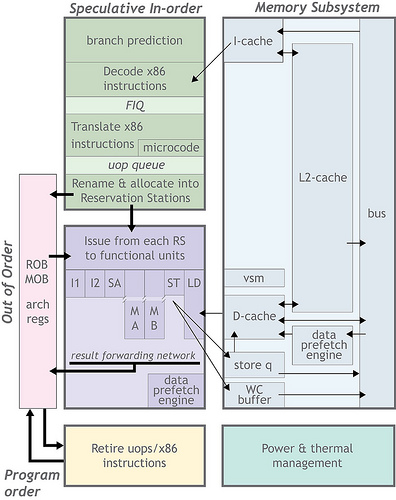 A conceptual diagram of Via's Nano 3000 architecture
As the above conceptual picture illustrates, the Nano processors include pipelines that fetch x86 instruction bytes and translate them into micro-ops. The x86 instructions and micro-ops proceed in program order down the top left ("in-order") portion of the pipeline. The "speculative" label refers to the fact that the processor may not be actually fetching the correct program instructions (in cases of a branch misprediction, for example). "Out-of-order" issue and execution happens when the pipeline components take the translated micro-ops and issue them to the appropriate execution units. This happens whenever inputs are available, not necessarily in program order.
According to Via, the Nanos' L2 cache is designed to support a wide variety of sizes with minimal implementation effort. In addition, the L2 cache is "exclusive," meaning that L1 cache contents do not reside in it. This effectively increases L2 cache size compared to "competitor architectures" with inclusive caches, Via says. At the same time, the architecture was designed for multi-core, multiprocessing friendliness, Via says.
Touting the Nano's "significant emphasis on high-performance floating-point execution," Via says the processor can execute four floating-point adds and four floating-point multiplies every clock. A "completely new algorithm for floating-point results in the lowest floating-point add latency of any x86 processor," the company said in a 2008 whitepaper about the Isaiah architecture. In addition, the integer data path for SIMD integer (SSEx) instructions is 128-bits wide, and almost all SSEx instructions (including all shuffles) execute in only one clock.
Availability
According to Via, its Nano E-series CPUs are sampling now, and will be shown off next week at the company's ESC Silicon Valley booth (No. 1238) in San Jose. More information may be found on the company's website, here.
---
This article was originally published on LinuxDevices.com and has been donated to the open source community by QuinStreet Inc. Please visit LinuxToday.com for up-to-date news and articles about Linux and open source.