Aug 16, 2005 — by LinuxDevices Staff — from the LinuxDevices Archive — 2 views

Realm Systems is taking orders for a tiny, loss-leader-priced Linux server that lets users carry a secure computing environment with them. Black Dog attaches via USB to Linux, Windows, or Mac PCs, commandeering the host's KVM (keyboard/video/mouse) functions and running X-based apps on its graphics subsystem.
(Click for larger view of Black Dog)
Realm Systems
Realm Systems is a small startup with about 75 engineers. It obtained initial funding of $10M in December of last year, with series-B funding of $8M expected to close in September, at which time the company plans to launch a secure mobile terminal targeting the enterprise market.
Realm's secure mobile terminal for the enterprise market has a similar form-factor to its just-announced Black Dog product, and is designed to allow the user to carry their computing environment from PC to PC, regardless of the host PC's operating system.
CEO Rick White says Realm's enterprise mobile terminal product is currently beta testing at a company that hopes to replace a network of laser printers in 35,000 locations with the small devices. The devices will provide secure access to medical records from any networked PC, without the legal risk of printed medical records falling into unauthorized hands, according to White.
Realm's enterprise models will include sophisticated security features, including hardware keys, challenge-and-response password authentication, and sub-epidermal biometric fingerprint scanning immune to "spoofing with a gummi bear," as White puts it.
Meanwhile, the company is taking orders for two Black Dog models, priced at $199 and $239 respectively with 256MB and 512MB of Flash storage. "No one's ordering the 256MB model," White notes, adding that the first production run, set to ship September first, is nearly sold out, with a second run to follow later in the month. White declined to specify production run quantities, citing confidentially agreements with component suppliers.
Anatomy of a Black Dog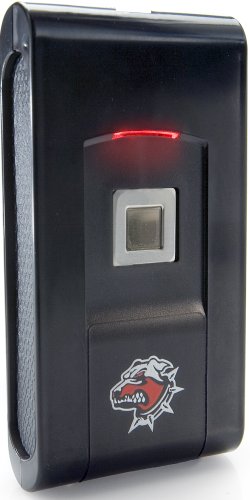 The Black Dog Project grew out of what CEO Rick White describes as a "cult project" at Realm Systems. "An engineer ported Debian Linux to one of our hardware platforms, and it was such a fun device, we decided to throw it out into the open source community," White said.
The Black Dog devices (aka "Dogs") are essentially tiny but complete desktop Linux "servers" measuring 3.5 x 1.75 x 0.5 inches, and weighing 1.6 ounces. They have an SD/MMC slot for memory expansion or the addition of SDIO peripheral devices. Other hardware features include a biometric fingerprint scanner, and a USB client port compatible with USB 1.1 or USB 2.0 ports, which are about half as fast as 100BaseT Ethernet, White notes.
The Dogs are based on a single PowerPC 405 Delta embedded processor and 64MB of RAM (Realm also has a dual-processor model under development for its enterprise product line). The company calls the Dogs "servers" because they create an Ethernet-over-USB network with the host PC, and serve applications that are accessed using the host PC's KVM device functions.
The Dog connects via a USB cable to a PC host running Linux, Windows, or Mac OS. It presents itself to the host as a USB CD-ROM drive, in order to exploit Windows XP's autorun capabilities, White says. On Macs, an icon must be clicked to run the Dog's launch script. The Linux user experience would vary according to preferred user setup.
The Dog's launch script establishes an Ethernet-over-USB network between the Dog and host PC, with a DHCP server on the Dog allocating IP addresses. The script then downloads and runs a custom X Window server on the host PC, invokes a splash screen, and runs a small application launcher utility.
X was designed as a platform-independent client-server protocol, and open source X servers exist for virtually every known OS (in X terminology, an X "server" runs on the client-side device, while the X client software runs on the server, alongside the hosted graphical application). Mature open source X servers are available for Linux and Mac OS, and White says Realm built its own X server for Windows, using an approach similar to that taken by Cygwin. Because the X server runs on the host system, the power of the host's video hardware subsystem is available to X applications running on the Dog, according to White. "I have Quake II installed on mine, and it's not bad," he adds.
The Dogs run a Flash-based Debian Linux distribution featuring a 2.6.10-series kernel, Firefox, Abiword, an email client, and a toolchain and development libraries. "It's not really an embedded system. It just uses Flash like a hard drive," White says, adding the Realm engineers did work to allow the device's IDE controller to support the JFFS2 wear-leveling Flash filesystem.
According to White, the Dog can launch a user session less than eight seconds after being plugged in. Additionally, thanks to custom suspend-to-disk code, sessions can be interrupted and later resumed in place, White says, explaining, "I could be working on an email, then whoops, gotta run, unplug it, plug it in at home, and find the cursor still blinking in the same place in the email."
Pressed for details, White elaborates, "The device is powered by USB, but has a battery. When you unplug it, it does a clean shutdown. We wrote a little piece of software that dumps from RAM to solid state, then feeds it all back into RAM when rebooted."
The host PC returns to its original state upon device removal, according to White.
Cool device searching for a market?
At least one gadget blog has called the Black Dog a cool answer in search of a problem. However, White seems to have a pretty clear idea about the product's potential applications. He hopes budding Linux developers will buy the devices, which he says can instantly turn any available school or home PC into a Linux development environment. The Black Dog Project could ultimately lead to a contract to supply the devices in quantity to universities and other school systems, he adds.
In addition to the Linux development environment residing on the device, Realm will supply the Dogs with a cross-development environment and hardware emulation software for x86. However, White claims native development is faster. "The processor on the Black Dog is actually pretty fast," he says.
In order to jump-start an open-source development ecosystem around the Dog, Realm Systems is sponsoring a coding contest with $75,000 in cash prizes, in categories that include entertainment, security, IT infrastructure, productivity, and "dogpile" (i.e., everything else) applications, as well as "most Black Dog Linux bug reports." "We'll assign five of our engineers to fix Black Dog Linux bugs, and besides cash, award lots of crazy prizes, such as LCD displays," White says.
Contest winners will be announced at (and flown to) the Open Source Business Conference in San Francisco next February.
Availability
As noted above, Realm Systems is currently taking orders for 256MB and 512MB versions of the Black Dog server, priced at $200 and $240 respectively, with expected fulfillment in September. The company additionally expects to announce its first enterprise product in September.
Additional details about the Black Dog project, and links to an online store, can be found here. The main Realm Systems website can be found here. An entertaining promotional movie featuring Gary "What you talkin' bout" Coleman explaining rather technical concepts to John Lovitz of Saturday Night Live fame, can be found here.
---

This article was originally published on LinuxDevices.com and has been donated to the open source community by QuinStreet Inc. Please visit LinuxToday.com for up-to-date news and articles about Linux and open source.