Sep 16, 2009 — by Eric Brown — from the LinuxDevices Archive — 2 views
Freescale Semiconductor has announced a quad-core "P4040" version of its eight-core QorIQ P4080 system-on-chip (SoC), aimed at networking, military, and industrial applications. The company also announced a new power-efficient dual-core "P1022" member of its Linux-ready, PowerPC-based QorIQ family.
The QorIQ P4040 is pin- and code-compatible with the P4080, and offers a sub-15 Watt typical power envelope, compared to 30 Watts for the eight-core model, says Freescale. Like the P4080, the P4040 boasts concurrent handling of control-plane, data-plane, and application layer processing tasks, and is well suited for wireless infrastructure, enterprise routing and switching and industrial applications, says the company.
Otherwise, the parts are identical, both running at the same 1.5GHz clock speed. Like the P4080, the P4040 offers a dedicated, private 128KB L2 backside cache for each core, offering access to 2MB of shared frontside L3 cache.
The P4 architecture also features tri-level cache hierarchy, datapath acceleration, a Virtutech-based hypervisor, a CoreNet "coherency fabric" inter-core interconnect, and numerous peripherals, says the company. (For much more on the QorIQ P4080, see our initial coverage when the QorIQ line was announced in June 2008, as well as our coverage earlier this month when the P4080 began sampling.)
Like other members of the QorIQ line, the P4 chips are fabricated with 45nm process technology, and are intended as the next-generation evolution of Freescale's PowerQUICC line. They are available with Linux board support packages (BSPs) and other Linux-development tools.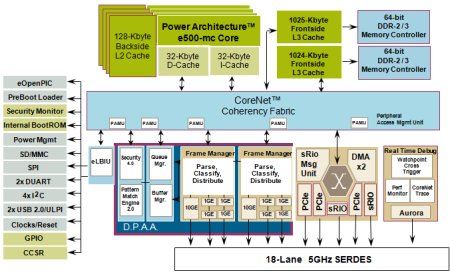 QorIQ P4040 block diagram
(Click to enlarge)
QorIQ SoCs range from one to eight PowerPC e500 cores, starting out with the single-core P1010, which runs at 400MHz on only four Watts. The P1010 started sampling in June, along with the P1020, the P2010, and the P2020. Earlier this month, Freescale announced a more power-efficient version of the P1020 called the P1022 (see farther below).
Bringing P4 to the edge
The eight-core P4080 has already been purchased by Curtis-Wright, GE Fanuc, and Alcatel-Lucent, among others, according to Stephen Turnbull, Freescale's high performance embedded processor portfolio manager. "There is a lot of interest in the P4 line in the routing and switching space, as well as military aerospace and industrial automation," said Turnbull in an interview yesterday.
Some of these customers are also signing on for the P4040, he said, with plans to integrate P4080- and P4040-based systems on the same networks. "We've been seeing customer interest in scalability," said Turnbull. "They wanted us to bring this P4 technology toward the edge of the network. The P4040 can control the data path, and it can run high end control plane processes. Where you might have had a host PC type processor, now you can have a quad-core part that scales nicely."
Compatibility will not be an issue for existing customers, he said. "The P4040 is as identical as we can make it to the P4080," said Turnbull. "The pinout and software architectures are identical."
The QorIQ P4 chips stand out from competing multi-core networking SoCs, such as Cavium's Octeon family, due to their large backside cache, high performance fabric, and high speed controllers, claimed Turnbull. The cache architecture in particular is very effective in boosting real-world performance, he noted. "We can we can keep a lot of work in front of these cores," he said.
Yet, having a fast chip is only part of the challenge of succeeding with a complex multi-core SoC, Turnbull allowed, as development time has risen to the fore as a major issue. "Today's multi-core has all this IP, all in a black box, so it's a challenge for developers," he said. "That's why we have our Linux BSP and sample applications and drivers, and we let them do dedicated and real-time trace. You can run a lot of different traces."
Turnbull also noted Freescale's new Linux-ready Vortiqa networking security stack, which leverages the QorIQ's pattern matching engine, security accelerator, datapath acceleration, and other features. "We have a fast path version that is tightly integrated with the P4 for high performance," he added.
One final note: In response to a question about the promised P3 and P5 versions of the QorIQ family, Turnbull seemed to suggest that announcements could be expected in the coming months.
QorIQ P1022
The newly announced QorIQ P1022, which is also available in a single-core P1013 version, is based on the P1020, but offers greater power efficiency and power management capabilities, says Freescale. The P1022 is aimed at applications including printing and imaging products, video surveillance technology, storage equipment, and industrial automation and control applications.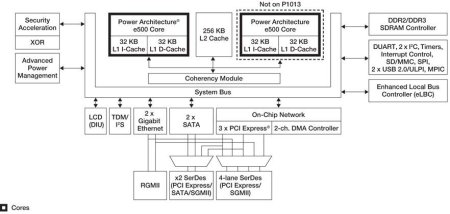 Block diagram for P1022 and P1013


(Click to enlarge)
The P1022 features dual cores ranging from 600MHz to 1GHz, and offers high-speed triple PCI Express interconnects, hardware acceleration, 256KB L2 cache, and DDR2/3 memory options, says the company. Serial ATA interconnect technology is also provided, along with SD/MMC controllers.
Power management features are said to include Freescale's Jog technology, which dynamically lowers power consumption for cyclical workloads, says the company. Network-aware, packet-lossless deep sleep standby capabilities, meanwhile, are claimed to enable embedded systems with 1-Watt AC network standby. As with other QorIQ processors, the P1022 is offered with a Linux BSP.
Android for QorIQ?
Supporting testimonial quotes for the P1022 were offered by Green Hills (Integrity), Zoran, and Wind River, which announced "full support" with Wind River Linux.
Mentor Graphics, meanwhile, weighed in with an intriguing statement from Glenn Perry, GM, Embedded Systems Division, "With our recent acquisition of Embedded Alley, customers can now use our Nucleus, Linux and Android multicore offerings to realize the full benefits of advanced multicore processors, such as the P1022, for product differentiation."
When Mentor Graphics acquired Linux development firm Embedded Alley in July, it announced that it would continue an Embedded Alley project to port Android to Freescale's QorIQ and PowerQUICC III processors, making it the first Android port to PowerPC. Earlier this year, Embedded Alley ported Android to the MIPS architecture.
Availability
The QorIQ P4040 is scheduled to begin sampling in the fourth quarter, with production slated for the second half of 2010. No pricing information was available. More information may be found here.
The QorIQ P1022 is expected to begin sampling in early 2010, with a suggested resale price of $42.41 in 10K quantities. More information should be here.
---
This article was originally published on LinuxDevices.com and has been donated to the open source community by QuinStreet Inc. Please visit LinuxToday.com for up-to-date news and articles about Linux and open source.