Nov 14, 2008 — by Eric Brown — from the LinuxDevices Archive — 7 views

Yellow Dog Linux distributor Terra Soft has been acquired by fellow Cell Broadband Engine (Cell BE) specialists Fixstars Corp. Terra Soft, whose Yellow Dog Linux (YDL) distribution supports both PowerPC and Cell BE platforms, will be recast as a subsidiary called Fixstars Solutions, says… Fixstars.
(Click for larger view of Terra Soft's YDL PowerStation)
Tokyo, Japan-based Fixstars has acquired "substantially all" of the assets of the venerable Loveland, Colo.-based firm, which will relocate to new Fixstars Solutions headquarters in San Jose, Calif., says the company. The subsidiary will retain the firm's entire staff, product line, and regional offices.
Like Terra Soft, six-year-old Fixstars offers software services and integrated hardware supporting the Cell BE platform. The Cell processor, which was co-developed by IBM, Sony, and Toshiba, is best known for its use in Sony's Playstation3 (PS3). Cell BE has a PowerPC core that runs Linux, along with multiple logical "broadband engine" execution units, each with its own memory and connected via a high-speed bus.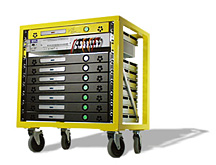 The iDitarod
Terra Soft was founded in 1999 to provide a Linux distribution for Power Architecture processors, and in 2000 it shipped a system called the iDitarod, a "portable" PowerPC Linux cluster that was probably the world's first Linux cluster (pictured at right). The company became one of the top five Apple Value Added Resellers, says Fixstars, and offered Linux distributions for PowerPC-based Macs for customers including Lockheed Martin, Boeing, NASA, and DoE labs.
In 2005, Terra Soft started shipping YDL for Cell-based blades and processor add-in cards from Mercury Computer. In 2006, the company announced a version of YDL designed for Sony's P3 (pictured below). The gaming device does not run Linux as its standard OS, but the mainline Linux kernel added support for its Cell BE processor around the same time. Then in February, 2007, TerraSoft announced the availability of Sony PS3 systems pre-installed with YDL, alongside the PS3's native gaming OS.

Sony PS3
That year, Terra Soft also released YDL v6.0, with support for the IBM BladeCenter QS2x family of products. Earlier this year, the company announced a development workstation billed as the heir to the Apple PowerMac G5 Quad, except more open. The Yellow Dog Linux (YDL) PowerStation (pictured at top) offers four PowerPC cores clocked at 2.5GHz and aimed at PowerPC developers who need to compile, test, and debug their code for PowerPC-based targets.
Fixstars claims to offer the world's largest Cell BE development staff. Customers include Cell BE founders Sony, Toshiba, and IBM, as well as companies including Mizuho Securities, Mitsubishi Research Institute, and Broadcast International, says the company. Key products include the Sony-branded Sony ZEGO BCU-100 (pictured below), a 1U rackmount node that runs YDL, and which is designed for image processing on the Cell and RSX GPU processors.

Sony ZEGO BCU-100
Stated Satoshi Miki, CEO of Fixstars, "A Cell/B.E. software developer and long-time user of Yellow Dog Linux, Fixstars has great faith in Yellow Dog Linux."
Stated Kai Staats, former CEO of Terra Soft Solutions, now COO of Fixstars Solutions, "Terra Soft started with my personal credit card and what in retrospect was an unlikely team to create a Linux distribution: a 17 year old sys admin, FileMaker Pro programmer, graphic designer, and marketing consultant. Dan, Troy, Jake and I threw ourselves into the challenge of building something which we were told (more than once) was impossible. Over one hundred Linux companies came and went, but we always pulled through."
---

This article was originally published on LinuxDevices.com and has been donated to the open source community by QuinStreet Inc. Please visit LinuxToday.com for up-to-date news and articles about Linux and open source.