Jan 28, 2011 — by LinuxDevices Staff — from the LinuxDevices Archive — 2 views
Hectronic has provided details of a Qseven module that sports one of three Intel Atom E6xx processors, plus up to 1GB of soldered-down DDR2 memory and a SSD (solid state disk) ranging from 2GB to 16GB in size. The H6055 features operating ranges as wide as -40 to 185 deg. F, eight USB 2.0 ports, four PCI Express x1 lanes, CAN bus, plus LVDS and SDVO video outputs, the company says.
Intel announced its Atom E6xx in September, and there has already been a stream of embedded modules and boards based on the processors. None of the devices has exploited the E6xx's ability to work with third-party I/O controllers, likely because such devices have (as far as we're aware) not yet shipped. Instead, all current devices employ Intel's own EG20T (block diagram, here).
We're aware of four previous E6xx products that have adopted the 2.75 x 2.75-inch (70 x 70mm) Qseven module format: Advantech's SOM-3564, Congatec's Conga-QA6, MSC Vertriebs' Q7-TCTC-FD, and Portwell's PQ7-M105IT. (Once rare but obviously now becoming pretty common, Qseven modules have a 230-position "golden finger" connector originally designed for laptop graphics cards using Nvidia's MXM (Mobile PCI Express Module) format.)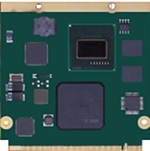 The H6055, from Sweden's Hectronic, was announced in advance of any of these, but the company did not make a product page or data sheet available until today. Like most of the other Qseven modules listed above, the device (pictured in a preliminary rendering at right) is said to be offered with three E6xx versions: the 600MHz E620 (2.7-Watt TDP), the 1.3GHz E660T (3.3-Watt TDP), and the 1.6GHz E680T (3.3-Watt TDP).
According to Hectronic, the H6055 comes with 512MB of soldered-on DDR2 RAM in its most basic version, but the device may be ordered with 1GB as well. The module is additionally available with from 2GB to 16GB of bootable flash storage.
Like other Qseven modules (including Hectronic's previous H6049), the H6055 passes all its signals to and from a baseboard (see later) via its "golden finger" connector. Expansion includes four PCI Express x1 lanes, SDIO, CAN, I2C, and LPC, while I/O includes gigabit Ethernet, eight USB 2.0 ports, LVDS and SDVO video, and high definition audio, the company says.
Features and specifications listed by Hectronic for the H6055 include:
Processor — 600MHz E620 (2.7-Watt TDP), 1.3GHz E660T (3.3-Watt TDP), or 1.6GHz E680T (3.3-Watt TDP).
Chipset — EG20T
Memory — 512MB or 1GB of soldered-on DDR2 RAM
Storage — SSD with from 2GB to 16GB of flash
Expansion:

4 PCI Express x1 interfaces
CAN
LPC
I2C
SDIO
SMbus

Networking — gigabit Ethernet
Other I/O:

8 x USB 2.0
1 x LVDS
1 x SDVO
1 x SATA
HD audio

Power — 5VDC input; 5 Watts typical consumption
Operating temperature — commercial version, 32 to 140 deg. F (0 to 60 deg. C); industrial version, -40 to 185 deg. F (-40 to 85 deg. C.)
Dimensions — 2.75 x 2.75 inches (70 x 70mm)
The H4103 carrier board
Hectronic offers a carrier board for Qseven modules which, while not specifically touted as a companion for the H6055, is likely to be compatible with it. The relatively huge H4103 carrier board (below) measures 11.96 x 6.81 inches (304 x 173mm), and is designed for rapid prototyping or low-volume production, says Hectronic. The board is supplied with a complete set of design files, along with BSPs for both Linux and Windows XP Embedded, the company says.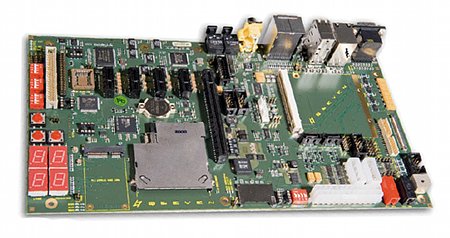 Hectronic's H4103 carrier board
As pictured above, the H4103 has a slot for the Qseven module, plus a Mini PCI Express slot, an ExpressCard slot, and an MMC/SD slot. The board also has four PCI Express x1 slots, Hectronic adds.
Visible on the carrier board's left are four alphanumeric LED indicators which are designed to aid in debugging, according to Hectronic. External displays may be interfaced via an LVDS header, or via an ADD2 slot that accepts VGA, DVI, or HDMI adapters, the company says.
Hectronic says the H4103 has six USB 2.0 ports with standard connectors, plus two additional USB ports that are available at the Mini PCI Express and ExpressCard sockets, respectively. Meanwhile, there are four serial ports, two with 9-pin connectors and two with headers, the company adds.
The H4103 is also said to include a RJ45 connector for gigabit Ethernet and a S/PDIF optical digital output. Meanwhile, a total of six different 3.5mm jacks for analog audio provides mic in, line in, and 7:1 surround output, according to Hectronic.
Further information
Hectronic says the H6055 will be available during the first quarter of this year, and is designed to run Linux, Windows 7, Windows XP and Windows XP Embedded, Windows Vista, and Windows CE 6.0. More information on the module and carrier board may be found on the H6055 product page and the H4103 product page.
---
This article was originally published on LinuxDevices.com and has been donated to the open source community by QuinStreet Inc. Please visit LinuxToday.com for up-to-date news and articles about Linux and open source.