Sep 14, 2010 — by LinuxDevices Staff — from the LinuxDevices Archive — 12 views
[Updated, 4:00 p.m.] — You might have thought it couldn't be done, but Intel has just popped out more Atom processors. The Atom E6xx is a system-on-chip (SoC) aimed at embedded applications such as in-vehicle infotainment systems for cars, smart grid devices, and IP media phones, while the Atom CE4200 is an upgraded SoC for set-top boxes (STBs) and smart TVs, according to the company.

The announcement of the new Atoms came at today's ongoing Intel Developer Forum (IDF) in San Francisco. In a keynote, Renée James (right), senior vice president and general manager of the chipmaker's software and services group, "discussed the expansion of these processors into high-growth areas including netbooks, tablets, CE, embedded, and smart phones," and also announced general availability of AppUp, Intel's app store for netbook owners.
Atom E6xx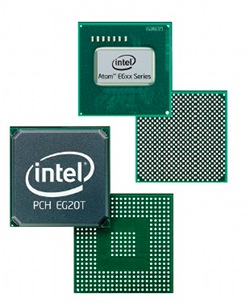 Intel provided the most information today about the Atom E6xx, not surprising since many details of the devices had already been offered at the chipmaker's April IDF in Beijing. Originally known only by its "Tunnel Creek" codename, the E6xx is positioned as one of several successors to Intel's original Atom, the Z5xx, whose "Silverthorne" CPU was paired with a "Poulsbo" northbridge/sourthbridge in an overall platform nicknamed "Menlow."
Like Menlow, the E6xx is aimed at embedded devices and in-car platforms (though we should note that the Z5xx also found a home in some mobile internet devices (MIDs), tablets, and netbooks — Dell's Inspiron Mini 10 and MSI's Wind U110 and U115 were notable examples of the latter). And, like Intel's later "Menlow XL" Z530P and Z530PT, the E6xx measures 22 x 22mm and is still produced using 45nm technology.
But Intel now refers to the Atom E6xx as a SoC (system on chip), justifying this by incorporating a graphics controller (known as the GMA600, and reportedly based on Imagination Technologies' PowerVR SGX IP), memory controller, and audio onto the Atom itself. Like the company's "Pineview" Atoms, the N450, D410, and D510, Tunnel Creek employs a relatively simple IOH I/O controller: In this case, it's the PCH (platform controller hub) EG20T, measuring 23 x 23mm.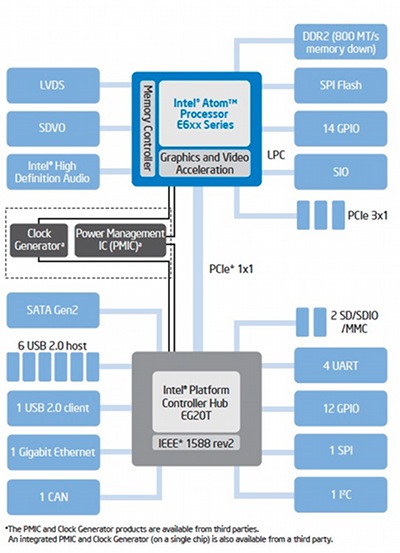 A block diagram of the E6xx and EG20T ("Queens Bay")
(Click to enlarge)
According to Intel, the E6xx and EG20T platform (previously known as "Queens Bay") has an overall package size that's 46 percent smaller than Menlow. It's said the platform also offers OEMs much greater versatility than did Menlow or even Pine Trail (the chipmaker's name for the Pineview Atoms and their NM10 or ICH8 I/O controller): That's because instead of using a proprietary interconnect, Tunnel Creek communicates with the IOH via an industry-standard PCI Express bus.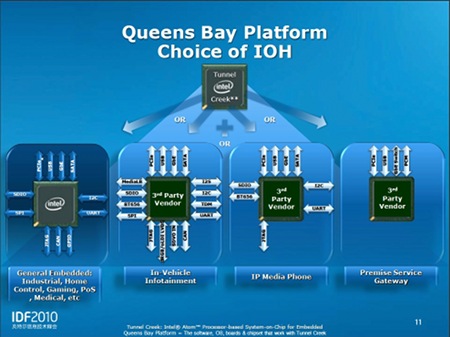 The E6xx's PCI Express bus enables third-party I/O controllers
Source: Intel (Click to enlarge)
As pictured above, Intel anticipates third-party vendors will create their own IOH chips for the E6xx that add custom functionality for applications such as in-vehicle infotainment, IP media phones, and premise service gateways. Meanwhile, the chipmaker says, the EG20T will be offered for those requiring typical interfaces such as SATA, USB client, SD/SDIO/MMC, and gigabit Ethernet, as well as general embedded interfaces such as CAN, IEEE 1588, SPI, I2C, UART, and GPIO.
| | | | | |
| --- | --- | --- | --- | --- |
| | Clock speed (GHz) | Graphics speed (MHz) | TDP (Watts) | Temperature range (deg. C) |
| Atom E620 | .6 | 320 | 2.7 | 0 to 70 |
| Atom E620T | .6 | 320 | 2.7 | -40 to 85 |
| Atom E640 | 1.0 | 320 | 3.3 | 0 to 70 |
| Atom E640T | 1.0 | 320 | 3.3 | -40 to 85 |
| Atom E660 | 1.3 | 400 | 3.3 | 0 to 70 |
| Atom E660T | 1.3 | 400 | 3.3 | -40 to 85 |
| Atom E680 | 1.6 | 400 | 3.9 | 0 to 70 |
| Atom E680T | 1.6 | 400 | 3.9 | -40 to 85 |
Intel's E6xx CPUs
The E6xx CPUs will be offered in versions with 600MHz, 1.0GHz, 1.3GHz, and 1.6GHz clock speeds, as listed in the table above. Power consumption is said to range from 2.7 Watts to 3.9 Watts, which, combined with the EG20T's TDP of 1.55 Watts, results in a maximum requirement of 5.45 Watts.
According to Intel, the 600MHz and 1.0GHz versions of the E6xx clock their graphics cores at 320MHz, while the 1.3GHz and 1.6GHz versions clock the GMA600 at 400MHz, In the latter case, this results in twice the graphics performance of Menlow, as shown below, the chipmaker says.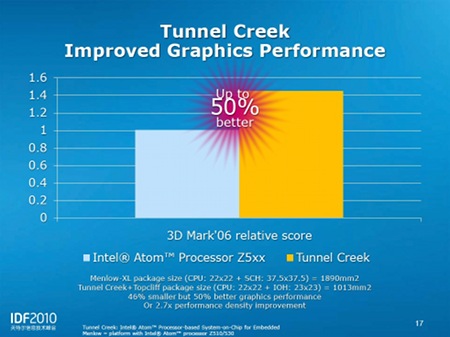 The E6xx's PCI Express bus provides improved graphics performance
Source: Intel
(Click to enlarge)
According to Intel, the E6xx includes an embedded graphics driver that enables pre-OS splash screen support for LVDS displays. The platform will also be offered with either a standard BIOS that runs off-the-shelf operating systems, or a custom BIOS that optimizes boot times and runs RTOSes as well as other specialized OSes, the chipmaker adds. (Insyde Software announced today that its IsydeH20 UEFI firmware will support the E6xx, the EG20T, and a variety of third-party I/O hubs.)
Positioning the E6xx as appropriate for devices such as IP media phones, smart cash registers, and in-vehicle entertainment, Intel says the platform will be available in an extended temperature versions (the "T" models depicted in the table above) and with seven- to ten-year lifetime support. They'll also be offered on the Infotainment Compute Module (ICM) pictured below, the chipmaker says.


ICM modules
Source: Intel
It's said ICM modules will measure either 106 x 85mm or 85 x 85mm, and will employ 230-pin edge MXM2 edge connectors. Offering signaling for "common automotive functions," the ICM format will permit migration to a next-generation Atom design without carrier board changes, Intel promises.
Finally, Intel said that in the future it will also offer the E600 paired with an Altera FPGA (field programmable gate array) on a multi-chip package codenamed "Stellarton." The combination "provides additional flexibility for customers who want to incorporate proprietary I/O or acceleration, and enables developers to differentiate their designs by reacting quickly to changing requirements," says the company.
As the Z6xx's power consumption and size make clear, the platform is not as revolutionary as Intel's long-promised "Moorestown" platform, which finally made its debut in May as the Atom Z6xx. Incorporating similar GMA600 on-chip graphics, the Z6xx measures just 13.8 x 13.8mm and features ultra-low power states that will enable devices to stand by for as long as ten days. The Z6xx is connected to its MP20 I/O controller via Intel's proprietary DMI, not PCI Express.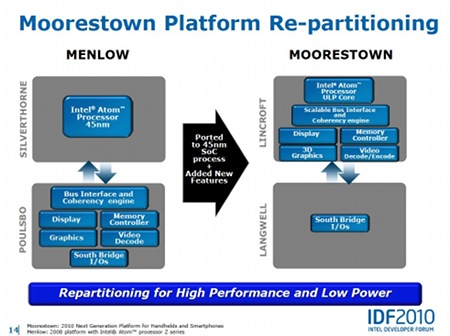 Intel's Moorestown
(Click to enlarge)
Atom CE4200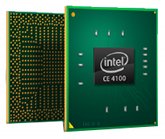 Intel also announced — but provided many fewer details on — another Atom-based SoC, the CE4200. Formerly codenamed "Groveland," this device is a successor to the CE4100 (pictured at right), which was a follow-up to the Pentium M-based CE3100 from 2008.
Aimed at STBs and smart TVs, the CE4100 SoC is featured in upcoming Google TV devices from Sony and Logitech, as well D-Link's new Boxee Box IP-STB.
The CE4100 is said to be capable of decoding dual 1080p HD video streams at up to 60 frames per second, or a single 1080p stream at twice that rate. The CE4200 — still 45nm, and likely using the same 27 x 27mm package — is said to include smart power management features that automatically turn off parts of the chip when they're not in use.
According to Intel, the CE4200 will also add support for 3D TV, plus "sync and go" H.264 encoding capabilities that allow recorded content to be moved to mobile devices. A software development kit (SDK) is now available, and ADB, Samsung, Sagemcom, and Technicolor have allowed plans to build STBs based on the new SoC, the chipmaker says.
The AppUp Store
Intel's netbook-focused "AppUp" applications store was first announced in September 2009 as part of the chipmaker's Atom Developer Program. The chipmaker later released an SDK, promising developers they could use C or C++ to create apps that would execute on Atom netbooks running either Windows or Moblin (courtesy of a cross-platform runtime).
Now, Intel says, the AppUp store is available to consumers. The online store includes both free and paid apps for entertainment, social networking, gaming and productivity, optimized for a netbook's mobility and screen size, the company says.
To encourage consumers to try new applications, Intel AppUp provides "try before you buy" solutions, encouraging consumers to purchase apps they otherwise might not have, Intel says. The online store — which advertised 721 applications when we checked it this afternoon — includes some apps using Adobe's AIR (Adobe integrated runtime), as well as those from companies such as Accuweather, Barnes & Noble, Funkitron, Gibson Guitars, iWin, Kaplan, Konami, and Lifetime, the chipmaker adds.
Noting that current netbook owners can visit the AppUp website to download the AppUp center client, Intel says it has agreements with three major retailers — Best Buy, Croma (India), and Dixons (U.K.) to pre-install this on netbooks they sell. Asus will ship a version of the AppUp center branded as the "Asus app store" on its devices starting in October, Intel added.
Further information
While the CE4200 was listed as "forthcoming," Intel's Atom E600 is available to device manufacturers now. No OS support was listed for the CE4200, but Intel says the E6xx will support the Fedora Core 11 and MeeGo 1.0 versions of Linux, as well as QNX, Neutrino, and VxWorks.
More information may be found on the company's website, here [PDF link]. More information on AppUp may be found here.
---
This article was originally published on LinuxDevices.com and has been donated to the open source community by QuinStreet Inc. Please visit LinuxToday.com for up-to-date news and articles about Linux and open source.