Jan 4, 2012 — by Eric Brown — from the LinuxDevices Archive — 10 views
ZiiLabs says it is sampling a quad-core Cortex-A9 SoC (system-on-chip) designed for Android 4.0 tablets. Clocked at 1.5GHz, the ZMS-40 processor is equipped with 96 "StemCell" media processing cores supporting 3840 x 1080 resolution for 1080p 3D stereo video, features 200-megapixel/sec image processing, and supports the new HEVC (H.265) video compression standard, the company says.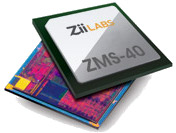 Creative Technology's ZiiLabs subsidiary tipped the ZMS-40 with scant detail last May when it announced it had begun sampling its first Cortex-A9 SoC, the dual-core ZMS-20. Whereas the ZMS-20 arrived fairly late to the dual-core Cortex-A9 competition, the ZMS-40 is one of the earlier quad-core SoCs to begin sampling. (See farther below for background on the quad-core ARM race.)
The ZMS-40 not only doubles the number of 1.5GHz ARM cores compared to the ZMS-20, but also doubles the ZMS family's trademark StemCell Media co-processors to 96, thereby enabling ZiiLabs to call the ZMS-40 a 100-core processor. The SoC offers double the performance of the ZMS-20, claims ZiiLabs, which is promising to publish some MandelMark benchmarks in early 2012.
Thanks in part to the StemCell processors, the ZMS-40 can deliver H.264 HD decoding at up to 3840 x 1080 resolution, for true 1080p 3D stereo video, claims ZiiLabs. Display resolution is said to jump up to 2560 x 1600 (WQXGA) resolution, and the SoC is said to be capable of "immersive" OpenGL ES 3D graphics.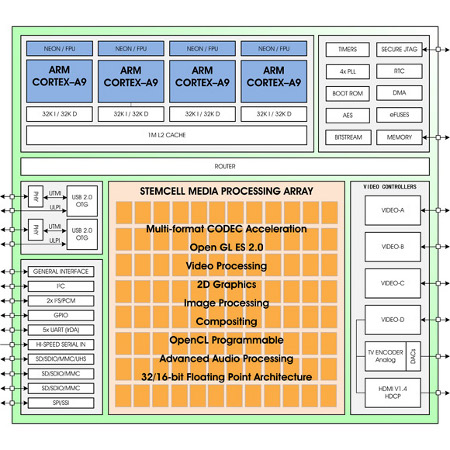 ZMS-40 block diagram
(Click to enlarge)
The ZMS-40 also offers support for the emerging
High Efficiency Video Coding
(HEVC) standard, also known as H.265. Said to improve video quality and double the data compression ratio compared to H.264, HEVC can scale from 320 x 240 pixels all the way up to 7680 x 4320 resolution, says ZiiLabs.
The ZMS-40's programmable, massively parallel StemCell Media co-processors "can easily handle the onerous computational requirements of this new codec and support higher resolutions that are beyond today's display systems," claims the company.
Features and specifications listed for the ZMS-40 include:
Processor cores — 4 x 1.5GHz ARM Cortex A9 cores with Neon
StemCell media processing:

low-energy SIMD architecture
96 x 32-bit floating point media processing cores delivering 58GFlops
H.264 (high profile) video playback at [email protected]
accelerated video codecs including H.264, VC1, VP8, and HEVC
HD low latency videoconferencing
optimized OpenGL ES 2.0 3D graphics acceleration
accelerated OpenCL 1.1 (desktop profile)
High Dynamic Range (HDR) image processing
text-to-speech and voice recognition
200-megapixel/sec image processing
Adobe Flash 10 acceleration

Memory:

2GB addressable memory
DDR2/3 (533MHz)
LPDDR2 (1066MHz) for max. bandwidth and low-power
64-bit wide memory bus

I/O:

HDMI 1.4 with 3D stereo support
4 x independent video controllers (24-bit)
2 x USB 2.0 OTG (host/peripheral) controllers with PHY
3 x independent SDIO/MMC controllers
I2C
2 x I2S/PCM
GPIO
5 x UARTs (IrDA)
high-speed serial-in
SPI/SSI

Other features:

dynamic power management and instantaneous on
Xtreme Fidelity X-Fi audio effects
256-bit AES and TrustZone security
The ZMS-40 ships with ZiiLabs' enhanced Android 4.0 APIs, says the company. These are said to include APIs for dual independent display support, for example enabling web browsing on the tablet while pushing HD video to a TV at the same time.
In addition, ZiiLabs supplies an Android 4.0 software suite, which is said to specifically exploit the capabilities of the ZMS processors. ZiiLabs' Android 4.0 Suite components are said to include:
ZiiPhoto — photo browsing, 3D slide show, and special photo effects
ZiiCamera — real-time preview and capturing of photos with 3D effects, plus live, 40-megapixel, panoramic, single-sweep photo capture, as well as high dynamic range images
ZiiVideo — video playback, including 1080p WebM (VP8) support, trick modes (such as frame-by-frame advance and reverse), and the ability skip to any part of a movie by browsing a timeline with thumbnails
Creative Sound Blaster X-Fi — Crystalizer and CMSS-3D audio effects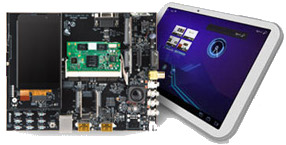 ZiiLabs "Jaguar" Android tablet reference design
As usual, ZiiLabs offers OEM-ready reference platforms, including its
Jaguar Android tablet design
(pictured above). The Jaguar supports Android 3.x and above, and offers typical high-end Android tablet ports and features, including HDMI 1.4 and a not so typical 12-megapixel camera.
China bound
The testimonial quote below suggests that the ZMS-40 will be aimed initially at China, and first offered in conjunction with a Chinese tablet vendor.
Stated Sim Wong Hoo, Chairman and CEO of Creative Technology Ltd., "The tablet market for China is going to explode, especially with China's recent emphasis on digital textbooks, digital school bags and digital classrooms for all of its students. The ZMS-40 further allows us to design and develop a breath-taking 4th generation Android tablet aimed squarely at the Chinese market."
Hoo goes on to state, "We have developed a beautiful, ultra-slim, ultralight Chinese tablet with Chinese characteristics and unprecedented performance based on the ZMS-40 and Android 4.0 with our very own Chinese platform. We are now forging ahead to form a Chinese Tablet Alliance with several major Chinese partners both in the horizontal and vertical market segments to further develop, build and market this timely tablet."
Quad-core ARM market heating up
Four-core SoCs are fairly commonplace in x86, MIPS, and PowerPC-based architectures, but is still a novelty in the ARM world. In November 2010, Marvell announced it had begun sampling a 1.6GHz, quad-core Armada XP processor that appeared to be based on a Cortex-A9-like architecture, but the SoC is targeted at servers.
The first quad-core SoC to appear for the consumer market was the Nvidia Tegra 3, which is available in the now shipping Asus Transformer Prime Android 4.0 tablet. Last January, Freescale announced a quad-core version of its i.MX 6 Cortex-A9 processor called the i.MX 6Quad, which now appears to be sampling. In February of last year, Qualcomm announced a quad-core APQ8064 Snapdragon processor based on a Cortex-A9-like architecture, but it won't begin sampling until early this year.
Availability
The ZiiLabs ZMS-40 is sampling to select customers on the companies Jaguar tablets running Android 4.0. More information may be found at ZiiLabs' ZMS-40 product page.
---
This article was originally published on LinuxDevices.com and has been donated to the open source community by QuinStreet Inc. Please visit LinuxToday.com for up-to-date news and articles about Linux and open source.