Nov 16, 2011 — by LinuxDevices Staff — from the LinuxDevices Archive — 43 views
Qualcomm announced eight new Snapdragon mobile processors, as well as performance upgrades for four existing models. Adding that its Gobi 4000 4G LTE cellular modules are shipping to OEMs, the company also promoted "Game Command," an app designed to help Android users locate and download Snapdragon-specific games.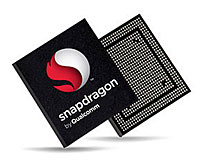 Some chipmakers overwhelm with data sheets, block diagrams, and other minutiae about their new processors. Not Qualcomm.
We've regularly complained that the company announces processors with few or no details, and on Nov. 15 Qualcomm did it again. A release simply promoted eight new entries in the "System 4" tier of the company's Snapdragon line: the MSM8660A, MSM8260A, MSM8630, MSM8230, MSM8627, MSM8227, APQ8060A and APQ8030.
Meanwhile, the company added, four members of the "System 1" tier have been upgraded: the MSM7225A, MSM7625A, MSM7227A, and MSM7627A. (For background on the S1 through S4 tiers Qualcomm introduced in August in an attempt to "clarify" the Snapdragon range, see our earier coverage.)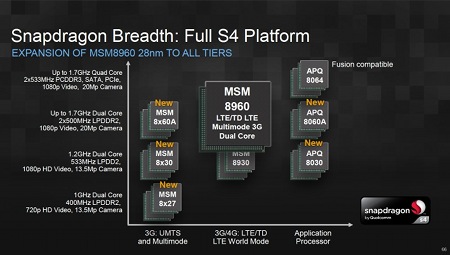 New additions to Qualcomm's Snapdragon S4 range
(Click to enlarge)
Somewhat more detail emerged via a slide (above) Qualcomm displayed at a Nov. 16 event it staged in New York for investors. According to this, the new S4 devices will include:
the MSM8x27, a 1GHz dual-core processor that supports 720p video and cameras up to 13.5 megapixels
the MSM8x30, a 1.2GHz dual-core processor that supports 1080p video and cameras up to 13.5 megapixels
the MSM8x60A, a 1.7GHz dual-core processor that supports 1080p video and cameras up to 20 megapixels
The slide reiterates that the top model in the S4 range — the APQ8064 that was first announced last February — will offer four cores and eight times the performance of the original Snapdragon. Meanwhile, the company noted in another slide (below), the "new" MSM8x60A represents a re-naming of the chip formerly known as the MSM8270 (first announced in 2009 as having a 1.2GHz "Scorpion" core and 45nm fabrication, then later switched to 28nm fabrication and a "Krait" core).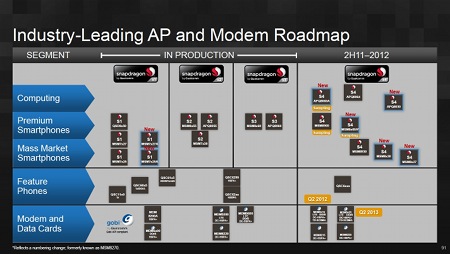 Qualcomm's latest processor roadmap
(Click to enlarge)
Cristiano Amon, senior vice president of product management for Qualcomm, stated, "Qualcomm is innovating on all fronts and continues to lead the mobile computing era with its roadmap depth, breadth and software support. Our next-generation hardware, optimized for use with our software suite, facilitates best-in-class performance and power for every smart device segment, from mass-market smartphones to high-performance tablets."
New Gobi 4000 cellular modules
As you've gleaned so far, Qualcomm's Snapdragon launch was not a paragon of clarity. More straightforward was the announcement of its Gobi 4000 cellular platform, which will be offered both in the company's own chipsets and in modules from Sierra Wireless and Novatel Wireless.
According to the chipmaker, this successor to the very popular Gobi 3000 platform will be compatible with CDMA2000 1xEV-DO Rev. A and B, HSPA+, dual-carrier HSPA+, and LTE, also offering integrated backwards compatibility to HSPA and EV-DO. The Gobi API (application programming interface) will "enable a common software interface to help connect, locate and manage 3G/4G devices regardless of wireless interface and operating system," the company adds.
Amon stated, "Embedded modules based on our new Gobi 4000 technology are designed to give consumers an uncompromised mobile connectivity experience, both in terms of download speeds and flexibility. OEMs can use the platform on … operating systems including Windows and Android."
As part of the announcement, Sierra Wireless and Novatel Wireless said they'll employ Gobi 4000 technology in their AirPrime and Expedite modules, respectively. Meanwhile, Dell and Lenovo confirmed they'll offer Gobi 4000-based products to their customers. Given Gobi 3000's ubiquity, we expect the 4G LTE upgrade to be adopted widely by others.
Snapdragon-specific Android games
Qualcomm also said it will expand "GamePack," a collection of more than 100 games designed to showcase the "advanced graphics capability of the embedded Adreno GPUs in Snapdragon mobile processors and bring a better gaming experience to mobile users." Planned for release via the Android Market in early 2012, the additions will include the following "high-end" games:
"The Ball" from Tripwire Interactive, built on Epic Games' Unreal Engine 3 and debuting for the first time ever on mobile
"Flight Game Heroes" from Khaeon Gamestudio
"Galaga Special Edition," the 30th anniversary edition of the perennial arcade favorite from Namco Bandai Games
Raj Talluri, vice president of product management at Qualcomm, stated, "With more than 60 percent of smartphone users regularly playing games on their mobile devices, the time is right to bring more console-quality and casual games to the Snapdragon platform. We are very excited to put our new Snapdragon GameCommand app and more great gaming titles in the hands of consumers in early 2012."
According to Qualcomm, the above titles and other games will be "initially be designed to operate exclusively on Android-enabled devices powered by Snapdragon processors." The company added that it will provide a "GameCommand" app, providing mobile users with "a way to quickly find and learn about the latest Snapdragon featured and exclusive games."
The announcement is, however, already drawing flak from observers who believe it will create more fragmentation in the market for Android devices. For example, GigaOM's Kevin C. Tofel asks, "Between Google pushing out new versions of Android quickly and carriers being slow to forward them to consumer devices, the Android market is already made up of a wide range of devices with differing capabilities. How exactly does the release of chip-specific, exclusive games help with the problem?"
Further information
The 157-page presentation from which the slides in this story were extracted may be found on Qualcomm's investor web page. General information on the company's Snapdragon chipsets may be found on the Snapdragon web page.
Jonathan Angel can be reached at [email protected] and followed at www.twitter.com/gadgetsense.
---
This article was originally published on LinuxDevices.com and has been donated to the open source community by QuinStreet Inc. Please visit LinuxToday.com for up-to-date news and articles about Linux and open source.