Feb 15, 2011 — by LinuxDevices Staff — from the LinuxDevices Archive — 13 views
Qualcomm is using this week's Mobile World Congress (MWC) in Barcelona to demonstrate a peer-to-peer wireless technology for cell phones. To be tested by SK Telecom in South Korea, the "FlashLinq" technology would let devices communicate at broadband speeds without any intermediary infrastructure, the company says.
Not content with introducing three new Snapdragon processors and five new modem chips, Qualcomm also brought a new peer-to-peer wireless technology to MWC. FlashLinq will enable cell phones to discover each other automatically and continuously, communicating directly at broadband speeds, the company says.
Billing FlashLinq as offering "proximal communications," Qualcomm adds that the technology would be used for data networking, not voice. Applications would include direct local advertising, "geo-social networking," and machine-to-machine (M2M) communications, the company says.
According to Qualcomm, FlashLinq is based on a form of OFDMA (orthogonal frequency division multiplexing access), and it's designed to use frequency bands that would be licensed by a carrier or other entity. It is distinguished by its high discovery range (up to a kilometer), capacity (thousands of nearby devices), and distributed interference management, adds the company.
Though this week's MWC showing of FastLinq is the first public demonstration we're aware of, the technology was developed at least a year ago by New Jersey-based Flarion Technologies. This Bell Labs spinoff was founded by Rajiv Laroia and acquired by Qualcomm in 2006.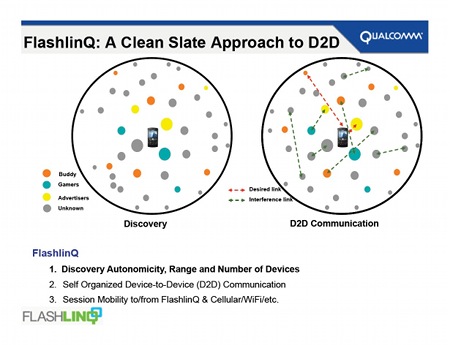 FlashLinq
Source: Qualcomm
(Click to enlarge)
According to a Jan. 2010 presentation by Laroia [PDF link], FastLinq (above) is designed to provide users with a "proximate Internet" while avoiding the drawbacks of other approaches.
One alternative to it, he wrote, would have been a "God box" approach: In this, GPS-equipped phones would continuously provide their location to a cellular provider, which, by tracking all devices, could inform them of services in their local vicinity. But problems here include GPS power consumption, privacy concerns, and the use of expensive WAN capacity.
Other alternatives noted by Laroia would be peer-to-peer Wi-Fi, such as Wi-Fi Direct or Bluetooth 3.0, though the latter is designed for one-to-one communications, not one-to-many. But, he wrote, the unlicensed spectrum used by both of these means a small range, while device discovery is power-hungry.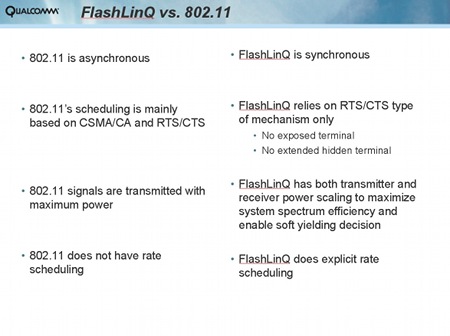 FlashLinq vs. Wi-Fi
Source: Qualcomm
(Click to enlarge)
In contrast, FlashLinq would permit discovery of thousands of devices, with a range of approximately a mile. It's said the system would be approximately 40 times more energy efficient than Wi-Fi (above), and ten times more efficient in its use of the radio spectrum. Privacy would be maintained via opt-in, and data transmissions from one device to another or to a wider group of devices would both be supported, according to Laroia.

FlashLinq peer discovery
Source: Qualcomm
(Click to enlarge)
Qualcomm says FlashLinq is now set for trials in South Korea by SK Telecom, which will explore potential commercial uses of the system. The first to launch and commercialize CDMA, CDMA2000 1x, CDMA EV-DO and HSDPA networks in Korea, SK Telecom is the company's largest telecommunications provider.
Ed Knapp, senior vice president of business development and engineering for Qualcomm, stated, "FlashLinq's direct discovery and distributed communications allows operators to naturally extend their cellular networks. The technology can efficiently support new and enhanced services."
Dr. Jong Tae Ihm, SK Telecom's senior vice president, stated, "SK Telecom has always embraced cutting-edge technologies. We see Qualcomm's FlashLinq technology as a key enabler to a range of new and innovative services based on proximal networking."
Further information
More information may be found on Qualcomm's FlashLinq page and in a PowerPoint presentation by Qualcomm's Xinzhou Wu.
---
This article was originally published on LinuxDevices.com and has been donated to the open source community by QuinStreet Inc. Please visit LinuxToday.com for up-to-date news and articles about Linux and open source.