Oct 26, 2010 — by LinuxDevices Staff — from the LinuxDevices Archive — 2 views
The Wi-Fi Alliance announced a new wireless networking specification that will allow devices to connect to one another without the aid of an access point (AP). To be available later this year, "Wi-Fi Direct" will allow "direct connection groups" for tasks such as printing, syncing, and sharing content, the industry group says.
Edgar Figueroa, CEO of the Wi-Fi Alliance, stated, "We designed Wi-Fi Direct to unleash a wide variety of applications which require device connections, but do not need the internet or even a traditional network. Wi-Fi Direct empowers users to connect devices when, where and how they want to, and our certification program delivers products that work well together, regardless of the brand."
According to the Alliance, Wi-Fi Direct delivers all the speed of traditional wireless networks, can still offer WPA2 security, and will work with many existing 802.11x adapters — though a Wi-Fi Direct certification program is said to be under way. Among other new wrinkles, however, the spec will allow devices to discover information about one another before a connection is actually made and an IP address assigned: For example, a shared printer or projector will be able to advertise its services in advance.
It has been previously possible for 802.11-equipped devices to connect to one another directly without the aid of an access point, but doing so required the use of the arcane, hard-to-set-up ad hoc (IBSS) mode. To get around the limitations of the latter, the Bluetooth Special Interest Group has been promoting Bluetooth 3.0, which allows a pair of devices to discover each other and shake hands via Bluetooth, then transfer files at up to 24Mbps using Wi-Fi hardware.
Wi-Fi Direct outdoes Bluetooth 3.0, the Wi-Fi Alliance claims, by allowing data to be transferred over longer distances and at higher speed: specifically, a range of up to 250 meters and a speed of up to 250Mbps. Offering a newfound ease of use, it also bests the old ad hoc system in that devices can maintain simultaneous connections to both temporary Wi-Fi Direct networks and permanent infrastructure ones, the group says.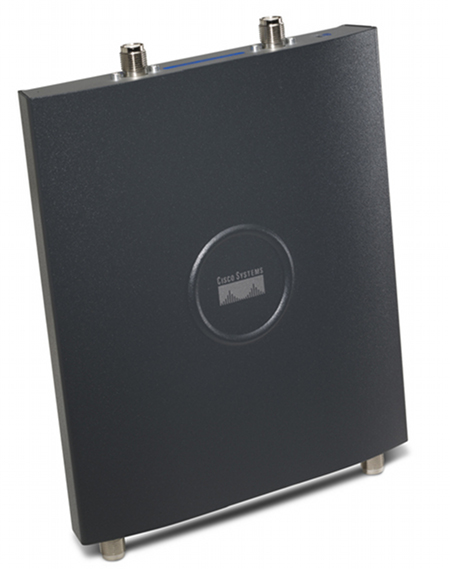 Wi-Fi Direct groups will not need access points, but Cisco's Aironet 1240 (above) is being employed for certification purposes
In addition, the Alliance says, Wi-Fi Direct is not just for one-to-one connections. Multiple devices can participate in a Wi-Fi Direct Group simultaneously, though it's said this is an optional feature that won't be supported in all Wi-Fi Direct devices.
According to the Wi-Fi Alliance, Wi-Fi Direct was developed independently, and does not use the IEEE 802.11s (mesh) or IEEE 802.11z (direct link setup) standards. It is, however, compatible with 802.11b/g/n devices operating in the 2.4GHz band and can work with 5GHz devices as well, the group says.
A particularly interesting aspect of Wi-Fi Direct is that a single device in a group can share internet connectivity with others by creating simultaneous infrastructure and Wi-Fi Direct connections. But, it's claimed, even when networks are cross-connected, the infrastructure network remains secure.
While it's promised existing 802.11x devices will be able to connect to Wi-Fi Direct groups, creation of such groups will apparently require network adapters that have been certified for Wi-Fi Direct operation. But, the Alliance adds, some vendors will be able to accomplish certification merely via software upgrades.
The first devices to have been Wi-Fi Direct certified, and which will be used as a basis for further certifications, are said to include:
Atheros AR928x 802.11n PCIe Mini Card (AR928x)
Broadcom BCM43224 dual-band 802.11n 2×2 MIMO PCI Express Mini card
Intel Centrino 6200
Ralink MIMObility 802.11n PCI Express Mini card
Realtek RTL8192CE-VA4 HM92C00 PCI Express Mini card
The Cisco 2106 wireless LAN controller and Cisco Aironet 1240 access point are also being used in the certification test suite, the Wi-Fi Alliance adds.
Availability
According to the Wi-Fi Alliance, it will begin certifying products for Wi-Fi Direct "in late 2010." However, the above list suggests that compatible devices will be available as soon as their manufacturers can make software upgrades available to the public.
Further information may be found on the Wi-Fi Alliance website, here.
---
This article was originally published on LinuxDevices.com and has been donated to the open source community by QuinStreet Inc. Please visit LinuxToday.com for up-to-date news and articles about Linux and open source.