Oct 22, 2009 — by Eric Brown — from the LinuxDevices Archive — 19 views
Japanese software firm Access and Israeli mobile design firm Emblaze Mobile today demonstrated a smartphone prototype and device stack based on the LiMo-compatible Access Linux Platform (ALP) 3.0. The Else phone incorporates a Texas Instruments OMAP3430, 16GB internal flash, 3G, WiFi, GPS, and jointly developed "Else Intuition" software.
Else Intuition was demonstrated on the Else prototype at the annual Access Day event in Tokyo today, says Access, which supplied the image shown below. The Else design is currently being evaluated by top-tier mobile operators worldwide, says Access. A spokesperson declined to name the manufacturer.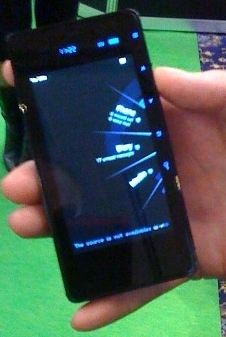 Access/Emblaze Else showing fan-like menu motif
The Else is based on the Texas Instruments (TI) OMAP3430 system-on-chip, which appears to be the SoC of choice these days among high-end smartphones, along with Qualcomm's Snapdragon. (The OMAP3430 appears on the
Palm Pre
, the
Nokia N900
, and the other major new high-end LiMo-based smartphone, the Samsung built
"360 H1"
from Vodafone).
The Else appears to have all the checklist items required to attend the top-tier smartphone party, including a healthy 16GB allotment of internal flash memory and a 3.5-inch, 854 x 480 pixel capacitive touchscreen. The prototype also offers WiFi, 3G, Bluetooth, GPS, accelerometers, and a five-megapixel camera, says Access (see spec list below).
The Edge Intuition stack, meanwhile builds upon the LiMo specification with Access' ALP 3.0, one of the principal stacks compatible with the open source LiMo (Linux Mobile) specification. Edge Intuition also incorporates a jointly developed user interface (UI) engine, as well as a suite of services provided by Emblaze Mobile, which also appears to be the designer of the Edge phone.
It was unclear whether Edge Intuition supports some or all of the next-generation LiMo R2 specification, which underlies the Vodafone's 360 H1 phone. However, an ALP 3.0 subset was said to have been one of two R2 "Reference Implementations" available to LiMo members. The other was the Azingo Mobile 2.0 stack, which appears to have been used by Vodafone for its 360 H1 phone.
The Edge Intuition interface offers "accelerated 2D/3D graphics and elegant transition effects," says Access. Users can run and switch between multiple applications simultaneously, and all data and content, including contacts, appointments, videos, and photos, can be rendered anywhere, not only within a single dedicated application, says Access.
At last year's Access Day event in October, Access showed off ALP 3.0, and then formally unveiled the stack in February of this year at Mobile World Congress. Access showed two versions: ALP for Smartphones and ALP for Mobile Internet Devices.
At the time, the company once again confirmed that NTT DoCoMo had selected ALP 3.0 as a successor to its MOAP/L Linux platform, and that ALP 3.0 would appear on NEC and Panasonic phones this fall. DoCoMo had previously stated that it would begin distributing 3G FOMA phones based on ALP in the second half of 2009. The giant Japanese carrier still appears to be the most likely candidate as the first Else provider, but Access is staying mum.
Monolithic ambitions
Last October, Access confirmed that the Sharp-made Emblaze Edelweiss (pictured at left) smartphone used the ALP stack. Shortly before, Emblaze Mobile had posted a photo and specs for the Edelweiss, which was rumored to be heading to the Russian market. However, Isreali site Calcalist last month reported that the Edelweiss never reached market, and indeed, Edelweiss content has been scrubbed from the Emblaze site.
Still, the Else appears somewhat similar to the Edelweiss, and matches its specs. Indeed, at the time, Emblaze said that the phone was a prototype on the way toward a more advanced "Monolith" phone. The Sharp connection also suggests that the company is a likely manufacturer of the phone.
Today, Robin Harding, writing for FT.com, confirmed that the Else is indeed the Monolith. Reporting from the Access Day event, Harding writes that the phone appears to have an "elegant user interface," sporting a menu system shaped like a fan (seen in image farther above).
With the fan menu, writes Harding, as the user "moves their finger in a direction, it is replaced with the next menu down, taking the user all the way to the song they want to play or the number they want to call with a single gesture."
Specifications listed for the Else phone include:
Processor — TI OMAP3430
Memory — 256MB RAM
Flash — 16GB internal flash
Display — 3.47-inch FWVGA (854 x 480) capacitive touchscreen; 262K colors; 16:9 aspect ratio
Cellular — WCDMA/HSDPA/GSM/GPRS/EDGE; quad-band 850/900/1800/1900MHz; tri-band 850/1900/2100MHz
WiFi — 802.11 b/g
Bluetooth — Bluetooth 2.0
GPS — Standalone GPS and Assisted-GPS
Camera — 5-megapixel, auto-focus, 8x digital; advanced stabilization
Audio:

SiSonic microphone(X 2 for noise cancellation)
3.5mm headset jack
Flamingo stereo headphones included

Sensors — Tilt, proximity, and light sensors with adaptive handling
Battery — 1450mA
Dimensions — 4.6 x 2.2 x 0.5 inches (115.6 x 56.6 x 13mm)
Operating system — LiMo Linux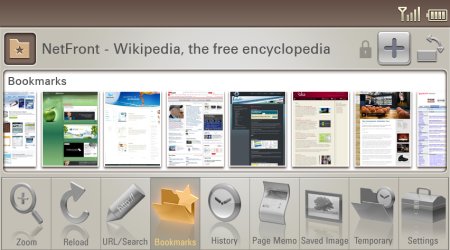 ALP 3.0's NetFront Browser in landscape mode
ALP 3.0
Aimed primarily at ARM Cortex devices, ALP 3.0 includes Access' NetFront Browser (above), as well as OpenGL-ES 2.0 support for 3D acceleration. According to Didier Diaz, SVP product strategy at Access, ALP 3.0 offers a standardized API that enables ALP developers to modify an application's look and feel without changing its code.
Didier said in a February interview, "For the first time, we differentiate between the logic and the presentation layers, which makes it easier to alter the look and feel, and we have also improved 3D graphics, animations, and effects like transparency, translucency, mirroring, and shading." For more on ALP 3.0 (pictured at right), see our earlier coverage, here.
Stated Amir Kupervas, CEO, Emblaze Mobile, "Imagine a device that is not a phone surrounded by gimmicks you will not use; where the camera literally replaces your digital camera; you get real-time push email wherever you are on the globe; almost every song and film in the world is one click away; and any one of its multitude of features is reached with no more than one light gesture of your finger and not buried deep inside folders within folders."
Stated Tomihisa Kamada, president, co-CEO and co-founder of Access, "Emblaze Mobile came to us with a thought-provoking concept to shake up the mobile industry, and I am delighted that ACCESS has been able to provide the software to make it happen."
Availability
Access did not reveal when the Else, as well as its manufacturer and carrier(s), would be formally announced. More information may eventually appear at Access, here, or at Emblaze Mobile, here.
The FT.com story on the Else and Else Intuition may be found here. The Calcalist story on the early demise of the Edelweiss, as well as several other smartphones from other vendors, may be found here.
---
This article was originally published on LinuxDevices.com and has been donated to the open source community by QuinStreet Inc. Please visit LinuxToday.com for up-to-date news and articles about Linux and open source.