Jan 29, 2010 — by Eric Brown — from the LinuxDevices Archive — 73 views
Black Diamond announced it has been awarded a patent for FPGA-related technology found in its rugged, Linux-ready SwitchBack UMPC (ultra mobile PC). In the patented SwitchBack architecture, a Xilinx Virtex 5 FPGA controls the Celeron CPU via a PCI-Express channel, enabling the device to be easily reprogrammed, says the company.
The SwitchBack has not changed much since it was introduced in 2006, supporting both Linux and Windows XP. Still offered in a 7.5 x 5.5 x 2-inch (191 x 140 x 51 mm) , three-pound magnesium case reinforced with rubber isolators and shock-mounted electronics, the SwitchBack meets or exceeds military specifications for shock, vibration, humidity, and extreme temperatures, says Black Diamond, a unit of RMT, Inc.
The "world's first rugged UMPC" still offers a 1GHz Intel Celeron CPU with Intel GMA-900 graphics, and is now available with up to 2GB DDR2 RAM instead of the previous 1GB limit. Our previous coverage did not mention the presence of a Xilinx Virtex 5 field programmable gate array (FPGA), which may not have been publicly disclosed at the time.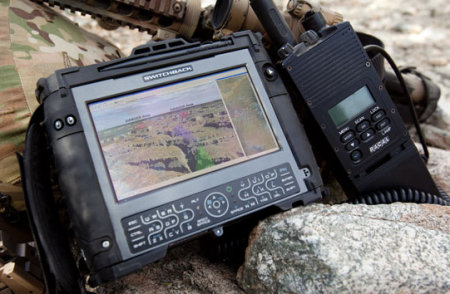 The SwitchBack is designed to be reprogrammable in the field


(Click to enlarge)
The device continues to offer a 5.6-inch, sunlight-readable touchscreen with 1024 x 600 resolution, and supplies a backlit condensed QWERTY keyboard and pointer. Storage has swelled to an 80GB, 1.8-inch removable SATA drive (expandable to 120GB), as well as a 32GB solid state drive, expandable to 64GB. Other features, including WiFi, Bluetooth, GPS, a USB port, and a hot-swappable battery are also unchanged.
In the original announcement, Black Diamond said it was introducing a "patent-pending" modular back-mounted expansion unit that offers a wide variety of peripheral functions, including fingerprint readers, cameras, and laser range finders, but the company offered few details. (For the complete spec list of the SwitchBack, please see our previous coverage, here.)
FPGA in charge
Now, RMT/Black Diamond has announced that it has been granted U.S. Patent No. 7,607,005 for its internal architecutre, entitled "Virtual Hardware System with Universal Ports using FPGA." The architecture "redefines the basic design of traditional computers" by placing an FPGA in charge of the computer, essentially demoting the Celeron CPU and chipset to peripherals, says the company. This approach is said to make the SwitchBack more easily upgradeable and reconfigurable.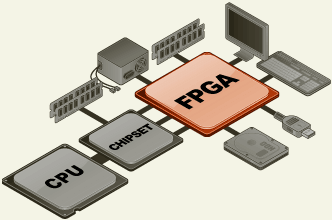 Simplified diagram of SwitchBack internal architecture
The FPGA is said to be programmable to a redefinable circuit board, a virtual CPU, a memory storage device, or a combination of all three. The high-end Virtex 5 FPGA is said to interface with the CPU through a high-speed PCI Express connection, and is reconfigured via a microcontroller.
The Virtex 5 enables almost any type of circuit or process to be defined and implemented, claims Black Diamond. Software processes can be converted into hard-encoded state-machines, freeing up CPU resources, and "virtual hardware" can be downloaded to the system, without physically redesigning the electronics, says the company.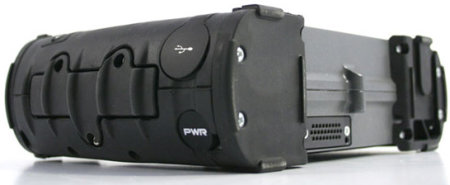 The SwitchBack is housed in a rugged magnesium case with rubber isolators
The FPGA-centric design is also said to offer greater security and reliability. If the Celeron crashes, the unit "continues to operate mission critical functions and display data on the screen," the company says.
Black Diamond adds that by giving control to the FPGA additional benefits arise, such as parallel processing. For example, the device can process video, analyze it, then overlaying the results atop the video stream "in near real-time," claims Black Diamond. The architecture is also said to boost processing speed for biometrics applications such as iris scans, fingerprint scans, and facial recognition.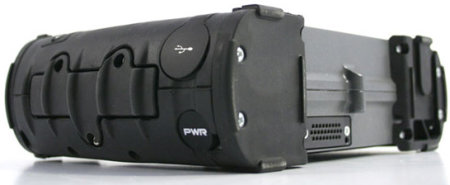 Side view of the SwitchBack
The patent covers features such as installing new virtual hardware via firmware downloads into memory associated with the FPGA, as well as reconfiguring the FPGA through a microcontroller. It also covers the use of universal ports associated with the FPGA, "into which adapter plugs can be placed to quickly adapt to any device that may be added through the virtual hardware use of the FPGA," says the patent. Other aspects covered by the patent are said to include the linkage between high density connectors and numerous ports used to attach external electronic equipment via the FPGA.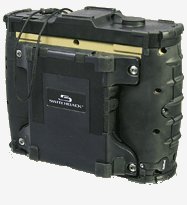 SwitchBack loaded with BackPack module
Reprogrammable functions are initiated in the modular BackPack add-on component. The standard BackPack offers VGA output, a serial port, type II PCMCIA, audio in/out, and a USB 2.0 port. Alternatively, customers can buy a FlexPack version that includes a standard set of electronic interfaces and allows product developers to customize peripherals and connections The FlexPack includes a Module Development Kit, and can be purchased with a 7-pin sealed circular connector providing a 28V power input plus an Ethernet port or other custom variations.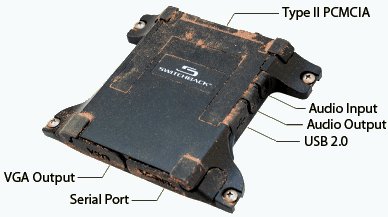 BackPack detail
BackPack modules can incorporate multiple technologies at once, including generic functions such as a graphics card, camera, CompactFlash, custom communications devices, or high-definition audio, says Black Diamond. In addition, it can support more specific functions like a mag-stripe reader, barcode or RFID scanner, or biometric reader.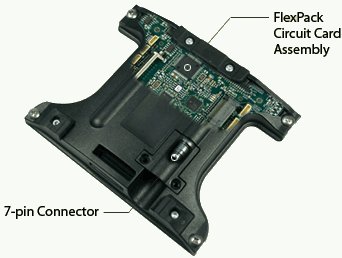 FlexPack detail
Availability
The SwitchBack is available now, at an undisclosed price. More information may be found here. The SwitchBack patent may be found here.
---
This article was originally published on LinuxDevices.com and has been donated to the open source community by QuinStreet Inc. Please visit LinuxToday.com for up-to-date news and articles about Linux and open source.