May 28, 2010 — by Eric Brown — from the LinuxDevices Archive — 8 views
Extreme Engineering Solutions (X-ES) announced a military-focused 3U OpenVPX-compliant VPX-REDI SBC equipped with Freescale's PowerPC-based, eight-core 1.5GHz QorIQ P4080 system-on-chip. The XPedite5470 offers PCI Express or Serial RapidIO expansion, SERDES or standard gigabit Ethernet ports, plus MIL-STD 810F Level 1-5 ruggedization and temperature resistance, says the company.
The XPedite5470 is the first of five single board computers (SBCs) that X-ES plans to introduce based on the Freescale P4080 system-on-chip (SoC), currently the premium member of Freescale's Power Architecture-based system-on-chips (SoCs). Other planned products include P4080-based boards complying with the PMC/XMC, VME, 6U VPX, and 6U CompactPCI formats, the company adds.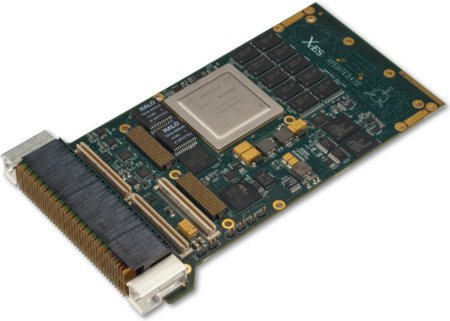 XPedite5470
(Click to enlarge)
All of X-ES' P4080-based SBCs will meet MIL-STD 810F military requirements, and are engineered to scale from air-cooled commercial (0 to 55 deg. C) to full conduction-cooled (-40 to 85 deg. C) designs, with appropriate shock and vibration testing, says the company. Board support packages (BSPs) are said to be available for Linux, Wind River VxWorks, QNX Neutrino, and Green Hills Integrity operating systems.
The XPedite5470 uses the VPX REDI board format governed by The OpenVPX standard, the latest in a line of mil/aero-focused VPX specifications maintained by the incorporated, non-profit VITA (VME Industry Trade Association).
Ratified by VITA in February, OpenVPX (also known as VITA 65) is defined to meet the open standards and interoperability goals of the U.S. Department of Defense, defining an architecture framework that manages and constrains module and backplane designs. The standard defines pin outs, and sets interoperability points within VPX , says VITA.
The XPedite5470's top-of-the-line Freescale QorIQ P4080 SoC combines eight Power PC e500 cores at up to 1.5GHz. Aimed at high-end networking applications, the QorIQ P4080 offers datapath acceleration, a hypervisor, and a CoreNet "coherency fabric" inter-core interconnect. The P4080 is further equipped with a private backside cache per core, with tri-level cache hierarchy, providing 128KB L2 cache per core and 1MB L3 cache per channel. IEEE754 floating point unit support is also provided, says Freescale.


QorIQ P4080 block diagram
(Click to enlarge)
On the XPedite5470, the P4080 SoC is joined by 8GB DDR3-1333 ECC SDRAM in two channels, says X-ES. The SBC also ships with 256MB NOR flash and 16GB NAND flash, says the company. Hardware write-protection is said to be available for NVRAM.
Expansion and I/O on the XPedite5470 are split up into two main VPX (Vita 46) sites — P1 and P2 — as well as a PrPMC/XMC site, and optional front-panel I/O.
The VPX P1 site offers dual sets of four-lane PCI Express (PCIe) or Serial RapidIO expansion slots for 8 x lanes total, plus X12d XMC P16 I/O. In addition, the P1 site provides two SERDES gigabit Ethernet ports. (When using standard gigabit Ethernet ports, one of the ports can be output to the VPX P2 site.)
The VPX P2 site offers a single non-SERDES gigabit Ethernet port, and either one or two RS-232/RS-422/RS-485 serial ports, says X-ES. Additional P2 I/O is said to include an I2C port, 3.3V GPIO signals, and P64s PMC P14 I/O.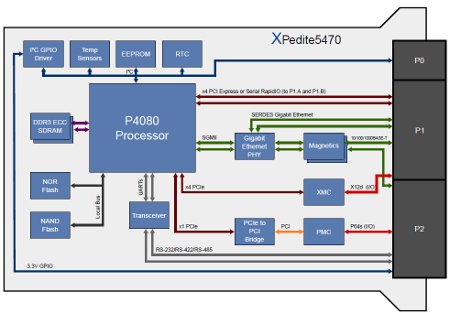 XPedite5470 block diagram
(Click to enlarge)
The PrPMC/XMC site is equipped with a 32-bit, 66MHz PCI bus (PMC interface), as well as four-lane PCIe expansion (XMC interface). Additional PrPMC/XMC interfaces are said to include P64s P14 and X12d P16 I/O support.
Finally, the front panel is available with an optional plugover module that supplies an RJ45 10/100 Ethernet port, as well as mini-DB9 RS-232 serial ports, says the company.
Specifications listed for the XPedite5470 include:
Processor — Freescale QorIQ P4080 (8 x 1.5GHz PowerPC e500 cores)
Memory:

Up to 8GB DDR3-1333 ECC SDRAM via 2 x channels
Up to 256MB NOR flash (with redundancy)
Up to 16GB NAND flash
Hardware write-protection for NVRAM

Expansion:

8 x channels of PCIe or Serial RapidIO (VPX P1)
4 x channels PCIe (XMC)
PCI bus; 32-bit, 66MHz (PMC)

Networking:

2 x SERDES or standard gigabit Ethernet ports (VPX P1)
1 x standard gigabit Ethernet port (VPX P2)
1 x optional RJ4510/100 Ethernet (front panel)

Other I/O:

1 or 2 x RS-232/RS-422/RS-485 serial ports (VPX P2)
Optional Mini-DB9 RS-232 serial ports (front panel)
1 x I2C port (VPX P2)
GPIO (3.3V) signals (VPX P2)
X12d XMC P16 I/O (VPX P1)
P64s PMC P14 I/O (VPX P2)
P64s P14 I/O (PrPMC/XMC)
X12d P16 I/O (PrPMC/XMC)

Maximum power consumption — 40 W (estimate)
Ruggedization — MIL-STD 810F Levels 1-5
Operating temperature — Up to -40 to 185 deg. F (-40 to 85 deg. C) at MIL-STD 810F Level 5 (conductiion cooled)
Dimensions — 3.94 x 6.3 inches (100 x 160mm); 3U VPX-REDI conduction- or air-cooled form factor
Previous X-ES products based on Freescale PowerPC processors include the XPedite5102 module, which uses the XMC format.
Stated Aaron Lindner, X-ES engineering manager, "For high-end military compute applications, the P4080 provides PowerPC customers an easy and natural code migration for man-years of big-endian based applications. XPedite5470 is the latest in our VPX product line providing customers the ability to maximize system performance in a minimum number of compute slots."
Availability
The XPedite5470 is available now in limited quantities for development, and production hardware is expected to be available in the fourth quarter, says X-ES. More information may be found here.
---
This article was originally published on LinuxDevices.com and has been donated to the open source community by QuinStreet Inc. Please visit LinuxToday.com for up-to-date news and articles about Linux and open source.