Jan 30, 2012 — by Eric Brown — from the LinuxDevices Archive — views
Samsung announced a 1GHz "Galaxy S Advance" phone running Android 2.3 on a dual-core 1GHz processor and featuring a four-inch Super-AMOLED screen — slated for Russia in February. Meanwhile, Motorola announced a Europe-targeted, unlockable "Razr Developer Edition" and is preparing a similar Android device for the U.S. "in the coming months."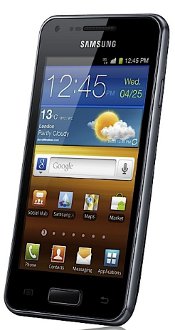 Based on the limited specs revealed by Samsung, the Samsung Galaxy S Advance (pictured) appears to be more advanced than the original Galaxy S phones, but less so than the Samsung Galaxy S II. That comparison is further complicated, however, by the fact there are several variations on both the Galaxy S and the S II designs with slightly differing specs. (All are a step behind the top-of-the-line, Android 4.0-based Galaxy Nexus.)
Most of our readers will be glimpsing the Samsung Galaxy S Advance from afar, as it will be available in Russia starting from February, before being gradually rolled out in the rest of the CIS countries. That will be followed by Europe, Africa, Middle East, Southeast and Southwest Asia, Latin America, and China, according to Samsung, but no U.S. launch was promised.
The Galaxy S Advance runs Android 2.3 ("Gingerbread") on an unnamed dual-core processor clocked to 1GHz, says Samsung. While this is slower than the 1.2GHz rate found on the S II phones, it should be a noticeable performance boost compared to the Galaxy S, which ran on a 1GHz, single-core Cortex-A8 Samsung Hummingbird processor.
Like the Galaxy S, the Galaxy S Advanced offers a four-inch Super-AMOLED screen, but it does not get the "Plus" version found on the S II. The phone is further equipped with HSPA 14.4Mbps 3G connectivity and a five-megapixel camera, instead of the eight-megapixel models on the S II.
Beyond that, Samsung refers only to software, including its TouchWiz user interface, Samsung Hubs, and ChatON services. The Samsung Hubs include the Music Hub, featuring access to over 11 million tracks as well as personalized catalogs, plus a Readers Hub that provides access to over 2.3 million e-books, 3,500 magazines, and 200 newspaper titles, according to the company. The Game Hub is said to offers access to thousands of cataloged games supplemented by gamer news feeds and news.
Samsung's cross platform ChatON service connects phone users via phone numbers instead of usernames and passwords, says Samsung. ChatON is said to provide instant messaging, group chatting and sharing of content in multiple formats. Finally, a Find My Mobile system for finding lost phones enables users to trace phonea via the web, or delete the device's data remotely, says the company.
Motorola unlocks Razr — but only in Europe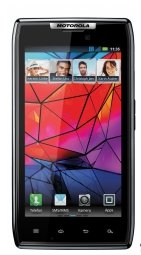 A few days after releasing its long-battery life Razr Maxx version of its ultra-thin Razr phone, Motorola Mobility announced a developer version of the original Razr smartphone. The Motorola Razr Developer Edition (pictured) — also called the XT910 — is identical to the Razr, but will be supported on the Motodev site with support info for unlocking, relocking, and locating build files, as well as access to additional developer resources, says Motorola. No warranty is available.
Although the Razr Developer Edition is available only in Europe, the company also announced that it plans "in the coming months" to "introduce an unlockable developer device in the United States through Motodev, Motorola's global developer network." This is not necessarily a Razr, but it will almost certainly be an Android device.
According to Motorola, the Xoom Wi-Fi and UMTS tablets are equipped with unlockable bootloaders in "several regions of the world" — the U.S. not being one of them. The Razr appears to be the company's first unlocked Android smartphone, although Motorola released several unlocked Linux-based phones in the U.S. in the previous decade, including the LiMo-compliant Moto U9 phone.
When the Android-based Droid X was released in 2010, Motorola earned the ire of hackers when it was revealed that the phone included an eFuse ROM lock-down chip that prohibited ROM modifications. Motorola calmed the storm a bit when it was able to explain that the chip did not cripple the phone if a modification was attempted.
The European focus for the Razr Developer Edition is explained by Motorola as a means to "continue meeting our carrier and regulatory obligations" while also meeting "the needs being expressed by our developer community." Translation: "Don't blame us — Verizon made us do it."
The Razr is notable for its 0.28-inch thick Kevlar-reinforced design. It features a dual-core, 1.2GHz processor, 1GB of RAM, and 16GB of flash storage, a 4.3-inch screen packing 960 x 540 pixels, dual cameras, and accessories including the 14-inch Lapdock 500 Pro.
The phone still runs Android 2.3, but is slated for an Android 4.0 update. Presumably, the Developer Edition will get the same bump when it becomes available.
The Razr Developer Edition is available for pre-order at the Motorola Shop for 499 Euros (about $654). The Razr launched at $300 on contract at Verizon, but the price has since been dropped to $250, with the full retail price listed as $650. So for the Developer Edition, Europeans are basically paying retail, getting the added flexibility of an unlocked bootloader, but giving up the security of a warranty.
Eric Brown can be reached at [email protected].
---
This article was originally published on LinuxDevices.com and has been donated to the open source community by QuinStreet Inc. Please visit LinuxToday.com for up-to-date news and articles about Linux and open source.