Oct 21, 2010 — by Eric Brown — from the LinuxDevices Archive — views
Verizon Wireless will launch the Samsung Galaxy Tab on Nov. 11 at a steep $600, says eWEEK. Meanwhile, Samsung unveiled a seven-inch "SMT-i9100" Android tablet aimed at Japan, MSI is postponing a Windows-based tablet in favor of an Android model due in 1Q 2011, and Lenovo is postponing its "LePad" tablet until next summer, waiting for Android's "Honeycomb" release, say reports.

After months of peeks and leaks, Samsung announced its seven-inch, Android 2.2 Galaxy Tab tablet on Sept. 2. Several weeks later, AT&T, Sprint, T-Mobile, and Verizon Wireless announced their intention to sell the Galaxy Tab (pictured) sometime this fall.
Based on feature set, first-look impressions, and the clout of the manufacturer and carriers, the Galaxy Tab was widely predicted to be the first Android tablet that could give Apple's iPad a serious run for its money. Yet, that speculation was thrown into question yesterday when Verizon Wireless announced it would start selling the tablet on Nov. 11 for $600, writes Clint Boulton in our sister publication, eWEEK.
That's $100 more than the entry-level iPad Wi-Fi version, and only $30 less than the starting Wi-Fi plus 3G version that AT&T sells, the story points out. While the Samsung Galaxy Tab also offers both Wi-Fi and 3G, "other characteristics of the device scream for a lower price point than the iPad," writes Boulton.
The Galaxy Tab's screen is only seven inches, compared with 9.7 inches for the iPad, and it runs Android 2.2, which Google acknowledges is not optimized for tablets. Galaxy Tab does have a couple of features the iPad lacks, notes Boulton. These include front and back cameras for video calling, and full support for Adobe Flash 10.1.
As for

those advantages, OpenSUSE Linux guru Joe Brockmeier (pictured), writing in NetworkWorld, offers a one word comment: "Meh." He goes on to suggest, as does Boulton, that a more affordable pricetag will be required to knock the iPad off its perch in the tablet market.
"I'm about ready to throw in the towel on Android tablets out of sheer frustration," writes Brockmeier after Verizon announced the $600 price. "As a Linux user and Android fan, I've been patiently waiting for a decent iPad competitor to hit U.S. shores. The Galaxy Tab looked promising, until Verizon and Samsung stuck a $600 price tag on the tablet. Why aren't vendors taking this seriously?"
Brockmeier goes on to write, "Someone in the Android camp needs to bite the bullet and follow through with a cheaper, better alternative that's widely distributed. You can easily go out and put hands on an iPad to see if it's right to buy — finding Android tablets to test drive before purchase is not an easy feat."
One key problem for Samsung is that Verizon will also start selling the iPad on Oct. 28 for $630, bundled with the Verizon MiFi 2200 Intelligent Mobile Hotspot, a version of Novatel Wireless' Linux-based bandwidth-sharing device. AT&T is currently the only carrier selling the device. Meanwhile, there's no word as yet on how much AT&T, Sprint, and T-Mobile will charge for the Galaxy Tab.
Apple's shipment of 4.19 million iPads for the fiscal fourth quarter underwhelmed analysts earlier this week. However, the Verizon availability and the lack of price-competitive alternative should make for strong iPad sales this holiday season, predicts eWEEK's Boulton.
In an earnings call this week, Apple CEO Steve Jobs ranted against Research in Motion (RIM), Google, and Android, while suggesting that consumers would balk at seven-inch tablets, especially running an un-optimized Android 2.2. Jobs also argued that Android is not as free as is claimed, and is far too fragmented.
The comments elicited an extensive blog counter-punch from RIM co-CEO Jim Balsillie, and a far more succinct and decidedly geekier response from Android creator Andy Rubin.
Yet both Boulton and eWEEK's Don Reisinger suggest that Jobs may have a point, and that Android vendors are missing an opportunity this holiday season.
Even before the Verizon pricing announcement, Reisinger penned a story called "Google Android tablets won't match Apple iPad soon: 10 reasons why." Among other issues, Reisinger notes Android 2.2's screen resolution issues and the related issue of a relative lack of optimized application, and suggests that Jobs is correct in suggesting that seven inches is not sufficiently large to provide the full tablet experience.
Samsung SMT-i9100 tablet heading for Japan
NTT DoCoMo is planning to sell the Samsung Galaxy Tab this fall, but soon Japan will have an alternative Android 2.2, seven-inch tablet from Samsung. Earlier this week, rival Japanese carrier KDDI announced that it would offer a somewhat scaled down tablet from Samsung, called the SMT-i9100, according to Samsung Hub. The SMT-i9100 will ship early next year, says the story.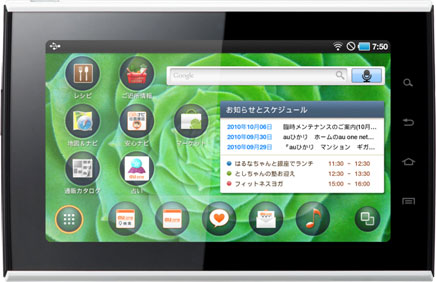 Samsung SMT-i9100


Source: Samsung Hub
Like the Galaxy Tab, the SMT-i9100 runs Android 2.2, and offers 512MB RAM, microSD expansion, abd 802.11b/g/n, says
Samsung Hub.
Although the design is somewhat different, the tablet provides the same seven-inch WSVGA (1024 × 600) touchscreen, says the story.
The camera, however, is said to be rated at only two megapixels instead of three, there's no front-facing camera, and battery life lasts only two hours. In addition, the SMT-i9100 is much heavier at 450 grams (compared to 380 grams), ships with only 4GB of flash instead of 16GB, and offers Bluetooth 2.1 instead of version 3.0, says Samsung Hub. Instead of running the TouchWiz UI stack, the tablet offers an "Ocean Observation UI," says the story.
MSI postponing Windows tablets in favor of Android, says report
Taiwan-based MSI (Micro Star International) has long been a loyal partner to Microsoft, yet the company is now focusing its tablet efforts on Android instead of Windows, says Digitimes.
MSI recently decided to postpone its Windows-based tablet PC, which was scheduled to launch in the third quarter of this year, says the story. It will instead focus on a launch of an Android 3.0-based tablet for the end of March 2011.
MSI's Android-based 10.1-inch Wind Pad tablet is set to be priced below $500, says Digitimes. It will offer USB and HDMI ports and "will target a different market than other tablet PCs," says the story, without detailing what that market might be. Engineering samples of the device are said to be due in December, and MSI will demonstrate the product at CES 2011 in January.
At the C

omputex show in Taiwan in early June, MSI demonstrated a Wind Pad 110 Android tablet prototype, pictured in a PC World shot from the show, at left. At the time, MSI said its Windows-based Wind Pad 100 would come first, however.
The 10.1-inch Windows-based tablet, meanwhile, is still on track, but for later in 2011, says the story.
MSI is also set to launch dual-core netbooks in November of this year, adds the story. Presumably these will be Windows 7 models, although earlier this year MSI launched a U135 model offering a Moblin-infused version of SUSE Moblin Linux v2.1.
Lenovo tablet pushes to mid-2011, waiting for "Honeycomb" Android

Lenovo — which earlier this year announced an Android smartphone with a Qualcomm Snapdragon processor called the LePhone — has been readying an Android-based LePad tablet based on Android, according to a TradingMarkets story this July. The story quoted a Lenovo VP as saying the tablet would echo features of the LePhone and would ship in China by the end of the year.
Now, according to a PCMag report, Lenovo president and COO Rory Read told reporters that the LePad won't arrive until next summer, and will run an upcoming Android release called "Honeycomb". The Honeycomb release will follow Android 3.0 ("Gingerbread"), which is due later this year.
According to a recent Forbes story, Honeycomb will arrive in early 2011 as Android 3.5, followed by Android 4.0 ("Ice Cream" in Google's alphabetical dessert scheme) in the summer.
According to several reports, Gingerbread will be the first tablet-optimized version of Android. However, the PCMag story quotes Read as saying Lenovo is waiting for Honeycomb because it's a "version specifically designed for tablet computers." This would suggest that further tablet optimizations are in order beyond Gingerbread.
Lenovo apparently has no plans to roll out a Windows 7 tablet, says the story, which quotes Lenovo's director of new technology Howard Locker on the subject.
"The challenge with Windows 7 is that it's based on the same paradigm as 1985," Locker was quoted as saying. "I's really an interface that's optimized for a mouse and keyboard. It has to be optimized for touch. How do you do that?"
Availability
The eWEEK story on the Verizon pricing announcement for the Samsung Galaxy Tab may be found here.
The Joe Brockmeier lament about Android tablets on NetworldWorld may be found here.
The Don Reisinger analysis story in eWEEK about Android tablets vs. the iPad may be found here.
The Samsung Hub story on the Samsung SMT-i9100 tablet may be found here.
The Digitimes story on MSI's Wind Pad tablet plans may be found here.
The PCMag story on the Lenovo LePad should be here.
---
This article was originally published on LinuxDevices.com and has been donated to the open source community by QuinStreet Inc. Please visit LinuxToday.com for up-to-date news and articles about Linux and open source.