May 2, 2011 — by Eric Brown — from the LinuxDevices Archive — 202 views
Sandia National Laboratories is demonstrating its latest mini supercomputer at ESC Silicon Valley this week, incorporating 196 TI OMAP3530-based Overo Tide modules running Linux. Being used for botnet research as part of Sandia's MegaTux project, the "StrongBox" product combines 28 Gumstix Stagecoach boards, each with seven Gumstix Overo Tide computer modules.
Sandia and Gumstix are demonstrating the StrongBox at this week's Embedded Systems Conference (ESC) in San Jose, at the Texas Instruments (TI) Tech Days pavilion. The Linux-based ARM "mini supercomputer" is said to be about the size of a medium suitcase and combine Gumstix' Stagecoach cluster boards incorporating a total of 196 Overo Tide modules, also from Gumstix.


Gumstix Stagecoach board
(Click to enlarge)
Since each Stagecoach board combines up to seven modules, it appears that 28 boards were required to build the computer. Trays of Stagecoach boards are said to be networked via 100Mbps switched 10/100 Ethernet.
1GHz DM37x Overo tipped
Intriguingly, the announcement says: "The cluster also previews the upcoming generation of Gumstix Overo COM's built with TI's 1GHz DM37x DaVinci digital media processors." At the same time, however, the StrongBox is said to incorporate Stagecoach boards equipped with the current 720MHz OMAP3530-based version of the Tide, so either there's some confusion, or several demo systems are on display.
Sandia is using the StrongBox to pre-test a planned, large supercomputing deployment of Sandia's MegaTux project. The system has been programmed by the MegaTux team at Sandia National Laboratories to demonstrate various types of botnet behavior.
Led by Sandia engineering technologist Mitch Williams at Sandia Labs, the StrongBox project achieves "a minicluster design which yields improved node density and excellent power dissipation characteristics," according to a statement by Williams.
Sandia is said to have previously developed miniclusters to test new software technologies, but only at a very small scale of four to eight nodes. Strongbox is its first minicluster "that enables Sandia tests at a scale closer to the real system," according to Sandia.
Stagecoach and Overo Tide background
When Gumstix' Stagecoach was announced last July, the board incorporated the earlier Overo modules (see farther below for more on the Stagecoach). The Stagecoach has since been upgraded to support the new Overo Tide modules.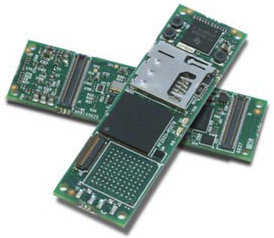 Overo Tide
The Tide doubles RAM to 512MB, but is otherwise identical to the Overo, supplying the 720MHz version of the Cortex-A8-based TI OMAP3530 processor while offering the same 0.7 x 2.3 x 0.2-inch dimensions. Other features include a microSD slot, TPS65950 power management module, dual 140-pin expansion connectors, and a 27-pin camera connector.
The Stagecoach is aimed at product development and academic research, says Gumstix. The board is said to offer up to seven Overo or Overo Tide modules, as well as other Overo variants. These include the Overo Earth and Overo Air (which adds Wi-Fi) both of which incorporate a 600MHz OMAP3503 SoC. There is also the Overo Water (which adds OpenGL graphics), and Overo Fire (with OpenGL and Wi-Fi) which use the 720MHz OMAP3530.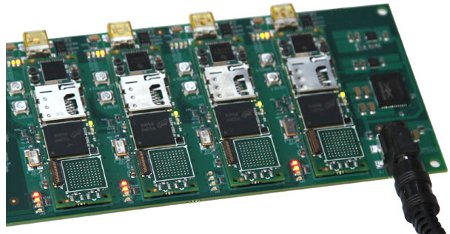 Stagecoach board (partial view)
(Click to enlarge)
The Stagecoach provides a 100Mbps switched fast Ethernet network, assigning a unique IP address to each module, says the company. Other features are said to include seven USB OTG ports and a serial-over-USB console port. The expansion board measures 11.54 x 2.76 inches (293 x 70mm), and draws less than 20 Watts fully-populated, says Gumstix.
Another cluster shot in the ARM
While the StrongBox does not appear to be headed for commercialization, server systems with smaller clusters of ARM processors have been announced. In December, for example, ZT Systems announced what it says is the first commercially available ARM-based development platform for the server market. The Ubuntu Linux-based R1801e 1U rackmount server employs SSD (solid state disk) storage and eight ARM Cortex-A9-based computer-on-modules (COMs), providing 16 600MHz cores while using less than 80 Watts, the company says.
In March, Calxeda announced that its ARM-based server chips will be reaching OEMs later this year. Calxeda's quad-core SoCs use ARM's Cortex-A9 design, enabling OEMs to build servers that will offer 120 ARM nodes — or 480 cores — in a 2U (3.5-inch) form factor, with an average power consumption of about five Watts per node, says the company.
Meanwhile, ARM has publicly stated it plans to aggressively enter the server market.
Stated W. Gordon Kruberg, CEO of Gumstix Inc., "We are pleased to see premier technologists like the MegaTux team take our small, Linux-based computing technology into such an exciting, clustered computing configuration. Sandia's engineers are the first to cluster the Stagecoach board."
Stated Robert Ferguson of Texas Instruments, "Gumstix has been able to expand how leading minds like those at Sandia leverage embedded processing, in an exceedingly rapid development cycle, while using a much lower energy solution."
Availability
Sandia and Gumstix are demonstrating the StrongBox at this week's Embedded Systems Conference (ESC) in San Jose, at the Texas Instruments (TI) Tech Days pavilion in the Marriott across from the McEnery Convention Center. More information on the Gumstix Stagecoach board, which is available for $229, may be found at the Gumstix Stagecoach page.
---
This article was originally published on LinuxDevices.com and has been donated to the open source community by QuinStreet Inc. Please visit LinuxToday.com for up-to-date news and articles about Linux and open source.