Dec 1, 2010 — by Eric Brown — from the LinuxDevices Archive — 28 views
ZT Systems announced what it says is the first commercially available ARM-based development platform for the server market. The Ubuntu Linux-based R1801e 1U rackmount server employs SSD (solid state disk) storage and eight ARM Cortex-A9-based computer-on-modules (COMs), providing 16 600MHz cores while using less than 80 Watts, the company says.
ZT Systems has previously specialized in x86 servers using Intel Xeon or AMD Opteron CPUs. Now, it's giving ARM a try, via Phytec COMs equipped with SPEAr1310 Cortex-A9-based system-on-chips (SoCs) from STMicroelectronics (ST).
The key motivator is ARM's superior energy consumption. Data centers spend billions on electricity for servers, including energy used for cooling, and they have a significant CO2 emission footprint, say the partners. According to the U.S. Environmental Protection Agency (EPA), data centers account for 1.5 percent of total U.S. electricity consumption at a cost of $4.5 billion annually, an amount that is expected to almost double over the next five years.


ZT Systems' R1801e
(Click to enlarge)
The ZT Systems R1801e server is said to target the rapidly growing Internet-centric segment of the data center server market. The device is designed for easy integration via an industry-standard 1U rackmount chassis, an ATX power supply, and SATA bays, say the hardware partners.
As an early ARM server platform, the R1801e is expected to be used primarily for evaluation, at least for now. The R1801e offers "the right balance of features and scalability to enable software development, porting, and ARM-based server concept evaluation," say the partners.
In July, STMicroelectronics (ST) announced its SPEAr1310 SoC (system on chip), claimed to be the industry's first to combine two ARM Cortex-A9 cores with a DDR3 memory interface. Currently sampling, the 55nm SoC offers dual cores clocked at 600MHz, gigabit Ethernet, plus connectivity including USB, SATA, and PCI Express, the company says.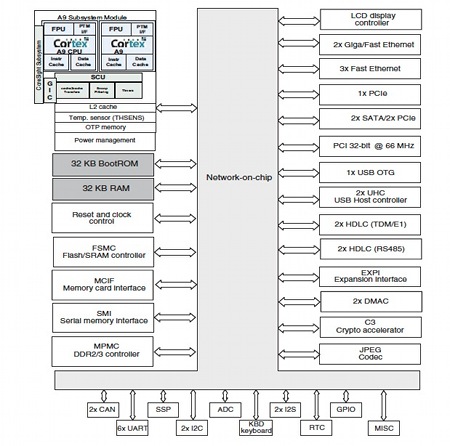 A block diagram of the SPEAr1310's internal connectivity
(Click to enlarge)

A modular approach …
Phytec offers off-shelf modules and design services in support a variety of ARM Cortex-A8 and -A9, ARM11, ARM9, Intel Atom, and XScale devices, says the company. Its previous PhyCard-L module, for example, runs on the Cortex-A8 based Texas Instruments OMAP3525, and supports Linux and Windows.
Phytec says each of the SPEAr1310-based modules employed in the R1801e is equipped with 1GB of 1333MHz DDR3 ECC memory and 1GB of NAND flash. Gigabit Ethernet, USB Device and Host, and SATA 3.0 interfaces are also said to be available, along with power regulation and supervising technology.
ZT's fanless R1801e is said to support up to eight of the modules for a total of 16 processor cores per server, each running at 600MHz. The modules plug into a ZT-designed system backplane that provides I/O, as well as the power from the server's 250 Watt "80+ Bronze" power supply, says ZT Systems.
The R1801e can be customized for each data center, says ZT Systems. However, a typical, fully populated server would offer eight Phytec modules and eight 80GB solid state drives (SSDs), for a total of 8GB RAM and 640GB of SSD storage, says ZT Systems.
In addition, each server offers dual Realtek 4+1 gigabit Ethernet switches with external uplinks and IPMI system management. The total maximum power draw is claimed to be less than 80 Watts. This is a pittance compared to typical x86 servers, and is likely also to be more parsimonious than the Intel Labs FAWN proposals for relatively low-power server clusters based on the Intel Atom.
ARM makes another move toward servers
The R1801e is yet another sign that ARM is being taken more seriously in the server world. Last month, Calxeda (formerly Smooth-Stone) announced it is making a major push to build Cortex-A9-based SoCs for low-power servers.
Also last month, Marvell officials demonstrated its quad-core, ARM v7 architecture Armada XP SoC, aimed at web servers, cloud computing, and high-volume home servers. The 1.6GHz SoC offers such enterprise-class features as up to 2MB of Level 2 cache, high-end networking ports and PCI-Express Gen 2.0 units.
Server vendors are even more interested in ARM's upcoming 2.5GHz Cortex-A15 MPCore processors. Using 32nm and 28nm fabrication processes, the Cortex-A15 is touted as offering enhanced virtualization support, 1TB memory access, plus five times the performance of current smartphone processors — all with similar power consumption.
Should ARM-based servers prove to be popular, they'll present an additional challenge for Microsoft, which does not currently offer an appropriate operating system for low-power embedded servers.
ARM servers should also offer a promising new market for Canonical and its Ubuntu Server OS, a mere pup in the Linux server world dominated by the likes of Red Hat. Back in 2008, Canonical and the Ubuntu community made the wise move of porting Ubuntu to ARM.
Stated Casey Cerretani, director of engineering at ZT Systems, "Phytec's skill in ARM-based board-level design allowed us to fast-track the R1801e product development effort. Our initial project meeting with Phytec was in April of 2010. By July we had an initial server prototype in place running Ubuntu Linux."
Stated Tom Walker, director of Phytec America, "Phytec is excited to have significantly contributed to the development of a server platform at the forefront of new technology that can significantly reduce the economic and environmental impact of data centers."
Availability
No availability or pricing information was supplied for the ZT Systems R1801e or Phytec 's SPEAr1310-based module. More information on the server may be found here.
---
This article was originally published on LinuxDevices.com and has been donated to the open source community by QuinStreet Inc. Please visit LinuxToday.com for up-to-date news and articles about Linux and open source.