Apr 26, 2011 — by Eric Brown — from the LinuxDevices Archive — 1 views
A second major power regression in the Linux kernel has been discovered by Phoronix benchmarks. Following last week's discovery that Ubuntu 11.04 shows a 10 to 26 percent increase in power consumption over Ubuntu 10.10, in a problem traced to Linux kernel 2.6.38 and currently being investigated by Canonical, Phoronix found there was a 20 percent increase in power consumption in last summer's Linux 2.6.35.
Linux power consumption appears to be rising almost as fast as the national debt, according to a series of Phoronix benchmarks. On April 22, the benchmark-focused tech site reported that Ubuntu 11.04 ("Natty Narwhal") was showing a 10 percent average power consumption increase over the Linux 2.6.35-based Ubuntu 10.10 ("Maverick Meerkat"). Some configurations and workloads revealed up to a 26 percent boost, says the story.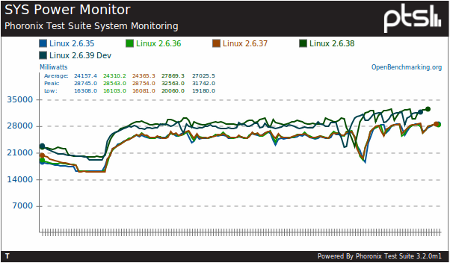 Phoronix

power testing on Lenovo ThinkPad running Ubuntu — top two lines show Linux 2.6.38 and 2.6.39
Source: Phoronix
(Click to enlarge)
The problem, which manifested itself to varying degrees on a variety of Intel-based notebook computers, was traced down to a power regression problem in the Linux kernel
2.6.38
. Therefore, similar results are expected when testing other Linux distributions as they adopt this latest Linux kernel release, suggests
Phoronix
. As shown in the chart above, the problem is also seen in early builds of the upcoming Linux 2.6.39, says the story.
On April 25, further testing indicated an even larger power consumption boost in Linux 2.6.35. This time, Phoronix used Ubuntu 8.04.4 LTS and tested it on various Linux builds, from Linux 2.6.24 to present.
Unlike the original Ubuntu tests, writes Phoronix editor Michael Larabel, "This isolates any user-space differences impacting the power consumption as well as other differences like the Ubuntu switch from the EXT3 to EXT4 file-systems and going from a user-space mode-setting driver to kernel mode-setting for graphics, etc."
Phoronix found that Linux 2.6.35, released in August, revealed a 20 percent increase in power consumption on the test system used. In this second batch of tests, Linux 2.6.38 once again showed a power increase, but tacked on only six percent more to the power increase after Linux 2.6.35's initial 20 percent boost.
Since Ubuntu 10.10 uses Linux 2.6.35, the difference in results between the two tests could indicate that some of the power consumption increases between Ubuntu 10.10 and Ubuntu 10.11 may be linked to changes in Ubuntu, as well as to its new kernel. Larabel makes no such suggestion, however, and indeed, the results may converge as more systems are tested.
Canonical: "a bug of high importance"
Canonical has posted a Launchpad bug report on the power problems, and 33 Natty Narwhal beta users have confirmed being affected by the bug, says the story. Yesterday, the Ubuntu Kernel Team confirmed the regression as being "a bug of high importance for Natty (11.04) and Oneiric (11.10)." The Ubuntu 11.04 release notes admit the power issue, as well.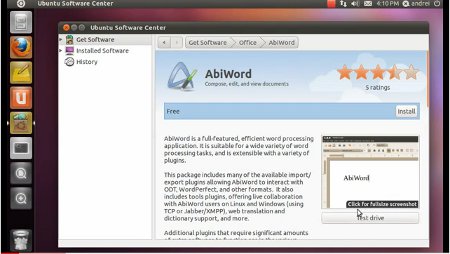 Ubuntu 11.04 beta
According to Larabel, references to the power issue can be found within the
Phoronix
Forums, Ubuntu Forums, Reddit, other message boards. The problems have been discovered for notebooks and desktops, both old and new, using both Intel and AMD processors, says the story.
Preliminary results on the Linux 2.6.38 kernel increases indicate the problem may be "within the memory management sub-system," writes Larabel. Canonical will likely wait for a fix "to appear upstream in the stable series or in 2.6.39 and then to have that back-ported into an Ubuntu 11.04 SRU update," he adds.
While the same decrease in power efficiency will likely show up in other Linux distros — and Ubuntu will be proven not to have added significantly to power consumption above and beyond what the kernel caused — the news comes at a bad time for Canonical. The final Ubuntu 11.06 is due to be released April 28, featuring a controversial, touch-enabled Unity desktop UI that focuses on battery-powered mobile devices like netbooks and tablets.
Yet, the bigger potential story is the Linux 2.6.35 problem. As Larabel notes, the Linux 2.6.35 problem will likely be harder to fix than the Linux 2.6.38 now that it has been so widely disseminated.
---
This article was originally published on LinuxDevices.com and has been donated to the open source community by QuinStreet Inc. Please visit LinuxToday.com for up-to-date news and articles about Linux and open source.