Nov 29, 2010 — by Eric Brown — from the LinuxDevices Archive — 18 views
French near field communications (NFC) chip manufacturer Inside Contactless announced an Android- and Linux-ready NFC system-in-package for short-range wireless transactions. SecuRead integrates the company's MicroRead NFC controller and open source Open NFC protocol stack with an Infineon Technologies security controller and a GlobalPlatform-compliant Java Card OS from Giesecke & Devrient, says the company.
The SecuRead system-in-package (SIP) integrates all of the contactless, security, and application functions required for a broad range of NFC payment, retail, transit, ID, and access control applications, says Inside Contactless. The product has already been selected by a leading mobile device manufacturer for use in NFC mobile devices due in 2011, says the company.
In April, Inside Contactless announced an open source version of its Open NFC protocol stack for mobile platforms. The stack runs on a smartphone's application or baseband processor to control MicroRead or SecuRead operation. Open NFC 3.5 software and source code is available at no cost in Android, Linux, Windows Mobile, and Java (JSR-257) editions, enabling all these platforms to integrate SecuRead, says the company. Open NFC API documentation is said to be available on SourceForge.net.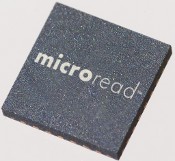 MicroRead controller
The Inside Contactless MicroRead chip (pictured at right) forms the heart of the SecuRead SIP solution. It supports both passive and active NFC functions, providing the functionality of both RFID readers and contactless smart cards, says the company.
Now availability in a v3 version, the MicroRead IC is said to comply with the ISO 14443 A/B/B, ISO 15693, and ISO 18092 standards, as well as the full range of European Telecommunications Standards Institute (ETSI) specifications for NFC, including SWP (single-wire protocol) and HCI (host controller interface).
MicroRead is claimed to be the first NFC chip to support SWP, which helps MicroRead "route applications wherever they reside in a device thus enabling different architecture configurations." For example, MicroRead can act as a router, enabling NFC interfaces, as well as providing control interfaces for SIM, SE, SD card, and application processors.
Headquartered in Aix-en-Provence, France, Inside Contactless claims to have delivered more than 350 million contactless platforms, and own 60 families of patents, including "several essential NFC patents." Microread customers include Qualcomm, which offers two NFC handset reference designs based on the chip, says Inside Contactless.
Infineon security
SecuRead also integrates an Infineon Technologies secure element chip dedicated to NFC applications, says Inside Contactless. The unnamed chip is said to be certified to Common Criteria EAL5+ (high) and EMVCo security standards.
Offering an optimized interface to the MicroRead controller, the secure element features a secure microcontroller with multitasking capability. It stores both code and data in 144KB of non-volatile memory, says the company.
Infineon sells a range of SLE-branded security chip cards for contactless technologies, including the 8-bit SLE 66, the 16-bit SLE 76, and the 32-bit SLE 88. Its latest 16-bit SLE 78 product integrates a new Integrity Guard feature based on digital, mathematically modeled security mechanisms, says Infineon.
Java One OS
In addition to running the Open NFC protocol stack, SecuRead offers an on-chip Java Card operating system (OS) based on the Convego Join 4 OS from Giesecke & Devrient (G&D). This embedded version supports the full Java Card 3.0.1 API, and also implements the GlobalPlatform 2.1.1 smart card infrastructure specification, says the company.
Java Card OS supports core AES cryptography for OSPT standards in the transit fare collection market, says Inside Contactless. The stack also provides MIFARE-compliant emulation, required for compatibility for some transit applications. Java Card OS is said to be compliant with relevant ISO standards, as well as the EMV specification for mobile payments.
Inside Contactless offers a suite of NFC payment, transit, loyalty, and access control and identity applets for SecuRead. These include an applet enabling HID iCLASS virtual credentials for HID iCLASS smart cards and readers, says the company. The iCLASS applet is also said to be enabled with HID Trusted Identity Platform (TIP) for access control and emerging mobile applications.
Stated Loic Hamon, vice president of products and marketing for NFC at Inside Contactless, "SecuRead truly breaks new ground in the NFC market, providing a one-stop-shop, turn-key solution that mobile device makers can use to enable a broad range of NFC applications in their products."
Stated Juergen Spaenkuch, director, platform security at Infineon Technologies, "Trusted applications like banking and payment demand the highest level of proven security in their hardware and their operating systems, and this is what our secure element brings to the SecuRead SIP solution."
Stated Axel Deininger, head of the payments division at G&D, "Our high-performance Java Card solutions, such as the one employed by SecuRead, are tailored to the specific needs of markets with the highest security requirements."
Background
NFC (ISO 18092) is an extension of the ISO 14443 standard for RFID-based proximity cards, which also includes Sony's more well-established FeliCa contactless RFID technology. NFC is designed to offer a more power-efficient and affordable alternative to Bluetooth for very short-range, low-bandwidth applications, while also providing a more robust, bandwidth-rich alternative to RFID and other contactless technologies.

NFC got a boost earlier this month when Google CEO Eric Schmidt tipped the fact that Android 2.3 will support the wireless standard. He also held up a phone (pictured) said to offer NFC, rumored to be the Samsung-built Nexus S. This was followed by the announcement of a new Isis venture from Verizon Wireless, AT&T, and T-Mobile that will field an NFC commerce network aimed at smartphones.
NFC uses magnetic loop induction technology to transmit data over four centimeter distances at up to 424Kbps using the unlicensed 13.56MHz band. The technology supports both passive (one-way) and active (two-way) modes, the latter being similar to Bluetooth transfers.
Availability
Engineering samples of the SecuRead system-in-package secure NFC solution will be available in December, says Inside Contactless. Production quantities are said to be due in April 2011. Available in a VQFN-32 package, SecuRead is pin-for-pin compatible with the standalone MicroRead product.
More information on Inside Contactless' MicroRead controller and Open NFC may be found here.
---
This article was originally published on LinuxDevices.com and has been donated to the open source community by QuinStreet Inc. Please visit LinuxToday.com for up-to-date news and articles about Linux and open source.