Feb 5, 2010 — by Eric Brown — from the LinuxDevices Archive — 11 views
Inside Contactless, a manufacturer of near field communications (NFC) chips, is releasing "Open NFC," an open source version of its NFC protocol stack for mobile platforms including Linux and Android. Meanwhile, Juniper projects that NFC will play a growing role in a mobile-ticketing market that will reach 15 billion tickets by 2014.
A French semiconductor vendor specializing in contactless chip technologies, Inside Contactless previously sold the commercial-grade NFC protocol stack under the name Microread Software Foundation. Designed to work with the company's Microread NFC chips for close-proximity wireless communications, the stack has now been released under an open source Apache License 2.0 as Open NFC 3.4, says the company.
Open NFC 3.4 is said to be available for Linux 2.6 and Windows CE 6.0. An Android version is expected to debut with the planned release of Open NFC 3.5 at the end of March.
Open NFC provides NFC middleware for mobile phones and other embedded devices, says Inside Contactless. The stack is said to include a full set of interfaces, NFC software libraries and APIs, and a reference design, says the company.
According to Inside Contactless, Open NFC can be used to control everything from low-level RF control to high-level NFC Forum tag handling. Other touted features include peer-to-peer communications, Bluetooth and WiFi pairing, and interactions with SWP (single wire protocol) SIMs and other secure elements. Open NFC is said to be compatible with smart cards and RFID tags based on Felica, Mifare, and ISO 14443 standards.
About NFC
NFC (ISO 18092) is an extension of the ISO 14443 standard for RFID-based proximity cards, which also includes Sony's more well-established FeliCa contactless RFID technology, which is used in Japan, Hong Kong, and Singapore. NFC is designed to offer a more power-efficient and affordable alternative to Bluetooth for very short-range, low-bandwidth applications, while also providing a more robust, bandwidth-rich alternative to RFID and other "contactless" technologies.
NFC uses magnetic loop induction technology to transmit data over four centimeter distances at up to 424Kbps using the unlicensed 13.56MHz band. The technology supports both passive (one-way) and active (two-way) modes, the latter being similar to Bluetooth transfers.
The Microread chip (pictured at right) supports both functions, providing the functionality of both RFID readers and contactless smart cards, says Inside Contactless.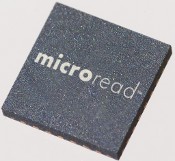 The IC is said to comply with the ISO 14443 A/B/B, ISO 15693, and ISO 18092 standards, as well as the full range of European Telecommunications Standards Institute (ETSI) specifications for NFC: SWP (single-wire protocol) and HCI (host controller interface).
Microread is claimed to be the first NFC chip to support SWP, which is first appearing in the Nokia 6216 Classic handset, according to NFCNews. Along with HCI, SWP technology helps Microread "route applications wherever they reside in a device thus enabling different architecture configurations," claims Inside Contactless. For example, Microread can act as a router, enabling NFC interfaces, as well as providing control interfaces for SIM, SE, SD card, and application processors.
Inside Contactless claims to have delivered more than 350 million contactless platforms, and own 60 families of patents, including "several essential NFC patents." Microread customers include Qualcomm, which offers two NFC handset reference designs based on the chip, says Inside Contactless. Qualcomm is said to offer both an HSUPA Mobile Station Modem (MSM) chipset and a Qualcomm Single Chip (QSC) chipset for CDMA2000.
Stated Gary Koerper, VP of Engine Systems, Motorola Mobile Devices, "Having an open-source NFC stack like Open NFC is a game-changing development, providing greater flexibility in sourcing NFC controllers and a consistent programming interface."
Stated John Elliott, senior director of Emerging Connectivity Technologies at Qualcomm CDMA Technologies, "It is a great pleasure to see NFC move closer to the open source community, and Inside Contactless is one of the visionary companies making this happen."
Juniper looks at growing mobile ticketing market
NFC competes with a number of other more widely used contactless ticketing technologies, but the technology appears to be the future for mobile ticketing, says a study by Juniper Research. In its new "Mobile Ticketing" report, the research firm forecasts that nearly 15 billion tickets will be delivered to subscribers' mobile devices by 2014, compared to just over two billion this year.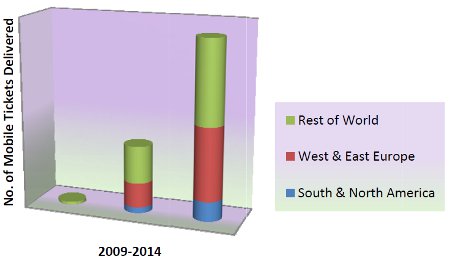 Number of mobile ticket deliveries by region through 2014 (Source: Juniper Research)


(Click to enlarge)
Stated Juniper report author Howard Wilcox, "Although 15 billion sounds large, it is in fact it a small percentage of total tickets issued — there is plenty of scope for innovative solutions to penetrate this market."
Juniper Research found that the rail and metro transportation sectors are leading mobile ticketing, but that the technology is also moving into cinema chains, concerts, and sports events. Western Europe will be the leading region in 2014, based on number of mobile tickets delivered, taking over from current leader, Far East & China region, says Juniper.
Current mobile ticketing deployments primarily use SMS and bar code technologies, but NFC appears to be the future. "Next steps will see more widespread purchasing on mobiles, as well as use of NFC tickets," stated Wilcox. "Currently however there are only limited examples of NFC ticketing usage outside of the Far East, owing to the lack of device availability."
Last month, Juniper projected that the wireless M2M (machine to machine) market would rise to almost 412 million by 2014. The market was projected to be led by utility metering, followed by mobile connected buildings, telematics, and automated retail and banking connections.
Availability
The Open NFC 3.4 protocol stack and the Linux 2.6 and WinCE 6.0 reference implementations are available now under Apache license, says Inside Contactless. The Android reference implementation, also under Apache license, will be available with version 3.5 by the end of March. More information on the company's NFC offerings may be found here.
A white paper based on Juniper Research's study, "Mobile Ticketing Applications & Markets: Transport, Sport & Entertainment 2009-2014," may be freely downloaded with registration, here, and more on the study itself may be found here.
The NFC Forum industry group web-site may be found here. The October NFCNews story on the first SWP-enabled handset may be found here.
---
This article was originally published on LinuxDevices.com and has been donated to the open source community by QuinStreet Inc. Please visit LinuxToday.com for up-to-date news and articles about Linux and open source.