Nov 15, 2010 — by LinuxDevices Staff — from the LinuxDevices Archive — views
Google is preparing a Nexus One follow-up called the Nexus S, says reports. Built by Samsung and headed for T-Mobile, the Android 2.3 smartphone was rumored to have been bandied about by Google CEO Eric Schmidt at the Web 2.0 conference today.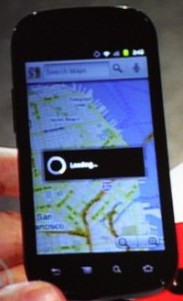 New details have emerged about the rumored Google Nexus S smartphone — previously known as the Nexus Two. Following an internal listing for the device at Best Buy, images have appeared on Picasa that were reportedly taken with the Samsung-made handset, which is expected to arrive on the T-Mobile network. These were followed today by photos published by Phandroid of a phone (pictured) held by Google CEO Eric Schmidt, said to have been taken at the Web 2.0 conference.
The mystery phone is rumored to be the Nexus S.
"We believe this is the Nexus S due to the layout of the capacitive buttons with the 'Home' button oddly sitting to the far right — just like the shot on the Best Buy Mobile Magazine's site," says the report.
The story also passed on a tip that said the phone is said to include near field communications (NFC) short-range wireless technology, typically used for Smart Card like transactions.
A PC World report today confirmed that Schmidt held up an Android 2.1 phone that offered NFC, but said that the phone had a Motorola icon on it. The story also said that it was a flat slab of a phone without buttons, which does not exactly fit the description or the Phandroid photo. Did Schmidt actually show two phones at the conference or did someone get confused? Stay tuned.
Earlier today, Phandroid reported that images shown to be taken with the Nexus S turned up in an account "that seems to exist solely for the purpose of camera tests." The camera itself, however, is nothing terribly newsworthy, at five megapixels. The leaked specs, however, increase the likelihood that the phone — a follow-up to the HTC-made Nexus One — is coming soon.
On Nov. 11, the tech site posted a screen capture with specs for a device listed as the "Google Nexus-S Mobile Phone." If it's legitimate, the bar-style, black-colored device has a touchscreen, relies on a virtual keypad, measures 2.5 by 4.8 inches, supports EDGE/GPRS/HSUPA networks, comes with GPS, and has a 1500 mAh battery. The phone is said to offer messaging, email, and web browsing.

Meanwhile, RadioAndroid has reported that the Nexus S display will be a four-inch Super AMOLED screen, and that the processor will be a Samsung Hummingbird. These details, and the rumored name, suggest this is yet another spin-off of Samsung's Galaxy S phone (pictured).
The Nexus S is also expected to run "Gingerbread," or Android 2.3. According to a Nov. 7 Tweet from a member of the Open Handset Alliance, Android 2.3 is also headed for the Nexus One.
Rumors regarding Google's next handset, however, haven't al

ways panned out. When Samsung scheduled a Nov. 8 even in New York, many expected it to be a Nexus Two launch. While attendees were met with a new Samsung phone, it was instead the Samsung Continuum (pictured at right) — another Galaxy S-based smartphone. Now available from Verizon Wireless, the Continuum stands out with its second, ticker-style display for news items, updates and call information.
Giving the Nexus S rumor more cred, however, Phandroid said that Best Buy was reportedly advertising the device — calling it "Pure Google," and describing it as the "Nexus S for T-Mobile" on a web page it later pulled down.
Google began selling the Nexus One Jan. 13, offering it directly to consumers for $529, or with a two-year service contract from T-Mobile for $179. The sales method wasn't so effective, with Google selling a reported 135,000 of the handsets in the first 74 days on the market — the amount of time it originally took Apple to sell one million iPhones, according to analytics firm Flurry.
While limited phone sales could bring down a company such as Palm, analysts have pointed out that every phone Google sells ultimately acts as a means of reference for the software maker, whose own CEO has noted that Google makes money whether consumers buy Nexus One handsets or the Apple iPhone.
"We love the success of the iPhone, because the iPhone also uses Google Search, and we get a good chunk of that revenue when people search on the iPhone," Schmidt told a group of journalists Aug. 4, at a tech conference in Lake Tahoe, Calif. The cost of making the phones was worth swallowing, Schmidt explained, simply to create additional platforms for searches.
"Trust me, that revenue is large enough to pay for all of the Android activities and a whole bunch more," Schmidt told the group.
Michelle Maisto is a writer for our sister publication eWEEK. Eric Brown contributed additional reporting to this story.
---
This article was originally published on LinuxDevices.com and has been donated to the open source community by QuinStreet Inc. Please visit LinuxToday.com for up-to-date news and articles about Linux and open source.