Nov 23, 2010 — by Eric Brown — from the LinuxDevices Archive — 5 views
Internet Connectivity and Networking (ICAN) has launched both a seven-inch and a 10-inch tablet running Android 2.1 on a 1GHz processor. The $400 ICAN! 7 and $500 ICAN! 10 ship with 16GB of internal storage, plus SD expansion, Wi-Fi, a 1.3-megapixel webcam, dual USB 2.0 ports, and HDMI ports, says the company.
The two tablets are now available at the ICAN website, as well as on J&R Music and Amazon.com, among other sites. Amazon lists a four- to six-week wait for each. According to a story in Laptop, the tablets will also be available at Walmart, Sears, and Fry's Electronics, which would give them more distribution breadth than the typical no-name Android tablet.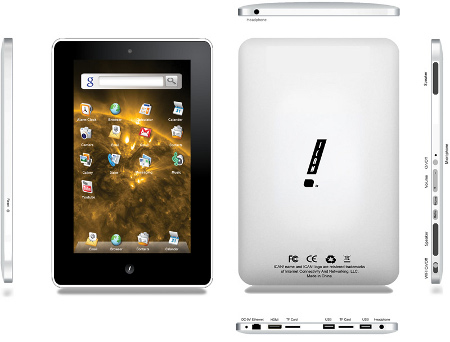 ICAN! 10


(Click to enlarge)
Like the
Samsung Galaxy Tab
, which according to
one recent report
has sold more than 600,000 units in its first month, he ICAN tablets are equipped with 1GHz processors. The processor brand and associated RAM allotment are not listed, but ICAN does say that customers get a Tab-like 16GB of internal flash storage.
Screen resolutions are not listed for the 16:9 ratio touchscreens except to note that they offer "1080p" displays. As the Laptop item notes, that would make for an unprecedented 1920 x 1080 resolution. Considering the presence of an HDMI, port, ICAN likely means that one can drive 1080p output to a TV, but view at it at lesser resolution on the tablets themselves.
ICAN has made some unusual feature choices compared to most consumer tablets. Unlike most other no-name, unsubisidized tablets, for example, the tablets offer both a USB 2.0 Host port and a second USB 2.0 port. On the ICAN! 10 the second port is listed as a mini-USB port, but in the photo of the seven-inch model, it is labeled a "SpinUSB" port, suggesting possible support for a Spin Drive. This is reinforced by the company's claim that the tablets support "peripheral devices and additional storage."
ICAN! 7


(Click to enlarge)
Also unusual for a consumer tablet is the presence of an Ethernet port on the 10-inch model. Both devices offer Wi-Fi, and are also said to provide "3G support." The Amazon page does not list 3G as a feature, so this is presumably available as an option via a USB dongle. On the other hand, the J&R page for the seven-inch tablet says 3G is standard.
Other standard features include a 1.3-megapixel webcam, speakers, a microphone, and a headphone port, says ICAN. The ICAN! 10 also appears to offer some extra buttons, such as a volume control and Wi-Fi switch. A DC power connector and adaptor are also available on both models, says ICAN, which did not list battery type of duration.
Missing in action are Bluetooth, GPS, and a multi-megapixel still camera, all of which would have been especially useful on the more portable seven-inch model.
The ICAN! 7 measures 8.0 x 5.0 x 0.5 inches and weighs a mere 12.8 ounces, beating the slight 13.4-ounce Galaxy Tab in the latter category. The ICAN! 10 measures 10.25 x 6.5 x 0.5 inches and weighs 22 ounces, says the company.
ICAN appears to offer a basic assortment of software with the Android 2.1 installation, without any apparent Google Apps beyond search. As with most tablets, it does not appear that Android Market is supported, although the Amazon site says "With the Android OS you can choose and download from over 100,000 applications."
The ICAN site instead links to the SlideMe third-party Android app site, which specializes in social networking features such as viewing customer recommendations for similar apps.
No relation to ICANN (Internet Corporation for Assigned Names and Numbers), ICAN is a subsidiary of GIT Media Group, billed as a developer, publisher, and marketer of interactive educational and entertainment media.
Availability
The ICAN! 7 and ICAN! 10 are available for $400 and $500 respectively at ICAN, here, as well as at various retail locations including J&R, here, and Amazon.com, where the ICAN! 7 is available, here, and the ICAN! 10, here.
The Laptop item on the tablets may be found here.
---
This article was originally published on LinuxDevices.com and has been donated to the open source community by QuinStreet Inc. Please visit LinuxToday.com for up-to-date news and articles about Linux and open source.