May 13, 2009 — by Eric Brown — from the LinuxDevices Archive — 14 views

Digi-Key is shipping a new version of the open-source BeagleBoard development board, once again using the ARM Cortex-A8-based Texas Instruments (TI) OMAP3530 SoC. BeagleBoard.org's BeagleBoard Revision C doubles memory to 256MB, adds a second high-speed USB port, and provides an LCD expansion connector, says Digi-Key.
(Click for larger view of the BeagleBoard Revision C)
In other BeagleBoard news, the TI-sponsored BeagleBoard.org community announced a new "Sponsored Projects Contest," to reward the best BeagleBoard Rev. C-based projects (see farther below for more information.)
Like the original BeagleBoard, which shipped last summer for the same $150 price, the Revision C model is based on a 600MHz OMAP3530, the fanciest model in TI's OMAP35xx portfolio of system-on-chips (SoCs), and one of the first available SoCs based on ARM's Cortex-A8 processor core.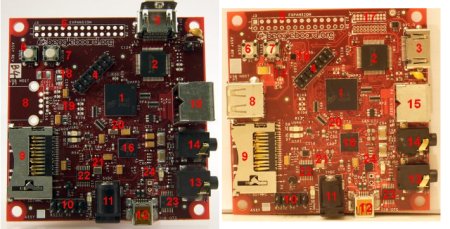 Rev. B BeagleBoard (left) and new Rev C (right). Captions for the numbers may be found at the BeagleBoard.org link at the bottom of the page.
(Click to enlarge)
The Revision C model offers the same 3.0 x 3.0-inch form factor and other features as the A and B revisions, but provides the following enhancements, says Digi-Key, the official distributor of the BeagleBoard:
More RAM and updated firmware — The BeagleBoard now offers 256MB of 166MHz DDR RAM instead of 128MB, and also offers updated OMAP3 firmware. As with the earlier version, it includes 256MB of NAND flash.
USB port — The additional high-speed dedicated-host USB port can be used with a standard A-type connector to add a high-speed USB hub connected to TV tuners, network adapters, keyboards and mice, web cameras, hard drives, or other USB peripherals, says Digi-Key. It can also act as a USB device via the on-the-go (OTG) port, "potentially translating one USB device class into another," says the company.
LCD expansion — The new LCD interface can be used with an adapter board to connect to displays, including RGB LCD panels and LVDS panels.
PWM — The expansion connector now provides three pulse width modulation (PWM) signals for motor driver functions or PWM signaling, typically used in robotics.
Power management — A newly integrated TI TPS65950 power management device supports up to 13 channels of power management, and incorporates audio and USB functions.

Original
BeagleBoard Rev A
(Click for details)
TI employees began demonstrating the BeagleBoard in June of last year, and it shipped in July for $150, distributed by Digi-Key. Boasting an open hardware design and an open online community, the board (pictured at right) is based on a TI OMAP3530 clocked at 600MHz. The SoC includes a Cortex-A8 core that is claimed to deliver 1200 DMIPS, putting it theoretically alongside Intel's Pentium III in performance. Unlike the PIII, though, the 3530 adds a powerful Imagination SGX 2D/3D graphics processor supporting dual independent displays, and a TMS320C64x DSP core clocked at 430MHz.

Beagle MID
(Click for details)
Board-specific Linux kernel support for the Beagle has been merged into the mainline Linux/OMAP git staging tree at source.mvista.com/git. There have been a number of hobbyist projects based on the BeagleBoard, including the BeagleBot robot, the HY Research Beagle MID (pictured at left), and an upcoming netbook with a detachable screen from startup Always Innovating, called the Touch Book (pictured below).
BeagleBoard Sponsored Project Contest


Touch Book
(Click for details)
BeagleBoard.org has launched a Sponsored Projects Contest to reward "complete inventive projects that fully leverage the increased expandability of the BeagleBoard," says the project. Each week contributors selected from the 1,600-plus BeagleBoard community will judge and award two proposed projects based on overall quality, technical complexity, creativity, and ease of use.
Each weekly winner will receive BeagleBoards to help develop their ideas. In addition, every month a top contributor who has successfully completed their project, will be rewarded with OMAP3x-based prizes, including:
Availability
BeagleBoard Revision C is now available from Digi-Key for $150. More information on Revision C may be found on this BeagleBoard page, and the Digi-Key BeagleBoard page may be found here. Information on BeagleBoard.org's Sponsored Projects Contest may be found here.
A BeagleBoard users group meeting will be held at TI Technology Day in Dallas, Tex. on June 16.
---

This article was originally published on LinuxDevices.com and has been donated to the open source community by QuinStreet Inc. Please visit LinuxToday.com for up-to-date news and articles about Linux and open source.