Mar 17, 2009 — by Eric Brown — from the LinuxDevices Archive — 6 views

CompuLab is readying a full-featured Ubuntu Linux PC that draws six Watts and costs $245-to-$400. The Fit-PC2 packs a 1.1GHz or 1.6GHz Atom processor, 160GB hard drive (or SSD), and DVI/HDMI video up to 1920×1080 into a passively cooled case smaller than three CD cases.
(Click for larger view of the Fit-PC2)
Measuring 4 x 4.5 x 1.0 inches, the Fit-PC2 would be dwarfed by a stack of three CD jewel-cases, which would measure about 5.5 x 5 x 1.25. The Fit-PC2 is touted for its innovative, ruggedized die-cast aluminum case. There are no venting holes, but the fanless device is said to be designed so that the case itself dissipates heat.
The Fit-PC2 is quiet, or even noiseless when ordered with the solid-state drive (SSD) option, says the vendor. The nettop is said to be capable of withstanding a high level of shock, vibration, and extreme temperatures. As a result, CompuLab is pitching it for a wide range of applications, from ruggedized industrial, automotive, and nautical devices, to applications where silence counts, such as a library PCs, desktop replacements, and point-of-sale (POS) PCs. With its IR receiver, DVI (via HDMI) interface, and 1920×1080 video capabilities, it is even pegged for home theater PCs.
Fit-PC2
The Fit-PC2 is offered in 1.1GHz "Value" and 1.6GHz "Performance" models. Besides the faster chip, the Performance model adds built-in WiFi. Both models offer 1GB DDR2, as well as a microSD slot for expansion. A 2.5-inch (normal laptop-sized) 160GB SATA hard disk drive is standard, with an optional SSD available. A gigabit Ethernet port and six USB ports offer considerable expansion possibilities.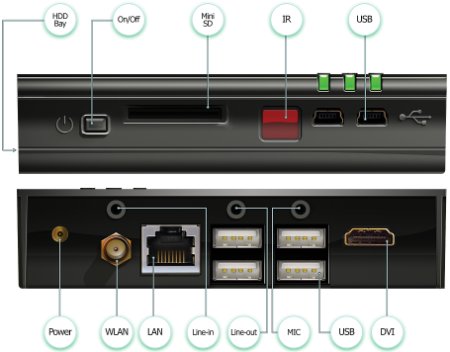 Fit-PC2
Specifications for the Fit-PC2 Linux Value and Performance models include:
Processor — Intel Atom Z530 1.6GHz (Performance); Intel Atom Z510 1.1GHz (Value); both with Intel US15W SCH
Memory — 1GB DDR2
Flash expansion - miniSD socket
Display — supports DVI output up to 1920×1080 via HDMI connector
Storage — 160GB SATA 2.5-inch HDD; optional SSD
Networking — gigabit Ethernet port
WiFi — 802.11b/g (Performance model only)
USB — 6 USB ports
Audio — "high definition 2.0" audio; line-out; line-in; mic
Other features — IR receiver; fanless; aluminum case
Power — 12V power supply; 6W typical consumption; up to 8W under load; under 1 Watt standby
Operating temperature — 32 to 113 deg. F (0 to 45 deg. C) with HDD; 32 to 158 deg. F (0 to 70 deg. C) without
Dimensions — 4 x 4.5 x 1.0 inches (101 x 115 x 27 mm)
Weight — 13 oz (370 gr) including HDD
Operating system — Ubuntu Linux 8.04 (Windows XP and diskless, zero-OS versions also available)
Is it really the smallest, lowest-power nettop?
The Haifa-Israel-based manufacturer credits the Fit-PC2's lower power consumption to the company's choice of the original Z-series Z510/Z530 Atom chips, both of which boast a 2-Watt TDP. By comparison, the Atom N270 used in most netbooks has a 2.5-Watt TDP, and the Atom 230 that Intel is pushing at nettops offers a 4-Watt TDP.
Furthermore, the Z-series Atom parts mate with Intel's US15W ("Poulsbo") companion chip, which dissipates only 2.5 Watts. By comparison, the 945-series companion chips typically paired with N-series Atoms dissipate six Watts or so. Nettop-type Atom parts, meanwhile, support standard PC chipsets, which vary widely but typically are not as well optimized for low power consumption (nor for footprint) as companion chips (sometimes also called "single-chip chipsets").
Looking over recent Atom-based nettops, we see that the N270-based Asus Eee Box nettop, which does include discrete graphics circuitry, consumes about 20 Watts, according to Asus. And Shuttle Inc. last summer released an Atom 230-based "X27" nettop that draws 38 Watts, according to the vendor. CompuLab says the Fit-PC2 uses 6 Watts typically, 8 Watts under full load, and less than a single Watt when standing by (the last figure is especially impressive, for an x86-class device).
So, the CompuLab claim of being the tiniest, most power-efficient Atom-based nettop appears to hold up. In theory, someone could tap Intel's 800MHz Z500 processor, which boasts an impressive claimed TDP of 0.65 Watts, to save even more power — at the cost of performance. And, Intel may be working on a lower-powered companion chipset for N-series Atoms, though its forthcoming (and still somewhat elusive) GN40 companion chip for the N280 appears to focus instead on adding HD video capability to netbooks.
Regardless, few would disagree that CompuLab has set the bar high when it comes to small size and a rich complement of I/O. You've got to like the option of a Linux pre-install, too.

CompuLab's original
Geode-based
"Fit-PC Slim"
(Click for details)
CompuLab itself earlier offered a slightly smaller, and much lower-powered device. The original Fit-PC measures 4.3 x 3.9 x 1.2-inch, and uses a 500MHz AMD Geode LX800.
Availability
The Fit-PC2 is shipping later this month, says CompuLab. The PC is offered initially in the following configurations:
1.1GHz Z510, no OS, no drive — $245
1.1GHz Z510, with Ubuntu 8.04 on 2.5-inch 160GB SATA drive — $300
1.6GHz Z530, with Ubuntu 8.04 on 2.5-inch 160GB SATA drive — $360
1.6GHz Z530, with Windows XP on 2.5-inch 160GB SATA drive — $400
Pricing for SSD-equipped models was not yet announced. More information may be found on CompuLab's product page, here, or on a special Fit-PC2 site, here.
---

This article was originally published on LinuxDevices.com and has been donated to the open source community by QuinStreet Inc. Please visit LinuxToday.com for up-to-date news and articles about Linux and open source.