Oct 3, 2011 — by Eric Brown — from the LinuxDevices Archive — 1 views
An Android-based "I-slate" tablet prototype developed in part by Rice University has completed year-long trials in Indian public schools, and a $50 solar-powered version with a new power-sipping processor is set to enter full production for a mid-2012 release. Meanwhile, the much-delayed "$35 Indian Tablet" aimed at Indian students will launch Oct. 5, the Indian government now claims.
The I-slate was developed by the Institute for Sustainable and Applied Infodynamics (ISAID), a joint program of Rice University in Houston, Texas, and Nanyang Technological University (NTU) in Singapore. The group is now preparing for full-scale production of the tablet using an undisclosed manufacturing partner, "now that a yearlong series of tests has shown that the device is an effective learning tool for Indian children," according to Rice University.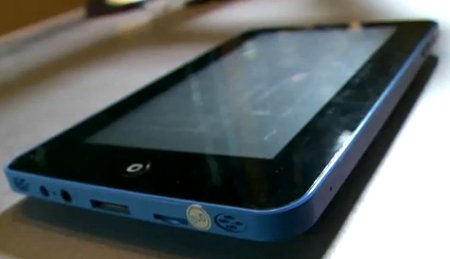 I-slate prototype
The I-slate is one of a number of efforts to provide alternatives to
OLPC's XO tablets
for primary-school education in poor areas in India and other parts of the world. Another one is the so-called "$35 Indian Tablet," which is apparently on the verge of shipping (see story farther below).
According to a Rice University spokesperson, the I-Slate prototype runs Android. The final solar-powered version due in mid-2012 "will require a new OS," said the spokesperson in an email to LinuxDevices.
Presumably, the replacement OS will also be based on Linux, but will be tailored for a processor being developed specifically for the final tablet. This "revolutionary new low-power computer chip" as the Rice announcement describes it, will cut the device's power requirements in half so it can run on small solar panels similar to those found on handheld calculators. The eventual goal for the second-gen tablet is a power consumption of about three Watts.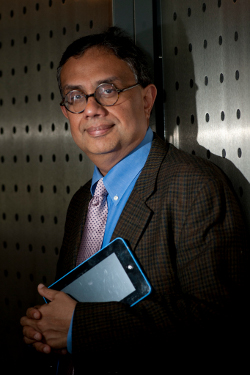 Designed principally by ISAID director Krishna Palem, pictured at right with the I-Slate prototype, the processor has achieved an initial production version developed at Rice and NTU, as well as ISAID's Swiss offices.
Palem, who is a Nanyang Visiting Professor at NTU, as well as Rice University's Ken and Audrey Kennedy Professor of Computing, started working on the I-slate in 2009. Palem and his team then began collaborating in 2010 with the Indian nonprofit Villages for Development and Learning Foundation (ViDAL) to test I-slate prototypes in a class of 10- to 13-year-olds at Mohd Hussainpalli village, near Hyderabad.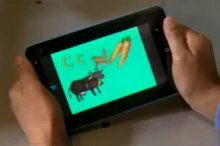 Few technical details were available on the I-Slate prototype (pictured), which in the YouTube video below is defined by Palem as a "single-function" device. The tablet appears to have a seven-inch — presumably resistive — screen and is accompanied by a stylus.
The tablet is said to be similar in size to the chalkboard slates that most Indian primary and secondary students use today. The tablet software can detect whether a mathematical equation and answer entered via stylus is correct, and offers hints and tips if the answer is incorrect, says Rice University.
A year-long series of tests and surveys was said to have confirmed the I-slate was effective at mathematics instruction. "Our study clearly shows the I-slate is an effective learning tool for all students, regardless of their learning ability," stated I-slate creator Palem.
The current, Android-powered I-slate hardware was said to have been designed by ISAID's Vincent Mooney, associate professor of electrical and computer engineering at Georgia Institute of Technology. A finalized version of this prototype, once again using conventional processors and batteries, is due to roll out with math, science, and social studies curriculum this fall to about 50 students in Mohd Hussainpalli and other nearby villages for a six-month trial.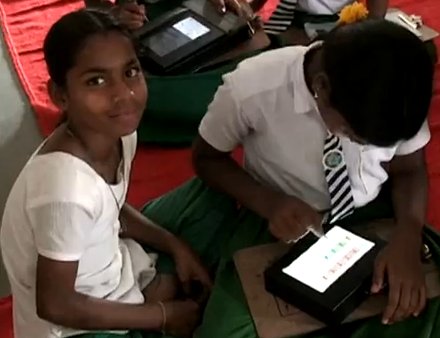 Mohd Hussainpalli students working on I-slate prototype
This will be followed by the final solar-powered version which is expected to be made available for less than $50 in mid-2012. Presumably, these will be sold directly to schools.
The consortium eventually hopes to sell the devices for as low as $30, and expects to sell them in other developing countries aside from India. A low-cost tablet would be especially useful in rural schools in India, which have large class sizes and few teaching resources, say the developers.
Stated Rajeswari Pingali, founding chairperson of ViDAL , "We spoke to all parents of the children; they too are equally excited about the I-slate. We are particularly happy about the potential benefits for young girls, who otherwise might be married away at a very early age."
I-slate presentation from Krishna Palem YouTube
Source: ISAID
(Click to play)
$35 Indian Tablet ready to roll
The $35 Indian Tablet was announced first as a Linux tablet in July 2010, and was revealed to be an Android tablet several weeks later. It is now set to ship Oct. 5, according to several sources, including the Economic Times.
Aimed at Indian students from primary schools to universities, the partially government-subsidized tablet "will be launched next month," according to Human Resource Development Minister Kapil Sibal, shown below with the original prototype last year. "This is not just a dream, it is a reality," he was quoted as saying.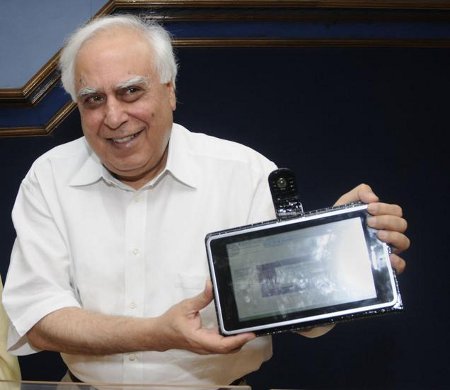 India's original $35 tablet prototype, shown in July 2010 by India's Union Minister for Human Resource Development, Shri Kapil Sibal
The long-delayed tablet will apparently indeed ship for $35,
according to The Street
. It will offer Wi-Fi, a front-facing camera, and the ability to open PDFs, among other basic features, the website adds.
According to Engadget, meanwhile, the tablet has overcome the manufacturing problems that plagued the project previously. The story also says that five-, seven- and nine-inch sizes will be available. No more details were offered, but we should know more soon.
---
This article was originally published on LinuxDevices.com and has been donated to the open source community by QuinStreet Inc. Please visit LinuxToday.com for up-to-date news and articles about Linux and open source.