May 27, 2010 — by Eric Brown — from the LinuxDevices Archive — 2 views
One Laptop per Child (OLPC) and Marvell have agreed to develop next-generation OLPC XO-3 tablets based on the Marvell Moby reference design and the Armada 610 SoC. Aimed at the worldwide educational market, the Moby-based XO devices will support 1080p video encode and decode, 3D graphics, Flash 10-enabled web access, and teleconferencing, and consume only a single Watt, say the partners.
The jointly developed designs and technologies will "enable a range of new educational tablets, delivered by OLPC and other education industry leaders, aimed at schools in both the U.S. and developing markets," say the companies. Marvell also announced that it has launched a "Mobylize" campaign aimed at improving technology adoption in U.S. classrooms.
Marvell announced its intent to deliver a $100, Android-ready "Moby" educational tablet back in March. Based on Marvell's 1GHz Armada 600 series processors, the Moby offers WiFi, Bluetooth, GPS, an FM receiver, and Adobe Flash compatibility, says Marvell.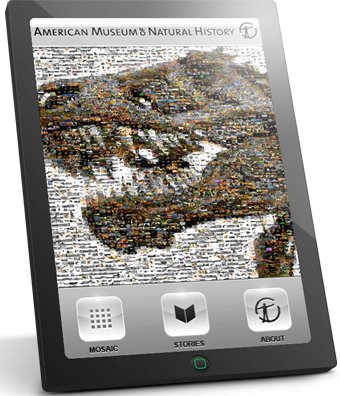 Marvell Moby reference design
Few other details were offered about Moby at the time, but we now know that the tablet will use the Armada 610 processor, and that Moby is confirmed to be a reference design as opposed to a commercial product. It is also likely to ship this fall, says the company.
A Forbes story on the announcement, however, says that the XO-3 model based on Moby will launch at next January's CES show, although an interim XO-1.75 model using a Marvell system-on-chip (SoC) will ship this fall (see farther below).
Announced last October, the Armada 610 is based on an ARMv7 core, has a 1GHz clock sped, includes a display controller that offers resolutions up to 2000 x 2000 pixels. Optimized for low power usage, the processor also offers an integral 3D accelerator, and works with LPDDR1 and LPDDR2 memory as well as DDR3 RAM, with speeds ranging from 400MHz to 1066Hz.
The M

oby design (pictured farther above and at left) was originally touted as supporting $100 tablets for educational settings. The design supports 1080p full-HD video encode and decode and intelligent power management, as well as 802.11n WiFi, Bluetooth, FM radio, and GPS says Marvell.
The design is said to support "high performance" 3D graphics and Adobe Flash. A somewhat similar version of the design, called the "Moby Med", targets medical applications.
Moby also features a camera for video-conferencing, multiple simultaneous viewing screens, and Marvell's 802.11n Mobile Hotspot, which allows WiFi access for up to eight concurrent users via a cellular broadband connection. Support is offered for Android, Ubuntu Linux, and Windows Mobile operating systems (OSes).
A no-show for Windows?
The partners seem to suggest that most of these features will be carried through to the upcoming XO tablet based on the design, although they were rather ambiguous on that point.
Neither did Marvell reveal which OSes were being supported. However, PC World reports that Ed McNierney, OLPC's CTO, told the publication that Windows will not be supported. Microsoft has informed OLPC that it has no plans to port Windows 7 or XP to ARM, and the ARM-compatible Windows Mobile was not judged to be suitable, McNierney was quoted as saying.
McNierney said the company plans to stick with Sugar Labs' Fedora Linux-based, educational-oriented Sugar OS, but that "developers will need to adapt it for multitouch input capabilities to conform with XO-3's tablet design," says the story. There was no word about a possible Android interface.
It seems fitting that Marvell is partnering with OLPC. Just as OLPC originally marketed the XO netbook as "the $100 laptop," but then never came close to that mark — the current version sells for about $175 — Marvell launched Moby claiming it could form the basis for $100 educational tablets. However, neither today's OLPC press release nor the Mobylize website mentions anything about price.

Will the real XO-3 please stand up?
If pricing is unclear, so is the exact XO version to be based on Moby. The partners officially call it simply the XO, but both PC World and Forbes say the partners refer to it as the XO-3, a projected tablet that was said to be more advanced than the Moby's design would suggest.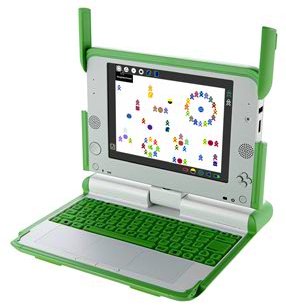 The current version 1.5 of the XO (pictured at right), runs Sugar OS Linux or Windows on a 1GHz Via C7M processor. Like the original AMD Geode-based XO, the XO-1.5 is sold by OLPC at cut-rate prices to foreign governments, with an agreement to distribute them free to K12 schools. SugarLabs also offers related "constructionist" educational software.
In late December, when OLPC announced that the XO-1.5 would ship in January, the organization confirmed that it planned to deliver a Marvell/ARM-based XO-1.75 version of the netbook in early 2011. There was no word of this in today's press release, but Forbes claims this release is on track for the fall of this year.
Although it will use a Marvell chip (presumably the Armada 610), it won't be based on Moby, suggests Forbes. The full Moby-based XO will be called the XO-3, the publication adds. This leads to further confusion, as noted by Forbes, since at the December announcement, OLPC announced an XO-3 model slated for 2012. This futuristic device (pictured below) was said to be based on a Marvell processor, and was said to move to a keyboard-free tablet format.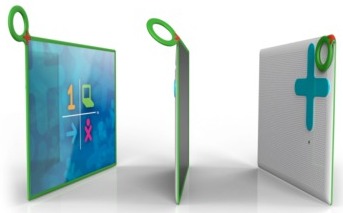 OLPC's previous XO-3 prototype
At the time, OLPC said the XO-3 would be built from a single ultra-thin sheet of flexible plastic, and be designed to be unbreakable. Free of noticeable buttons, the prototype was said to sport a rubber ring attached to the upper right corner to make it easier to hold and carry. Offering a back-facing camera and inductive charging, the tablet was said to be likely to incorporate ultra low-power displays from start-up
Pixel Qi
.
Clearly, the prototype shown above differs from the Moby design, and according to Forbes, the all-plastic design has been postponed to some future version. OLPC's CEO Nicholas Negroponte told the publication, in fact, that the plastic design is still on tap for 2012.
Presumably, the new scaled-down version of the XO-3 will offer most if not all of the Moby's features. All the partners mention officially is that the Moby-based XO tablet will consume approximately one Watt of power, compared to about five Watts for the current XO 1.5.
The XO tablet will also feature a multi-lingual soft keyboard with haptic feedback, say the partners. As with the current model, the device will feature an application to directly access more than two million free books available across the Internet. The new XO tablets will be based on feedback from "the nearly 2 million children and families around the world who use the current XO laptop," say the companies.
Okay, so there's an Armada-based XO-1.75 coming this fall and an Armada and Moby-based XO-3 coming next year. So what, you might ask, happened to XO-2? This ambitious dual-screen touchscreen design announced in 2008 was scrapped. However, just as the original XO inspired the netbook format, the XO-2 design looks very similar to the Android-based Entourage Edge educational dual-screen e-reader tablet, as well as the now-scrapped Microsoft Courier tablet.
Forbes administers some justifiable digs at OLPC's confusing roadmap and constant scaling back of designs. The publication quotes Michael Gartenberg, an analyst with Altimeter Group, as saying, "From day one, this is an organization that has constantly overpromised and under-delivered."
True enough. Yet, as the XO and subsequent designs have shown, OLPC has also been an inspiration for commercial products, not to mention other technological education initiatives in emerging nations, which is the whole point of OLPC in the first place. If OLPC can use the Moby platform to bring its high-end features to a new XO tablet that comes even close to $100, it may inspire some more imitators.
Stated OLPC founder and chairman Nicholas Negroponte, "While devices like eReaders and current tablets are terrific literary, media, and entertainment platforms, they don't meet the needs of an educational model based on making things, versus just consuming them. Today's learning environments require robust platforms for computation, content creation, and experimentation — and all that at a very low cost."
Stated Weili Dai, Marvell's co-founder, as well as VP and GM of the Consumer and Computing Business Unit, "The Moby tablet platform — and our partnership with OLPC — represents our joint passion and commitment to give students the power to learn, create, connect and collaborate in entirely new ways. Marvell's cutting edge technology will fundamentally improve the way students learn by giving them more efficient, relevant — even fun tools to use."
Availability
The Moby tablet reference design is sampling now, and is expected to be available in commercial products in the fall. A bit more information may be found at Marvell's new, and still quite bare-bones Mobylize site, here.
The Forbes story on the Marvell/OLPC announcement should be here, and the PC World story should be here.
---
This article was originally published on LinuxDevices.com and has been donated to the open source community by QuinStreet Inc. Please visit LinuxToday.com for up-to-date news and articles about Linux and open source.