Jan 27, 2011 — by Eric Brown — from the LinuxDevices Archive — 1 views
Sony announced a "PlayStation Suite" framework, licensing program, and app store for playing PlayStation titles on Android, plus an "NGP" version of the PlayStation Portable. Meanwhile, a compatible Sony Ericsson Xperia Play phone is rumored, and Sony is fighting back against hackers who jailbroke the PS3 with a 3.56 PS3 firmware update and a temporary restraining order.
Sony Computer Entertainment is aiming to move its arsenal of PlayStation titles to Android phones. On Jan. 27 in Tokyo, the Sony division announced a new "PlayStationCertified" license program for hardware manufacturers that want to offer PlayStation game titles, as well as a "PlayStation Suite" (PS Suite) software framework and a "PlayStationStore" app store for Android.
The PlayStationCertified licensing program provides "necessary support, including development support, as well as logo licensing, to ensure the delivery of PlayStation quality experience across various devices," says Sony.
The PS Suite framework will be available as an emulator to port PlayStation content to Android 2.3 or later devices later this year. Sony will start with original PlayStation games ("PS one classics"), and later move on to titles that run on the PlayStation Portable as well as a new "NGP" version, which was also unveiled (see farther below). In addition, PS Suite titles will run on the NGP player.
PS Suite PlayStation titles for Android will be offered in the new PlayStationStore app store, says the company. Finally, a new game development environment will also be offered for developing new titles for PS Suite, says the company.
That was the extent of the formal press release, but Engadget reports that Sony intends the PS Suite and licensing program to eventually support other platforms beyond Android.
Sony Ericsson Xperia Play emerges
More details on PS Suite should emerge at the Mobile World Congress in Barcelona in a few weeks, suggests Engadget, starting with the unveiling of a much-rumored Sony Ericsson Xperia Play Android phone (pictured below), which is expected to play the PS Suite titles. In a Jan. 26 report, the site posted a hands-on report and YouTube demo of an Xperia Play prototype it was able to acquire.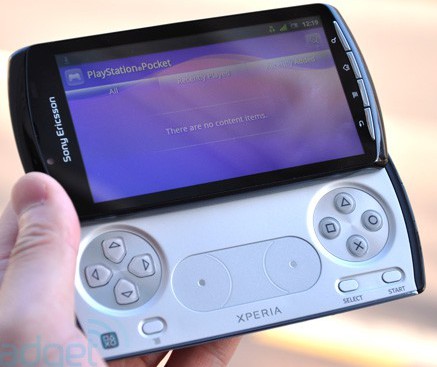 Sony Ericsson Xperia Play prototype


Source: Engadget
The Xperia Play is said to run Android 2.3 on an unknown processor rumored to be a Qualcomm MSM8655.
Engadget
did confirm an Adreno 205 GPU and 512MB, and said the device showed zippy performance in its graphics-intensive benchmarks.
The phone/gaming device features a four-inch, 854 x 480 screen, and offers a slider. However, in place of a QWERTY keyboard, the slider reveals a Sony PSP-like control pad, dual analog pads, and four action buttons, says the story.
A number of details are said to be similar to the Xperia X10, including a 1500mAh battery, Bluetooth, and a Wi-Fi chip that was said to be faulty on the prototype. All told, Engadget seemed to be pretty happy with the Xperia Play.
Sony Ericsson Xperia Play prototype demo'd on YouTube


Source: Engadget
(Click to play)
Sony NGP PlayStation Portable
Sony's next generation PlayStation Portable, codenamed NGP, will debut at the end of the year, says Sony Computer Entertainment. Presumably based on Sony's proprietary operating system, the device will nonetheless play PS Suite titles that also play on Android phones.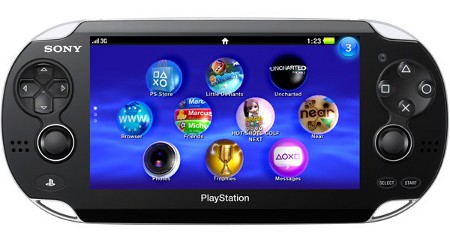 Sony NGP portable
The device offers a five-inch organic light emitting display (OLED) touchscreen, as well as a new "multitouch pad" that combine to offer games in 3D-like motion, says Sony. In addition, for the first time it includes dual analog gaming sticks, says the company. Other features are said to include dual cameras, three motion sensors, and a gyroscope, accelerometer and electronic compass.
The NGP offers both Wi-Fi and 3G connectivity, as well as a new "LiveArea" environment where users can communicate with other players and access the PlayStation Network. Location-based services are also said to be supplied.
The NGP is said to adopt a new game medium in the form of a small flash memory card, dedicated to NGP software titles. The card is said to save add-on game content and game save data.
Sony says that the NGP offers a powerful CPU and GPU. According to a PlayStation.Blog report, the device runs on a quad-core ARM Cortex-A9 system-on-chip (SoC). This could turn out to be one of a number of expected quad-core A9 SoCs, but the only one to be announced so far, as far as we know, is the 1.2GHz Freescale i.MX 6Quad.
Sony wins restraining order against hackers, posts PS3 security update
A judge in San Francisco has granted Sony's request for a TRO (Temporary Restraining Order) in the case against Geohot (George Hotz) and the other named defendants in Sony's recent lawsuit. The story appeared to break with PSX-Scene, which posted PDFs of the TRO documents.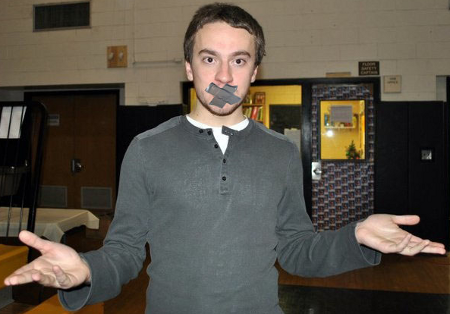 George Hotz, AKA GeoHot
Source: PSX-Scene
According to the story, the judge has ruled that Sony has shown sufficient cause to keep the case in San Francisco. The short item also ran with a presumably recent photo of Hotz, appearing to make a statement about the case (above).
In addition, Sony released a v3.56 system software update, announced on PlayStation.Blog Jan. 26. The update is said to "add a security patch." The patch appears to shut down the jailbreak for anyone who chooses to upgrade to it.
Sony sued Hotz and his hacking associates earlier this month after he posted a PlayStation 3 v3.55 jailbreak on Jan. 7, enabling users to once again run Linux on the game player. Hotz vowed to create the root-level firmware hack last year, after Sony announced that a 3.21 update due on April 1 would prohibit the installation of alternate OSes due to security concerns.
Sony held true to its promise, and the four-year run of loading Linux distros on the gaming box came to an end until Jan. 7.
Sony claims the jailbreak violates the U.S. Digital Millennium Copyright Act (DMCA) and other laws, as well as the Computer Fraud and Abuse Act, and is seeking unspecified monetary damages. The Electronic Frontier Foundation (EFF) has fired back in defense of Hotz, claiming the latter fraud and abuse charges are particularly absurd, and if upheld, would lead to a dangerous precedent.
---
This article was originally published on LinuxDevices.com and has been donated to the open source community by QuinStreet Inc. Please visit LinuxToday.com for up-to-date news and articles about Linux and open source.