Aug 9, 2010 — by Eric Brown — from the LinuxDevices Archive — views
AT&T announced that it will sell the Sony Ericsson Xperia 10 starting Aug. 15, giving the high-end Android smartphone its first U.S. debut. The Xperia X10 offers a 1GHz Qualcomm Snapdragon system-on-chip (SoC), 8GB of internal flash, a four-inch display, a 8.1-megapixel camera, and other high-end features, but debuts with Android 1.6.
When Sony Ericsson announced its Xperia X10 in November, this was widely seen as the most powerful Android model to date (along with the Motorola Droid, which launched a few days earlier). The Xperia X10 was the first of many Android phones to offer a 1GHz Snapdragon SoC. It was also the first to supply a four-inch display and an 8.1-megapixel camera.
While other powerful Android phones soon followed, only recently have 8.1-megapixel cameras became the new high-end standard in models. Sprint's HTC Evo 4G adopted such a camera and also bested the X10's screen size mark with a 4.3-inch display.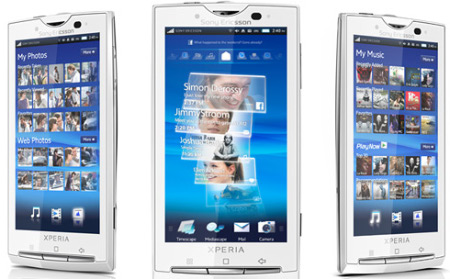 Different views of the Xperia 10
Despite having lost some momentum as other powerful Android phones have begun to arrive in its markets, the Xperia X10 has sold well around the world in markets such as the U.K. and Canada. In fact, the phone is still said to be a best-seller in Japan.
When Sony Ericsson recently announced its second profitable quarter in a row after a 2009 marked by falling market share and heavy losses, the company noted the success of its Xperia X10, as well as the lower-end Xperia Mini and Mini Pro. The company recently announced a mid-range Xperia X8 model to round out the product family.
X10 a la AT&T
AT&T's U.S. customers recently received their first powerful Android alternative to the iPhone in the form of the Samsung Galaxy S variant known as the Samsung Captivate. The Captivate is limited to a five-megapixel camera, but offers a four-inch display and Android 2.1 running on a 1GHz Samsung Hummingbird system-on-chip.
As of next Sunday, AT&T customers will have a second alternative in the form of the Xperia X10. The version offered by AT&T appears to be identical to the original, including the inclusion of the 1GHz Snapdragon processor. Unfortunately, that means it still ships with Android 1.6, a fairly outdated release for a phone that otherwise still competes well on features with recent high-end models.
AT&T loads the device with 8GB of onboard flash, and provides a 2GB flash card in a microSD slot that can hold up to 32GB. The keyboard-less Xperia X10 still offers a four-inch, 854 x 480 display, says AT&T. The phone is said to measure 4.7 x 2.5 x 0.5 inches while weighing in at a pocket-sagging 4.8 ounces.


Back and front of Xperia X10 in landscape mode
(Click to enlarge)
The X10's 8.1-megapixel camera offers geo-tagging, LED flash, as well as smile and face recognition, says AT&T. The phone also provides the usual 3G, Bluetooth, GPS, and WiFi features, although it's unclear whether the latter has yet moved up to 802.11n. In addition, the X10 offers a Micro-USB port and a 3.5mm audio jack.
Timescape and Mediascape UI layer
Like the original, the phone runs Android 1.6, and provides a variety of Google applications such as Google Maps and Google Talk. Android is overlaid with Sony Ericsson's "UX" applications, which have been dinged by some smartphone reviwers for encumbering and slowing down Android even more than other social-networking oriented UI skins (such as Motorola's MotoBlur and HTC's Sense).
The phone is currently supplied with two UX apps. Sony Ericsson Timescape offers a unified communications contact management interface, supporting conversations from Facebook, Twitter, and email, along with associated photo and text integration.
Sony Ericsson Mediascape, meanwhile, is a multimedia playback app that integrates content from the phone, YouTube, PlayNow, and other sources, says the company. (For more details on the Xperia X10 and the UX apps, see our previous coverage, here.)
Stated Paul Hamnett, senior vice president, Sony Ericsson North America, "Following the successful global launch of the Xperia X10, we are pleased to partner with AT&T to launch this phone in the U.S. market."
Availability
The Sony Ericsson Xperia X10 will be available in black at AT&T stores, authorized retailers, and AT&T's website, here on Aug. 15 for $150 after a two-year service agreement and minimum smartphone data plan.
More information on the recently introduced mid-range Xperia X8 may be found here.
---
This article was originally published on LinuxDevices.com and has been donated to the open source community by QuinStreet Inc. Please visit LinuxToday.com for up-to-date news and articles about Linux and open source.