Aug 5, 2011 — by Eric Brown — from the LinuxDevices Archive — 1 views
Sprint will begin offering a WiMAX 4G-ready Android 2.3 phone for just $100 on Aug. 21. The Samsung Conquer 4G features a 1GHz Qualcomm Snapdragon processor, a 3.5-inch, 480 x 320 screen, plus Wi-Fi, Bluetooth, GPS, and optional mobile hotspot capabilities, says the carrier.
Handset vendors are running out of nouns for their phone names and have now moved on to verbs — and increasingly aggressive verbs. Following the path of Samsung phones like Verizon's Samsung Fascinate and AT&T's Samsung Captivate, Sprint has seen fit to escalate to the Samsung Conquer 4G. No doubt, AT&T will fire back with a T-Mobile Annihilate, which will be one-upped by a Verizon Samsung Obliterate.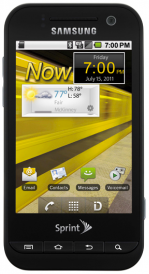 Unlike those earlier Galaxy S-based designs, the Samsung Conquer 4G uses a 1GHz, single-core Qualcomm Snapdragon MSM8655 instead of a Samsung Hummingbird processor. A Samsung CMC7325 baseband is also on duty.
The Conquer 4G is Sprint's first 4G smartphone to launch at $100 or less. It also appears to be one of the smallest Sprint 4G phones. The phone weighs 4.1 ounces and measures 4.57 inches x 2.38 inches x 0.46 inches, says Sprint. A 1500mAh battery is said to offer up to six hours of talk time.
The amount of RAM and internal flash storage wasn't listed, but a 2GB memory card is provided for the 32GB-ready microSD slot, according to Sprint. The 3.5-inch screen offers 480 x 320 resolution instead of the WVGA (800 x 480) displays offered on some new 3.5-inch phones.
The Conquer 4G provides a modest 3.2-megapixel rear-facing camera with flash and zoom, as well as a 1.3-megapixel front facing camera, says the company. The dual mode 3G/4G phone also offers 802.11 b/g/n, Bluetooth, and GPS, says Sprint. An optional, $30-per-month 3G/4G Mobile Hotspot lets up to five Wi-Fi enabled devices share Sprint's 3G or 4G bandwidth.
The Android 2.3 firmware is accompanied by Google's Android Market, as well as Google apps like Search, Maps, Talk, Gmail, and YouTube. Social networking is supported via Photobucket, Facebook, and MySpace uploads.
Sprint ID packs are said to be available, offering a variety of themed apps, widgets, shortcuts, ringtones, and wallpapers. ID packs include E! (celebrities), Green (eco), MTV Music ID, and Socially Connected, says the carrier.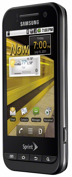 Compared to other Sprint 4G phones like the four-inch, Super AMOLED, NFC-enabled Samsung Nexus S 4G, or the HTC Evo 3D 4G , which features a 4.3-inch 3D stereoscopic display and a dual-core Qualcomm Snapdragon, the single-core Conquer 4G seems misnamed.
Considering the 4G costs — which are still steep despite Sprint's claims that they are $40 a month cheaper than Verizon's LTE plans — the one-time $100 difference between the Conquer and these two $200 phones seems fairly marginal. Then again, users who want a more compact phone that also features 4G downloads, may have found exactly what they're looking for.
Sprint offers 4G WiMAX service via Clearwire's network in 71 markets in 28 states. However, earlier this week, Clearwire, which is roughly 50 percent owned by Sprint, announced further plans to deploy the rival LTE 4G technology, following up on its May commitment to LTE.
Sprint also announced its annual developer conference, now called the Sprint Open Solutions Conference, which will be held Nov. 2-4, in Santa Clara, Calif. Topics will include Sprint's open enablement strategy, creating applications for 4G and 3D, enterprise machine-to-machine (M2M) solutions, go-to-market strategies, approaches to make developers more profitable, and current Sprint tools and capabilities.
By then, we might know if AT&T will get permission to acquire T-Mobile, leaving Sprint wedged between two behemoths in AT&T and Verizon. In mid-July, Sprint CEO Dan Hesse called the pending union "disastrous".
Stated Fared Adib, vice president-Product Development, Sprint, "The price of Samsung Conquer 4G makes Sprint's 4G speeds accessible to more customers than ever."
Availability
The Samsung Conquer 4G will be available for $100 in all Sprint retail channels, beginning Aug. 21, with a two-year service agreement or eligible upgrade, and after a $50 mail-in rebate. The phone requires activation on one of the carrier's Sprint Everything Data plans, which start at $70 per month, plus a $10 Premium Data add-on charge for smartphones.
More information may be found in Sprint's Samsung Conquer 4G fact sheet.
---
This article was originally published on LinuxDevices.com and has been donated to the open source community by QuinStreet Inc. Please visit LinuxToday.com for up-to-date news and articles about Linux and open source.