May 19, 2011 — by LinuxDevices Staff — from the LinuxDevices Archive — views
Samsung's "pure Google", Android 2.3-based Nexus S 4G phone updates the Nexus S design with Sprint's 4G and the awesome new Google Voice service. However, the 4G WiMAX service available on this four-inch, 1GHz smartphone can't compare with Verizon's speedier LTE, and battery life is disappointing, says this eWEEK review.
After spending the last five days using the Samsung Nexus 4G smartphone, which Sprint began selling May 8 for $200 on contract, I'm experiencing some serious cognitive dissonance. I love the phone's hardware and software, but I am not crazy about Sprint's 4G WiMAX network.
The Nexus S 4G is certainly faster than the original Nexus S Google launched last December on T-Mobile's network. However, I used the new Nexus after testing both the HTC ThunderBolt 4G and Samsung Droid Charge on Verizon Wireless' 4G LTE (Long-Term Evolution) network. If you're guessing Verizon won that race, you'd be right.
Sprint does offer something with the Nexus S 4G that could win a lot of people over: native Google Voice support. Google Voice on this phone is great, and you won't find that on Verizon, AT&T, T-Mobile or any other carrier right now.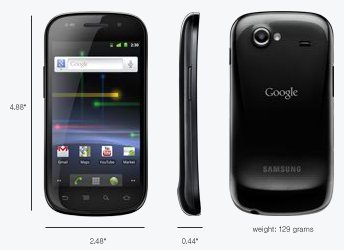 Sprint Nexus S 4G
The Nexus S 4G is the same its Nexus S predecessor in all external aesthetic (and most internal) aspects, but it's powered by a 4G radio inside instead of a 3G transmitter. The 1GHz Samsung S5PC110 "Hummingbird" -powered phone features a pretty four-inch Super AMOLED (Super active-matrix organic LED) display with 800 x 480 resolution. This was the best screen I ever tested until the
Droid Charge
came along with its 4.3-inch Super AMOLED Plus screen on May 14.
When I tested the very similar Nexus S last December, I believed it to be Samsung's best hardware to date. After testing the Motorola Atrix 4G, HTC ThunderBolt and Droid Charge this year, all those phones felt more comfortable in my hand.
As I held the Nexus S 4G, which measures 4.8 inches long, 2.5 inches wide and less than half an inch thick, it occurred to me the black bezeled plastic is nice, but a little slick in my hand compared with the more pedestrian, tough-guy gray plastic of the Charge. I kept thinking I would drop it, even if I never did.
Call quality on the Nexus S 4G is fine, and the five-megapixel camera and front-facing VGA camera are serviceable, if unspectacular, for photo- and video-taking. There's also 16GB of iNAND internal storage.
I could argue that the Nexus S 4G's software is superior than that of most Android phones; the phone runs Android 2.3 "Gingerbread," while inexplicably, the Charge runs Android 2.2 despite a price tag of $300.
Honestly, however, other than the better virtual keyboard and one-touch copy-and-paste functionality afforded by Gingerbread on Sprint's new gadget, I don't notice much difference. I'm not a big gamer, so the gyroscope is not a big deal for me.
While Gingerbread's NFC (near field communication) capabilities are great in theory, no one is using NFC in a meaningful way. Heck, reports suggest Apple won't be including it in the next iPhone.
Sprint's WiMAX no match for Verizon's LTE
Sprint claims up to 10Mbps for its 4G WiMAX service on the Nexus S 4G. Sprint's WiMAX is not available here in my home state of Connecticut, but I accessed it easily enough while visiting family in Westchester County, New York. I received an average of 4Mbps upload speeds and 5Mbps download speeds.
Faster than 3G? Oh yeah, but Sprint's WiMAX network is no match for Verizon's 4G LTE network, at least where I tested it. For the Droid Charge running on LTE, I saw anywhere from 4- to 11Mbps download speeds and upload speeds of 3- to 5Mbps. On the HTC ThunderBolt using the same Verizon network I saw roughly 5- to 11-plus megabits per second download speeds and 2- to 4-plus megabits per second upload speeds.
However, as with those 4G phones, the Nexus S 4G's 1,500mAh battery burned down so quickly, the phone needed a charge after three hours on consistent 4G use in New York. That's not going to cut it. Of course, I had a car charger, but what if I hadn't brought it? I'd be out of luck.
What's interesting about this is that this Nexus S 4G uses the same battery as its 3G predecessor, which lasted a full day, according to my review of that device last Christmas season.
As a "pure Google experience" Android phone, the Nexus S 4G offers out-of-the-box Google Search and Voice Search, Voice Actions, Gmail, Google Calendar, Google Earth, Google Maps with Navigation, Google Talk, and YouTube. Android Market is also there, and now boasts 200,000 applications.
Google Voice makes the difference
For my mobile phone needs, Google Voice is the game-changer on the Nexus S 4G. The software and service lets users use their existing Sprint number as their Google Voice number to ring any phones when people call their mobile phone.
Users may also choose to replace their existing Sprint number with their mobile Google Voice number. This means all calls and texts sent from a user's Sprint smartphone will display their Google Voice number to recipients of calls and messages. This also means Sprint phone users won't incur porting charges and service disruptions.
Calls from Gmail and text messages sent from Google Voice will display users' Sprint number. All of this worked beautifully and seamlessly for me, right down to the funky, off-kilter Google Voice message transcriptions.
I came away from the Nexus S 4G satisfied that it offers a better user experience than the original 3G Nexus S, but not thrilled enough by Sprint's WiMAX network that I would leave Verizon's 4G LTE network for it. With the Droid Charge, ThunderBolt, and soon, the Samsung Galaxy S II on the way to leverage Verizon's superior network, I'm sticking with the leader despite Sprint's great Google Voice experience.
If you're a Sprint user, however, and want to stay on network with a speedier phone, the Nexus S 4G is a great choice.
Clint Boulton is a writer for eWEEK.
---
This article was originally published on LinuxDevices.com and has been donated to the open source community by QuinStreet Inc. Please visit LinuxToday.com for up-to-date news and articles about Linux and open source.