Nov 11, 2009 — by LinuxDevices Staff — from the LinuxDevices Archive — 19 views
ClearCube Technology announced a Linux-ready thin client supporting the PC over IP (PCoIP) protocol introduced yesterday with VMware View 4. The ClearCube I8520 uses a 1.6GHz Atom CPU, offers from 512MB to 4GB of flash storage, has CompactFlash and PCI Express x1 slots, and includes two gigabit Ethernet ports, the company says.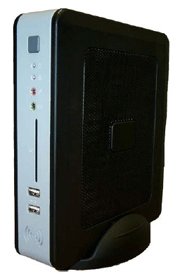 According to ClearCube, its I8520 (right) runs either Linux or Windows Embedded Standard on a 1.6GHz Intel Atom N270 processor, with the usual 945GSE northbridge and ICH7M southbridge. The device accepts up to 2GB of DDR2 memory via a single SODIMM slot, and is available with 512MB to 4GB of flash storage, the company adds.
Offering Intel's integrated GMA950 graphics, the device supports resolutions up to 1600 x 1200 pixels via DVI and VGA ports, says ClearCube. The I8520 also includes six USB 2.0 ports (two on the front, four on the rear), audio I/O, a serial port, and two gigabit Ethernet ports, the company adds.
ClearCube says the I8520 has an internal slot for PCI or PCI Express x1 expansion, which is suitable for purposes such as adding a fiber NIC (network interface card). The thin client additionally offers a CompactFlash socket, a SATA controller, and a 22-pin IDE port that could be used to connect a DOM (disk on module), according to the company.
Other hardware options cited by ClearCube include an 802.11b/g wireless card and a Smart Card reader. These presumably are also added in via the PCI Express x1 slot, though the company didn't specify.
According to ClearCube, the I8520 comes with clients for Citrix's ICA (independent computing architecture) and Microsoft's RDP (remote desktop protocol), plus Internet Explorer, Windows Media Player, and Acrobat Reader. The device is also said to support ClearCube Technology's PC-over-Ethernet protocol — which "provides bidirectional audio (via USB) and USB redirection for nearly every USB device" — plus the similar-sounding PC over IP (PCoIP) protocol that just made its debut with VMware's View 4 (see later in this story for details).
Features and specifications listed by ClearCube for the I8520 include the following:
Processor — Intel Atom N270 clocked at 1.6GHz
Memory — Up to 2GB of DDR2 RAM and from 512GB to 4GB of flash storage
Storage — Includes CompactFlash socket, plus IDE and SATA interfaces
Expansion — PCI or PCI Express x1 slot
Networking:

2 x gigabit Ethernet
802.11b/g (optional:

Other I/O:

6 x USB 2.0 (2 front, 4 rear)
Audio in/out
1 x DVI
1 x VGA
1 x serial
DC input

Operating temperature — 32 to 95 deg. F (0 to 35 deg. C)
Power — DC input via external 48W AC adapter
Dimensions — 9.1 x 8.3 x 2.24 inches (23 x 21 x 5.7cm)
Randy Printz, CEO of ClearCube Technology, stated, "The I8520 is a perfect example of how we continue to provide the greatest breadth of centralized computing solutions to deliver the best customer computing performance at a great value. Not only are we providing a low cost and highly flexible thin client but we're including over a decade of experience in remote desktop protocols and the expertise to ensure it's a complete solution that delivers on the customers' needs."
VMWare View 4 and PC over IP
Yesterday, VMware announced its new VMware View 4 product, touted as "the industry's only purpose-built desktop virtualization solution." According to the company, VMware View 4 provides the following new attributes:
Multi-monitor, adaptive display support, with resolution optimization for each monitor plus optional pivoting and rotation
Seamless mapping of locally attached USB peripherals from the end user's device onto the virtual desktop
Automatic discovery of, connection to, and printing from locally attached printers without the need to install print drivers
A single point of authentication allowing users to access VMware View environments, Windows Terminal Servers, blade PCs, or even remote physical PCs
A key addition to VMware View 4 is the PC-over-IP (PCoIP) protocol developed by Teradici Corporation. According to VMware and Teradici, PCoIP is suitable both for local area networks and high-latency wide area networks, because it "compresses, encrypts, and encodes the entire computing experience at the data center and transmits it 'pixels only' across a standard IP network."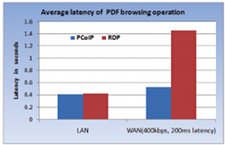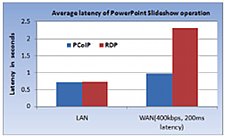 PCoIP is said to reduce WAN latency by more than 50 percent
(Click either to enlarge)
VMware adds that PCoIP is designed to recognize different types of content and then use different compression algorithms that are best for each. For example, it's said that text is always displayed using lossless compression, whereas images are initially displayed with lossy compression, then progressively built to a lossless state. According to slides released by the company (above), latency is not significantly better than RDP over a LAN, but latency is reduced by more than 50 percent over a WAN.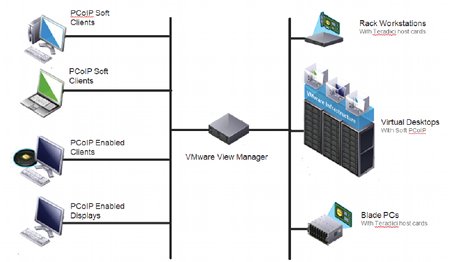 PCoIP architecture
Source: VMware (Click to enlarge)
According to VMware and Teradici, VMware View and PCoIP will support both software- and hardware-based endpoints (above). The software implementation of PCoIP — featured on traditional thin clients such as the ClearCube I8520 — runs on Linux or Windows devices, using TCP and UDP over port 5002, the companies say.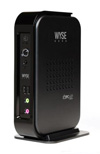 A hardware implementation of PCoIP, meanwhile, will allow creation of thin clients that have no local operating system, VMware says. Such devices, exemplified by Wyse's newly announced P20 (right), provide PCoIP functionality in their firmware and employ Teradici's own TERA1100 Portal Processor. Unlike software-based endpoints, however, hardware-based endpoints will apparently not be backward-compatible with either RDP or ICA.
Further information
More information on ClearCube's I8520, which is said to be available now for approximately $300 with Linux or $400 with Windows Embedded Standard, may be found on the company's website, here.
More information on VMware's View 4 may be found in an eWEEK article, here, on the VMWare website, here, and via a PDF-format information guide, here.
More information on Wyse's P20 may be found on the Wyse website, here. More information on Teradici's TERA1100 Portal Processor and PCoIP may be found on the Teradici website, here.
---
This article was originally published on LinuxDevices.com and has been donated to the open source community by QuinStreet Inc. Please visit LinuxToday.com for up-to-date news and articles about Linux and open source.