Feb 24, 2011 — by LinuxDevices Staff — from the LinuxDevices Archive — views
As expected, Apple and Intel have announced "Thunderbolt," a rebranded version of the latter's "Light Peak" technology. Initially available on three MacBook Pro notebooks, it offers 10Gb/sec. data transfer, the ability to daisy-chain six peripherals, plus both PCI Express and DisplayPort support, according to the companies.
Intel initially showed off its Light Peak interconnect at its September 2009 Intel Developer Forum — where, tellingly, Apple's OS X operating system was used for demonstrations — and said it would become available in PCs during 2011. The technology will eventually scale up to 100Gb/sec. and move to optical cables, but the first implementations would run at 10Gb/sec. over copper, the chipmaker promised.
Now, as was rumored yesterday, Light Peak has reached the market on three newly announced MacBook Pro laptops from Apple: a 13-inch model that starts at $1,199; a 15-inch model starting at $1,799, and a 17-inch model that costs $2,499. It can be recognized on all three by a DisplayPort-style interface decorated with a thunderbolt icon (below), and — as today's announcements made clear — Thunderbolt's the moniker that will henceforward be used by both Apple and Intel itself.

Thunderbolt uses a DisplayPort-style connector
According to Intel, the key to Thunderbolt's abilities is a controller chip (below left) that allows both DisplayPort and PCI Express protocols to be carried over a single cable (below right). This controller offers "low latency with highly accurate time synchronization," and provides for bus-powered devices (up to 10 Watts), the company adds.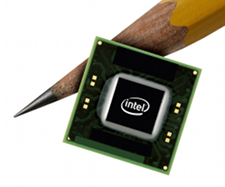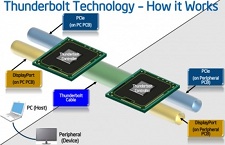 Intel's Thunderbolt controllers (left) are intended for PCs and up to six peripherals (right)
(Click either to enlarge)
Apple's MacBook Pro product page touts Thunderbolt as offering "two 10Gb/sec. data channels," while Intel says it features "dual-channel 10Gbps per port." This means "a full 10 Gb./sec of bandwidth can be provided for the first device, as well as additional downstream devices," the chipmaker adds.


A Promise storage device connected to Apple's new MacBook Pro via Thunderbolt
(Click to enlarge)
While these claims are vague, we interpret them as meaning that while Thunderbolt never offers more than 10Gb/sec. of bandwidth, it does not slow down when multiple devices are connected. According to Intel, Thunderbolt allows up to seven devices (a PC and six peripherals) to be connected to a single cable with almost no latency. The distance between each of the devices may be up to three meters (9.8 feet), the company adds.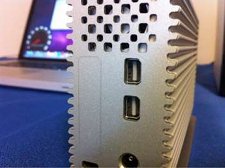 Thunderbolt-ready peripherals such as LaCie's Little Big Disk (right) will include dual ports so they can be part of a daisy chain. Apart from Apple, vendors that have signed on include Aja, Apogee, Avid, Blackmagic, Promise, and Universal Audio, says Intel.
To graybeards like this author, daisy-chaining brings back memories of SCSI, where connections could become unreliable if a terminator wasn't connected to the last device in a chain. But Thunderbolt apparently requires no termination.
The only thing to watch out for, according to Intel, is that any DisplayPort device needs to be the last one in a chain. (Apparently, then, Thunderbolt will not be initially touted as a way to connect multiple monitors!)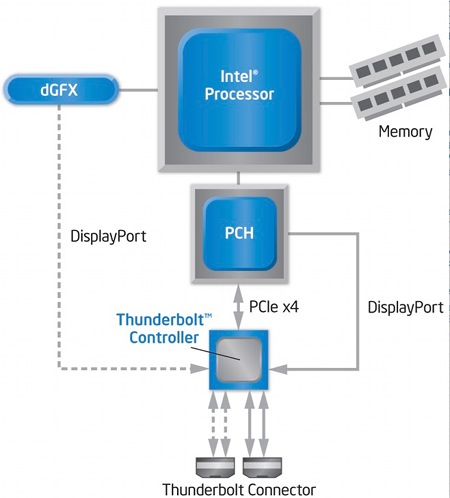 Sample block diagram showing how the Thunderbolt controller may be incorporated into a PC
(Click to enlarge)
Given that it relays both DisplayPort and PCI Express signals, Thunderbolt will make it "simple to create gigabit Ethernet, FireWire, or eSATA adapters using existing PCI Express device drivers," claims Intel. It's likely third parties will also create USB 3.0 adapters, the chipmaker adds.
Availability
Apple's new MacBook Pros are orderable now and will ship within one or two days, according to the manufacturer. No word was given on when other Thunderbolt-equipped computers will ship.
Further information may be found on Intel's Thunderbolt product page.
---
This article was originally published on LinuxDevices.com and has been donated to the open source community by QuinStreet Inc. Please visit LinuxToday.com for up-to-date news and articles about Linux and open source.