Jul 27, 2010 — by LinuxDevices Staff — from the LinuxDevices Archive — 1 views
Intel says it has developed a prototype silicon photonics link that moves data at 50Gbps, the equivalent of an entire HD movie being transmitted every second. Unlike present-day versions, silicon-based optical technologies will be affordable enough to be integrated into PCs, embedded devices, and consumer electronics, the chipmaker says.
Intel's announcement came in conjunction with the Integrated Photonics Research Conference now being held in Monterey, Calif. Justin Rattner, Intel chief technology officer and director of Intel Labs, told attendees "the silicon photonics link … marks a significant achievement in our long term vision of 'siliconizing' photonics and bringing high bandwidth, low cost optical communications in and around future PCs, servers, and consumer devices."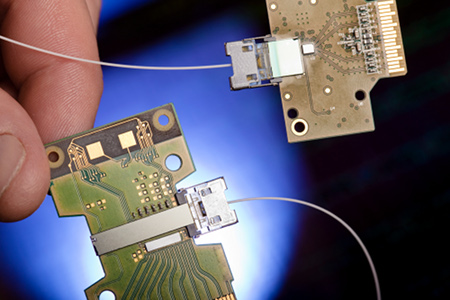 Intel's silicon photonics transmitter and receiver
(Click to enlarge)
According to Intel, silicon photonics employs light beams from low-cost, easy-to-make silicon, instead of costly and hard-to-make devices using exotic materials like gallium arsenide. Therefore, optical links will no longer be confined to esoteric telecommunications applications, the company says.
Electrons moving over copper wires are nearing their physical limits, Rattner told his audience. As a result, processors, memory, and other components in computers and other devices have had to move closer and closer together to maximize performance. Optical links lack these constraints, potentially revolutionizing the way computer and data centers will be designed, he added.
Intel's silicon photonics prototype is described as an "important advance" that is the result of several years' work. According to the chipmaker, it stems from a 2006 breakthrough whereby the light-emitting properties of Indium Phosphide were combined for the first time with the light-routing capabilities of silicon in a single hybrid chip.
The prototype is said to include four silicon lasers, whose light beams each travel into an optical modulator that encodes data onto them at 12.5Gbps. The four beams are then combined and sent to a single optical fiber for a total data rate of 50Gbps, Intel says.
At the other end of the fiber, which can presently stretch for 50 meters (about 160 feet), a receiver chip separates the four optical beams and directs them into photo detectors, converting their data back into electrical signals. The transmitter and receiver are "assembled using low-cost manufacturing techniques familiar to the semiconductor industry," according to Intel, which says it is already working to increase data rates to 1TB/sec. and above.
Intel added that the above research is separate from its Light Peak efforts, which are intended to bring 10Gbps optical connections to Intel client platforms in the nearer term. The chipmaker has previously said Light Peak components will ship sometime this year.

The silicon photonics link
Source: Intel
(click any of the images to play)

Further information
More information on Intel's silicon photonics research may be found on the company's website, here. A related presentation, white paper, and backgrounder, all in PDF format, may be found here, here, and here, respectively.
---
This article was originally published on LinuxDevices.com and has been donated to the open source community by QuinStreet Inc. Please visit LinuxToday.com for up-to-date news and articles about Linux and open source.