Sep 22, 2010 — by Eric Brown — from the LinuxDevices Archive — 15 views
Timesys announced the availability of the LinuxLink Free Edition, a "cloud" version of its Linux development platform that provides kernels, toolchains, debuggers, the TimeStorm Eclipse IDE, and the Web Factory build system. The company also announced a LinuxLink subscription for running MeeGo on the new Intel Atom E6xx processor.
The LinuxLink Free Edition with Web Factory is claimed to be the first free, online application for cross-architecture embedded Linux development, supporting ARM, MIPS, NIOS II, PowerPC, SuperH, and X86 platforms.
The service is based on the current online, subscription-based version of LinuxLink, a long-time service targeted at the do-it-yourself (DIY) embedded Linux developers. Last year, LinuxLink added more advanced features such as the automated, web services-based Factory build system.
The LinuxLink Free Edition is intended primarily as a place where developers can quickly try out new ideas on new platforms, as well as develop prototypes, without committing to a time-consuming or expensive development platform, says Timesys. Wizard guides help more novice users, while extensive how-to documentation helps development teams save time and money, says the company.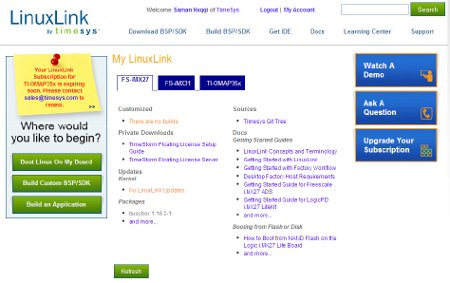 The LinuxLink Free Edition with the Web Factory is based closely on the year-and-a-half old online version of LinuxLink, but without the paid subscription renewal reminders shown above.


(Click to enlarge)
The more advanced desktop version of LinuxLink will continue as a paid subscription service, offering more features such as integration of third-party packages, proprietary software, and greater customization options, says Timesys. It also offers some value-added subscriptions not available with the Free Edition, such as the new MeeGo on Atom E6xx package. A more limited Free Edition version of the package is available, however (see farther below).
"People who are experimenting can use the Free Edition in the cloud, and then they can move up to the desktop system for a more comprehensive development environment that supports greater customization," said CEO Atul Bansal, in an interview with LinuxDevices this week.
As with the desktop LinuxLink, the Free Edition is said to offer collections of Linux sources, gathered and updated from thousands of community sources, and patched and configured for a wide variety of processors and development kits. As noted, it also offers the same core products in the form of Linux kernels, toolchains, debuggers, the TimeStorm Eclipse IDE (integrated development environment), and the Web Factory build system.
Differences between the two versions are said to include performance and customization capabilities, says Timesys. "Build time is faster on the desktop version, and there is more flexibility in the system," said Bansal.
Unlike with the desktop version, Free Edition users can't define their own repository of sources, configure the kernel, or enjoy free support, says Timesys. In addition, there is a more limited number of packages available.
One-stop source for free platforms
While semiconductor vendors generally offer free board support packages (BSPs) and software development kits (SDKs) for their system-on-chips (SoCs), the LinuxLink Free Edition with Web Factory is said to offer the advantage of providing a common platform that spans multiple architectures and SoCs. This reduces the time and complexity of mastering each set of tools, says Timesys.
"You don't have to learn different systems for different processors," said Bansal, adding that the service also helps to provide developers with the latest, compatible open source components.
"There is so much out there, it is hard to make sense of it," he said. "We address the biggest problems for developers, which include complexity and the challenge of maintaining compatibility."
Unlike both commercial and semiconductor BSPs/SDKs, LinuxLink Free Edition does not require that a host development platform be is set up before testing. At the same time, the service is claimed to be far more user-friendly than most semiconductor development distributions, and its open source components are said to be kept more up-to-date.
Upselling to the Desktop
While offering a free development service may seem like a tough business model, Bansal claims Timesys will make money by steering users to the desktop version for more comprehensive, end-to-end development while also selling training, consulting, and other professional services.
The desktop LinuxLink is increasingly being marketed as a low-cost alternative to commercial distributions from companies such as Wind River and MontaVista Software. Claimed to be 40-60 percent cheaper than these offerings, yearly subscriptions start at $5,000 per processor target, says the company.
Bansal allows that LinuxLink is not as suitable for high-end networking, mil/aero, and advanced industrial systems, but says that LinuxLink does cover 90 percent of the embedded market. This is said to include consumer electronics, as well as smaller scale networking, industrial, medical, and general embedded devices.
Other players in the embedded Linux development market include Sweden-based Enea, which is still focused primarily on its OSE Multicore Edition real-time operating system (RTOS), primarily targeting telecom and networking applications. Mentor Graphics is another RTOS vendor (Nucleus RTOS), that has entered the Linux market, having acquired Linux specialists Embedded Alley last year.
Meanwhile, many other players target narrower market segments for embedded Linux, and device manufacturers often use their own proprietary platforms or combine them with semiconductor vendor development kits.
LinuxLink supports MeeGo for Atom E6xx
In a second announcement, Timesys unveiled a LinuxLink MeeGo offering for the new Intel Atom E6xx processor and the matched Intel Platform Controller Hub EG20T. The MeeGo for E6xx platforms enables customers to "leverage MeeGo stacks, easily integrate their own applications, modify the Linux kernel and even incorporate their own proprietary packages and frameworks into the design of their product," says Timesys.
This is the first product we've seen so far to offer specific support for the Linux-based MeeGo platform on the E6xx. Although MeeGo will soon support ARM processors as well, at least in some environments such as handsets, the open source, Intel- and Nokia-backed distribution primarily targets the Atom, as did the earlier Moblin project.
The full MeeGo for E6xx subscription will be available only for the paid desktop version of LinuxLink, shipping in the fourth quarter. However, a more limited Free Edition version will be available for evaluation purposes before that, says the company.
Stated Maciej Halasz, Director of Product Management at Timesys, "The new Intel Atom processor E6xx series offers improved power reductions, allowing for wider adoption in deeply embedded device markets. The combination of rich media and sophisticated UI chip capabilities with MeeGo offered rich multimedia APIs, makes it ideal for devices such as point of sale, kiosks, medical and infotainment as well as a nearly unlimited array of other devices our customers design."
Availability
The LinuxLink Free Edition with the Web Factory is available now, says Timesys. The LinuxLink MeeGo on Intel Atom E6xx subscription will be available in the fourth quarter, at which point it should show up on Timesys' LinuxLink Intel platform page, here.
In the meantime, developers can configure, build, and evaluate embedded Linux on the the E6xx platform and other processor platforms by accessing the Free Edition of LinuxLink, here.
---
This article was originally published on LinuxDevices.com and has been donated to the open source community by QuinStreet Inc. Please visit LinuxToday.com for up-to-date news and articles about Linux and open source.