Sep 1, 2009 — by Eric Brown — from the LinuxDevices Archive — 7 views
MontaVista Software announced the availability of MontaVista Linux 6 (MVL6), as well as five processor-specific Market Specific Distributions (MSDs) for its commercial embedded Linux development platform. The MSDs, which will soon be joined by dozens more, support ARM1176 and ARM926, Freescale MPC8xxx (PowerPC), Intel x86 (Pentium/Xeon), MIPS32, and Xilinx Virtex 5, says the company.
According to MontaVista, MVL6 was announced on May 12, and made generally available on August 14, although the company did not publicize the August release. Its first five MSDs will be followed by "more than 40" MSDs for various processors that the company expects to be made available in the coming months.
MVL6 builds upon a pioneering MontaVista Linux platform that was born almost a decade ago, emerging as the clear leader among commercial embedded Linux development environments. Only last year, according to VDC Research, has the platform been overtaken by rival Wind River, which is now a subsidiary of Intel.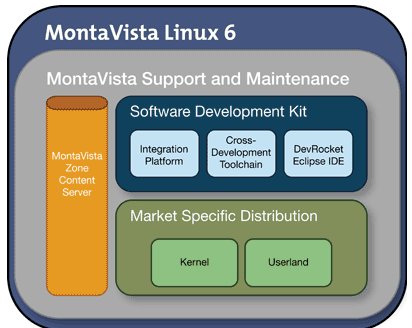 Simplified MontaVista Linux 6 architecture
The new version of MontaVista Linux could be its most radical upgrade yet, building upon the mature Linux distribution and toolsuite with a new build engine (MontaVista Integration Platform) and content server (MontaVista Zone), and an upgraded version of its DevRocket integrated development environment (IDE). The biggest change, however, has been the structural relaunch of the platform in the form of specific Market Specific Distributions tailored for both entire architectures and specific chips.
Built on a common framework, and optimized for specific hardware platforms and target markets, the MSDs are said to be feature compatible with the semiconductor vendors' Linux technology. Each MSD is comprised of an embedded Linux kernel, appropriate device drivers, and "userland necessary to support the breadth of functionality provided by the hardware platform," says MontaVista. Each MSD can then be expanded with common MontaVista tools and additional open source technology, says the company.
The initial list of available MSDs is as follows: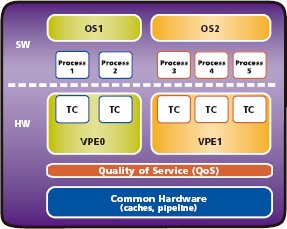 MIPS32 34K architecture
This initial MSDs are slightly different than those on the list of expected initial MSDs MontaVista announced back in May. Unexpected arrivals include the RealView Versatile ARM development boards, as well as the MIPS32 cores and the Xilinx Virtex 5 FPGA (field programmable gate array), supported by Xilinx's ML 507 development kit.
Instead of supporting the Intel Atom, meanwhile, MontaVista has begun with Intel's Pentium and Xeon platforms, and while MSDs for Freescale's PowerQUICC II Pro and PowerQUICC III platforms are available, the similarly PowerPC-based QorIQ system-on-chip (SoC) and ARM-based i.MX SoCs from Freescale have not yet been included. Neither has the ARM Cortex-A8 based Texas Instruments OMAP35xx. MSDs for the missing architectures, however, may well appear in the 40-odd MSDs MontaVista expects to ship during in the coming months.
Stated Kerry McGuire, director, Strategic Alliances, at ARM, "MontaVista and ARM have a proven track record of delivering commercial grade Linux on leading ARM platforms, and now with innovative tools like the MontaVista Integration Platform, ARM customers can harness the full power of commercial Linux to bring a diverse range of consumer products to market in less time."
Stated Ravi Swaminathan, director of software ecosystem alliances at Freescale Semiconductor, "By having MSDs that are feature compatible with Freescale's Linux technology, the innovation and effort we invested in driver development and optimization for our new processors is now available in a commercial Linux distribution."
Stated Art Swift, VP of marketing, MIPS Technologies, "The new SDK in MVL6 enables our customers to take full advantage of the open source community, while building on a commercial-quality Linux optimized for MIPS cores — including our multi-threaded, multiprocessor 1004K coherent processing system and our superscalar 74K core."
Availability
MontaVista Linux 6 and the first five MSDs are available now, with pricing undisclosed. More information may be found here.
---
This article was originally published on LinuxDevices.com and has been donated to the open source community by QuinStreet Inc. Please visit LinuxToday.com for up-to-date news and articles about Linux and open source.