Jun 17, 2010 — by LinuxDevices Staff — from the LinuxDevices Archive — 1 views
Toshiba has announced NAND flash memory devices said to offer the highest densities ever. The new 128GB and 64GB devices use chips built on 32 nanometer process technology, integrate controllers for standard interfaces, and target smartphones, tablet PCs, and digital video cameras, the company says.
The new 128GB device combines sixteen 64Gbit (8GB) NAND chips fabricated with 32nm process technology. According to Toshiba, it also include an integrated controller compliant with the JEDEC/MMCA (Jedec Solid State Technology Association/MultiMediaCard Association) eMMC V4.4 standard.
Because this controller standardizes essential functions, such as block management and error correction, it's claimed time to market for new products incorporating the higher-capacity flash will be minimized. Thus, phones and other small devices sporting 128GB of memory could appear shortly after mass production of the new memory devices begins — set for the fourth quarter, Toshiba says.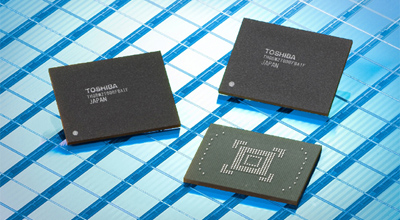 Toshiba's new 128GB and 64GB NAND flash devices
Along with a new 64GB part, the 128GB device comes in a 237-ball FBGA (fine-pitch ball grid array) package measuring 22 x 17 x 1.4mm. The 128GB version, part number THGBM2T0DBFBAIF, will begin sampling in September, according to Toshiba. The 64GB version, THGBM2G9D8FBAIF, will begin sampling in August, the company adds.
According to Toshiba, eMMC V4.4 compliance means the speed of memory writes will reach 21MB/sec., while reads will range from 46MB/sec. up to 55MB/sec. The company further points out that, once embedded in smartphones or other devices, the 128GB device will allow users to store up to 2,222 hours of music recorded at a 128Kbps bit rate, 16.6 hours of high definition video, or 38.4 hours of SD video.
As with previous Toshiba NAND flash devices — such as the then-amazing 32GB devices announced in August 2008 — the new 128GB and 64GB parts require a power supply voltage from 2.7V to 3.6V, and operating temperature ranges from -25 to 85 deg. C.
Background
Toshiba's new memory devices will apparently make it simple to ship phones and other devices with massive amounts of flash memory. However, manufacturers have historically skimped on the amount of RAM and flash they supply.
In the case of phones, this may be due to the influence of cost-conscious carriers, who sometimes do not even deign to specify the amount of storage their handsets include. In addition, SD and microSD slots admittedly make it simple for consumers to add flash storage to devices after the fact.
Apple jarred this status quo by shipping its first iPhone with up to 16GB of built-in flash storage — and without a SD or microSD slot. The company recently introduced an iPhone 4, announced June 7 and already in short supply, that sports many new features including a "retina display." The otherwise spiffed-up device disappointed memory mavens, however, by coming with a maximum of "only" 32GB.
The iPhone 4 reportedly uses a single 32GB NAND flash device, whereas the companion iPod Touch accepts two 32GB devices for a maximum of 64GB. Thus, following the launch of Toshiba's new parts, Apple will be in a position to offer a 128GB iPhone and a 256GB iPod Touch without having to reengineer either product.
Toshiba claims it's the first company to have successfully combined 16 64-Gbit NAND chips. Advanced chip-thinning and layering technologies allowed it to produce individual chips that are only 30 micrometers thick, the company adds.
The chipmaker is the world's second-largest producer of NAND flash memory, trailing Samsung, which last April announced what it calls "20-nm class" chips for use in SD cards and other storage devices. For further details on the Samsung parts — which, according to one analyst, actually use a 27mm process — see our earlier coverage, here.
Availability
As noted earlier in this story, Toshiba says its new 128GB and 64GB NAND flash chips will enter mass production during the fourth quarter. Pricing was not released.
---
This article was originally published on LinuxDevices.com and has been donated to the open source community by QuinStreet Inc. Please visit LinuxToday.com for up-to-date news and articles about Linux and open source.