Jun 3, 2011 — by Eric Brown — from the LinuxDevices Archive — 2 views
Toshiba has announced that its 10.1-inch, Tegra 2-based Thrive tablet will ship with Android 3.1 on July 10, starting at $429. Meanwhile, Samsung's Galaxy Tab 10.1 will ship on Verizon and T-Mobile with Android 3.1 on June 8, according to reports — although another rumor claims the Samsung launch will be delayed due to bugs.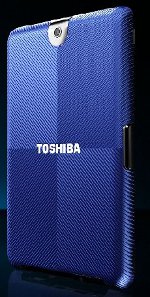 Toshiba announced that its long-awaited Thrive tablet will debut July 10 in the U.S., with Android 3.1 starting at $429, according to a number of sources, including our sister publication eWEEK. No carriers were announced, but some sites have reported a probable showing at Best Buy, and Engadget says J&R will offer the tablet.
The 10.1-inch (1280 x 800) tablet closely follows the Google prescription for Android 3.0 ("Honeycomb") tablets, and is therefore not much different in specs than the Motorola Xoom and many other tablets.

The Thrive also matches the specs for a Toshiba Tablet unveiled in January, a design that formed the basis for the Regza AT300, which is expected to start shipping in Japan this month. A number of sites are pointing to the Toshiba Tablet site in their Thrive coverage, suggesting that the Thrive and the Toshiba Tablet are one and the same. Images from the detail-rich site may be found at left and earlier above.
Powered by an Nvidia Tegra 2 dual-core processor, the Thrive will be offered with three storage size options, 8GB ($429), 16GB ($479) and 32GB ($579), says eWEEK, although it's unclear whether this is built in or populating the available SD card slot.
The Thrive is also said to feature a front-facing 2.1-megapixel camera and a five-megapixel rear-facing camera. Toshiba's tablet offers connectivity ports including HDMI, USB, mini-USB, and a headphone port. The 0.6-pound device is also said to offer a microphone and a headphone jack.
The company says battery life should clock in between six and seven hours of continuous full HD playback. Customers are said to be able to choose from a variety of back cover color choices.
Galaxy Tab 10.1 preps for June 8 launch on Verizon and T-Mobile
Verizon Wireless and T-Mobile will begin offering the Samsung Galaxy Tab 10.1 tablet June 8 on a limited basis, with Android 3.1, according to another eWEEK story.
Available in metallic gray or glossy white, Verizon's Galaxy Tab 10.1 is equipped with a 4G LTE (Long-Term Evolution) broadband radio, and will be available for pre-order on June 8. Verizon will sell the 16GB model for $530 and the 32GB model for $630, both on two-year contracts.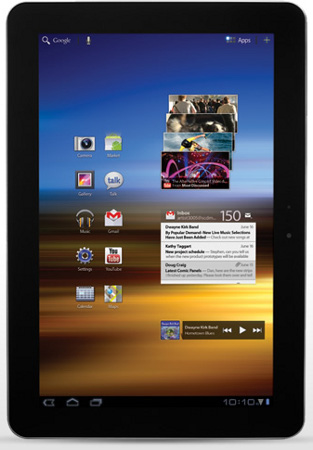 Verizon's version of Samsung Galaxy Tab 10.1
Verizon said the slate would hit its retail stores later this summer with optional accessories, such as a full-sized keyboard dock and a multimedia docking station. While Verizon is selling a 4G/3G Tab 10.1, T-Mobile's Tab 10.1 is Wi-Fi-only at this time and will cost customers $499 for the 16GB version and $599 for the 32GB version, says the story. T-Mobile does not yet appear to have a Tab 10.1 site up yet, but Samsung offers its own
notification sign-up page
to help guide the way.
T-Mobile will begin selling a "limited quantity" of the Tab 10.1 exclusively at the Best Buy Union Square store in New York City on June 8. Best Buy customers may also pre-order the Galaxy Tab 10.1 online or in-store that day, with availability set for June 17, says eWEEK.
Starting June 17, the Galaxy Tab 10.1 will also be available at Fry's Electronics, Amazon.com, Micro Center, Tiger Direct and Newegg. This summer, T-Mobile's Galaxy Tab 10.1 will receive an over-the-air upgrade to the Samsung TouchWiz UX.
Last month, eWEEK favorably reviewed the limited-edition Google I/O Galaxy Tab 10.1 with Android 3.0. The commercial Tab 10.1 tablets from Verizon and T-Mobile will instead launch with Android 3.1, which offers bug fixes, and includes expandable widgets, support for Google's USB host API and Open Accessory API, and other capabilities.
Aside from wireless features, pre-installed software — and in the case of the limited edition, styling — all three versions of the Galaxy Tab 10.1 are almost identical. The Galaxy Tab 10.1 is powered by a 1GHz dual-core Nvidia Tegra 2 processor, and offers a 10.1-inch 1280 x 800 display.
The 8.6mm thick, 1.25-pound tablet provides a two-megapixel front-facing camera for video chats. Unlike most Honeycomb tablets, however, it supplies only a three-megapixel rear-facing camera instead of five megapixels.
Android 3.1 delayed?
Staska on UnwiredView contradicts the above dates, suggesting that Verizon and T-Mobile won't be shipping the Galaxy Tab 10.1 this month. Citing a tweet from Mobile-Review.com's Eldar Murtazin as the source, Staska reports that bugs in Android 3.1 will cause a delay until August.
The story calls out the Galaxy Tab 10.1 as the tablet that will be delayed, although a secondary tweet from Murtazin mentions only a European delay of the Tab 10.1. If the rumor about Android 3.1 delays are true, however, this would seem to be a global problem, and would also likely pertain to the Toshiba Thrive and any other tablet hoping to ship with Android 3.1. Time will tell.
---
This article was originally published on LinuxDevices.com and has been donated to the open source community by QuinStreet Inc. Please visit LinuxToday.com for up-to-date news and articles about Linux and open source.