Apr 20, 2011 — by Eric Brown — from the LinuxDevices Archive — views
Toshiba announced that its 10.1-inch Android 3.0 tablet will ship in Japan in June for $723 under the name "Regza AT300." But despite rosy long-term projections for Android tablets, early problems — high cost requirements, an unstable Android 3.0, and Japanese component shortages — some vendors are delaying or sticking with with Android 2.x, say industry reports.
The Regza AT300 was shown off at CES in January and then unveiled again later that month on a teaser web-site that added a few more details. The promising device replaces last year's half-baked Folio 100 Android 2.2 tablet.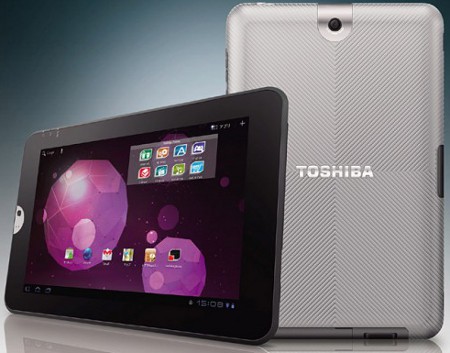 Toshiba Regza AT300
Until now, the dual-core, Nvidia Tegra 2 based device was listed as the "Toshiba Tablet," without a final name, price, or destination. Now we have all three: Toshiba has unveiled the 10.1-inch tablet as the Regza AT300, with final shipment in Japan in June for a price of 60,000 JPY (US$723). This is according to several sources, including
a report on AkihabaraNews
. Toshiba Japan also posted a
Regza AT300 web-page
, available
here
in a version that is at least partially translated into English.
There were no details about availability outside of Japan, but an April 19 report from Engadget revealed an April 13 U.S. trademark application for a Toshiba tablet computer under the name "Thrive." The story says the tablet had previously been tipped under the names Antares, and more recently, ANT.
Only a few new details on the Regza AT300 have surfaced that weren't already known, including the tablet's memory allotment (1GB RAM and 16GB flash) and the presence of SRS Premium Voice Pro audio technology. Toshiba is also hyping its DLNA-ready Regza Apps Connect software for sharing media with other Regza-branded consumer electronics devices including phones, TVs, and set-tops, as well as Toshiba's Dynabook laptops.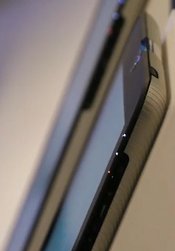 As previously known, the AT300 — pictured above in Toshiba's official portrait and at right in an AkihabaraNews photo — appears to follow the standardized feature list dictated by Google for Honeycomb tablets. The specs are shared by pretty much all the other announced 10.1-inch tablets, including the Motorola Xoom, with few variations.
The AT300 runs a stock Android 3.0 release on a dual-core Nvidia Tegra 2 processor clocked at 1GHz. The tablet supports 720p HD video on the 10.1-inch (1280 x 800) capacitive touchscreen, says Toshiba.
The rear camera is a five-megapixel device with autofocus, while the front-facing camera offers two-megapixel resolution, says the company. The device provides 802.11b/g/n Wi-Fi, Bluetooth 2.1, and accelerometers. There are also ports for USB, mini-USB, and HDMI, as well as a headphone jack, says Toshiba. An SD slot is also said to be available.
The device still weighs in at 1.7 pounds (765 grams), and as before, battery life is listed at seven hours. We did not, however, see mention of one previously tipped feature: a swappable battery.
Regza AT300 on display at Toshiba event, shown on YouTube

Source: AkihabaraNews
(Click to play)
Mixed messages for Android tablet market
The Regza AT300 is arriving at a time of peril and potential, not to mention a whole lot of uncertainty for Android 3.0 tablets. Rosy long-term forecasts have been offered for Android tablets from many sources, with Gartner last week projecting that Android tablets would command 40 percent market share by 2015, up from 20 percent through 2011. The 2015 projections would place Android a fairly close second to iPad's 47 percent, according to a report in our sister publication eWEEK.
This week, Strategy Analytics followed up with a report suggesting that global tablet revenues will reach $49 billion by 2015, according to another report in eWEEK. This figure was said to exceed those of every consumer electronics category except TVs and PCs.

In the short term, however, the promise of Android tablets appears to have faded somewhat since Honeycomb and the flagship Motorola Xoom debuted in February. Recent reports suggest that the Xoom (pictured) has not sold anywhere close to expectations, with many reviewers and consumers balking at high prices and the unstable Android 3.0 software.
Google's Android chief Andy Rubin seemed to suggest as much when he told Bloomberg Businessweek in late March that Google would be indefinitely delaying the open source release of Android 3.0 code. Speaking of the Xoom, Rubin was quoted as saying, "To make our schedule to ship the tablet, we made some design tradeoffs."

As summed up in a Mashable story yesterday, early reviews of the LG G-Slate (pictured) Honeycomb tablet available on T-Mobile have been mixed. Despite offering a lower price than the Xoom, some reviewers noted similar problems with a Honeycomb release that is still too rough around the edges.
On April 15, Digitimes reported that major Taiwanese manufacturers have decided to postpone the launch of Honeycomb tablets due to slow sales of the Xoom, as well as the shortage of components caused by the recent Japan earthquake and tsunami.

In late March, Asus began taking pre-orders for its Eee Pad Transformer Honeycomb tablet (pictured), which can plug into a keyboard to act as a netbook. However, DigiTimes now says Asus will delay shipments until late April and May for the 16GB and 32GB version, respectively, which would suggest that flash memory is in short supply. The HTC Flyer meanwhile, is expected to ship on schedule in the second quarter, but volume shipments will be delayed beyond that, says the story.
Finally, a BetaNews story reports that a number of second-tier tablet vendors will continue to offer Android 2.x tablets for awhile rather than jump to Android 3.0. The vendors are not only waiting until the software matures, but also for the price of the required hardware components to drop.

The story quotes an executive from European vendor HannStar, which makes the Hannspree Tablet (pictured), as saying that its Honeycomb tablet will be delayed until at least the fourth quarter of this year. The chief problem HannStar encountered was in meeting Google's high-end hardware requirements for Honeycomb without ending up with a high, Xoom-like price. The cost of the 10.1-inch, 1280 x 800 display alone almost doubles the cost of the tablets, says the story.
HannStar is said to be planning a second Hannspree Android 2.2 tablet for shipment in May.
---
This article was originally published on LinuxDevices.com and has been donated to the open source community by QuinStreet Inc. Please visit LinuxToday.com for up-to-date news and articles about Linux and open source.