Jan 20, 2012 — by LinuxDevices Staff — from the LinuxDevices Archive — 230 views
J5 Create announced a USB-based device that allows data, a mouse, and a keyboard to be shared between two computers without the use of a network. The JUH320V2 "Wormhole Station" also includes two backwards-compatible USB 3.0 ports and slots for microSD, SD, and MemoryStick media, according to the company.
Atlanta-based J5 Create offers a number of USB add-ons for PCs, including gadgets that (much like similar DisplayLink-based products) permit connecting multiple displays to a system that has only one native video output. The company's new "Wormhole" series of adapters, however, offers something different: the ability to transfer files between a pair of PCs without using a network or removable storage.
In the LinuxDevices batcave, a.k.a. remote office, we intermittently need to transfer data between our Linux, Windows 7, and Macintosh OS X PCs, not to mention our Android phones and Apple iPads. Wired and wireless networking are available, of course, but we don't maintain a dedicated file server, and keeping track of shared folders on the various workstations is frankly overkill.
Worse, connecting one system to our publisher's New York-based VPN renders it invisible to all the other devices on our LAN, and vice versa. So all too often, it's the 2012 version of Sneakernet for us — and while they're faster and more capacious than floppies, SD cards are always lost when we need one.
For those who just want to connect two machines and transfer data, J5 Create promises a way of accomplishing file transfer without bothering with a network, or SD cards either. The company's "Wormhole" products establish a peer-to-peer USB 2.0 or USB 3.0 connection between any two devices, whether they be Windows, OS X, iOS, or Android devices. (Unfortunately, there's no support for desktop Linux.)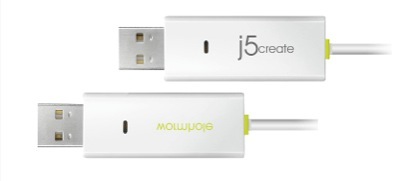 The J5 Create Wormhole JUC100
J5 Create has multiple Wormhole SKUs with varying capabilities, making comparisons difficult. At the most basic (model JUC100), however, the company's product connects two Windows PCs via USB, at which point a user can move files from one to another via drag-and-drop.
Thanks to J5 Create's software drivers, the position of one's mouse pointer can be moved from one system to another, and the keyboard focus shifts with it. Therefore, it's possible to operate each of the connected systems from either keyboard. The Windows clipboard may be used to copy and paste data from an application on one PC to an application on the other, the company says.
Other Wormhole devices respectively extend the connection possibilities to Android devices (JUC200) and to Macs and iPads (JUC400). It appears the Android and iOS clients don't benefit from the drag-and-drop functionality, but keyboard/mouse sharing still work.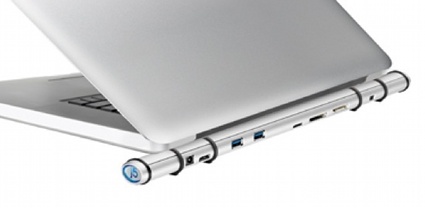 The J5 Create JUH320V2 Wormhole Station
Finally, there's the JUH320 Wormhole Station (Windows-only) and the newly announced JUH320V2 Wormhole Station (Windows/Mac/iPad), which retain the file- and keyboard-sharing functionality we've already mentioned and add dual USB 3.0 ports. Each of these gadgets also has microSD, SD, and Memory Stick slots. We're assuming that when flash media are inserted, they're mounted as drives on both connected PCs, though J Create didn't make this clear.

J5 Create's Wormhole in action
(click to play)

Microsoft's Mouse Without Borders works wirelessly
(click to play)

Further information
J Create's Wormhole devices appear to be available now, with prices ranging from $130 for the JUH320V2 down to about $30 for the JUC100. More information can be found on the J5 Create website
Those who need to connect only Windows PCs will find a similar app offering drag-and-drop file transfer in the form of Microsoft's own Mouse Without Borders (seen in the last video above), which works wirelessly and is downloadable for free. Those who need Linux support can download Synergy, which is cross-platform but offers only keyboard, mouse, and clipboard support.
Jonathan Angel can be reached at [email protected] and followed at www.twitter.com/gadgetsense.
---
This article was originally published on LinuxDevices.com and has been donated to the open source community by QuinStreet Inc. Please visit LinuxToday.com for up-to-date news and articles about Linux and open source.