Dec 21, 2010 — by Eric Brown — from the LinuxDevices Archive — views
A Verizon Tweet suggests that several Android smartphones optimized for its 4G LTE network will be unveiled at CES Jan. 6. Meanwhile, Sprint's WiMAX-based 4G network is expanding to several more cities, the WiMAX Forum claims WiMAX will reach more than a billion users next year, and AT&T is buying spectrum from Qualcomm for a planned LTE rollout.
Verizon Wireless posted a Tweet comparing Android and its new 4G network based on LTE (long-term evolution) technology with another favorite duo: chocolate and peanut butter. In the process, the carrier dropped a blatant hint about what can be expected at January's Consumer Electronics Show in Las Vegas, says a story in our sister publication eWEEK by Michelle Maisto.
Verizon's Twitter posting reads: "Jan 6 at #CES: #Android and #LTE – could it be like peanut butter and chocolate? YUM!"
The eWEEK story cites a report from last October's CTIA 2010 event, during which Verizon President and COO Lowell McAdam said his company would introduce half-a-dozen 4G handsets at CES, says the story. As it happens, Verizon CEO Ivan Seidenberg will be delivering the CES opening keynote address at 8:30 a.m. Jan. 6. He may well announce the long-expected release of Apple's iPhone on Verizon, as well as the new Android 4G devices, Maisto suggests.
Verizon's Dec. 5 LTE rollout included 38 cities and 60 commercial airports, says the story. At the time, this was said to be "just the beginning" of what the carrier has planned for its LTE network.
The network expansion announcement was somewhat muted by a number of reports that appeared at the time suggesting there were handoff problems on the Verizon network between 3G and 4G service, with some users experiencing delays of up to two minutes.
Sprint expands network: Bay Area next
Sprint announced that its Clearwire-based 4G WiMAX network has expanded to Denver, Colo., and Bridgeport, Conn., bringing its total number of coverage areas to 70, according to another Maisto story on eWEEK posted today. The network will roll out to the San Francisco Bay Area on Dec. 28, says the story.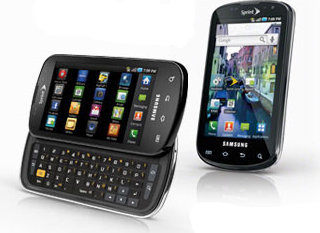 Samsung Epic 4G, available on Sprint
Sprint has been the U.S. leader in 4G via its partnership with WiMAX provider Clearwire, which is majority owned by the carrier. Clearwire's 70 markets include Los Angeles, Washington D.C., New York City, Las Vegas, and Philadelphia.
4G-ready Android phones available on Sprint include the hot-selling HTC Evo 4G, as well as the newer Samsung Epic 4G, pictured above. The carrier recently tipped that it will introduce a 4G tablet sometime in 2011, but it did not mention the vendor or operating system.
In July, it was rumored that Sprint was considering a merger with T-Mobile, as part of an expansion or transition to LTE. T-Mobile is planning an LTE deployment, but is currently offering a HSPA+ network said to be "4G-like" by the carrier. HSPA+ is generally not considered to be on par with WiMAX, which itself appears to fall just short of LTE in performance and functionality.
WiMAX Forum: WiMAX to cover one billion plus in 2011
Although LTE is newer and less entrenched than WiMAX, it has generally been regarded as having the momentum over the last year. In addition to Verizon Wireless and T-Mobile, AT&T is also planning an LTE network (see farther below).
Nevertheless, the WiMAX Forum is pushing back with a new study that projects that WiMAX will cover more than one billion people worldwide by the end of 2011, according to an eWEEK story posted last week. WiMAX adoption is surpassing earlier predictions, reaching some 800 million people by the end of 2010, says the WiMAX Forum, the principle advocacy group for WiMAX.
The study estimates that the majority of WiMAX coverage is currently in the Asia Pacific region, where 237 million people are covered under 100 network deployments, says the story. Central and Latin America are said to have 109 deployments, covering 113 million people. Africa has 142 deployments while Europe has 153, though they cover 108 million and 115 million users, respectively. In North America, deployments have reached 51 (now, 53), for a coverage rate of some 47 million people, says the story.
Based on the IEEE 802.16 standard, WiMAX made an early entry into the 4G networking arena. The technology is touted as providing download speeds of 4 to 6Mbps, "with bursts over 10Mbps."
In a list of predictions for 2011 published earlier this month, research firm Yankee Group projected that 4G will have an enormous impact starting in 2012, says eWEEK. By the end of 2011, only 0.4 percent of all mobile lines will be 4G, and less than 25 percent of North American consumers will even understand what 4G means, according to the report. However, market penetration will start ramping up after that, and in 2012 consumer recognition of 4G will double to 50 percent, says the story.
AT&T buys Qualcomm spectrum for LTE
Yesterday AT&T and Qualcomm announced plans for AT&T to purchase spectrum that Qualcomm currently uses for FLO TV, but that AT&T will use to support its planned 4G LTE network. As reported by Jonathan Angel in our sister publication WindowsForDevices, AT&T will pay Qualcomm more than $1.9 billion for spectrum licenses in the lower 700MHz band.
The frequencies will be vacated via the March 2011 closedown of Qualcomm's FLO TV, a subscription-based mobile TV service. Qualcomm is offering consumers full refunds on any dedicated FLO TV receivers they purchased, and says it will shut down the FLO TV broadcasts in March 2011.
Qualcomm's FLO TV service, available since 2007, streamed multiple live and time-shifted digital television channels to phones and other mobile devices using the 716MHz to 712MHz spectrum, equivalent to analog UHF TV Channel 55 and 56. FLO TV was offered by both AT&T and Verizon for about $15 a month, but never really caught on with consumers. As far as we know, it has never been used in an Android smartphone.
AT&T's new spectrum covers more than 300 million people nationwide, says the story. Some 12MHz of the lower 700MHz D and E block spectrum covers more than 70 million people in five of the top 15 U.S. metropolitan areas, and 6MHz of the lower 700MHz D block spectrum covers more than 230 million people across the rest of the U.S.
---
This article was originally published on LinuxDevices.com and has been donated to the open source community by QuinStreet Inc. Please visit LinuxToday.com for up-to-date news and articles about Linux and open source.